Born to Perform: Caitlin Alvarez explores every facet available to make meaningful theater
Born to Perform: Caitlin Alvarez explores every facet available to make meaningful theater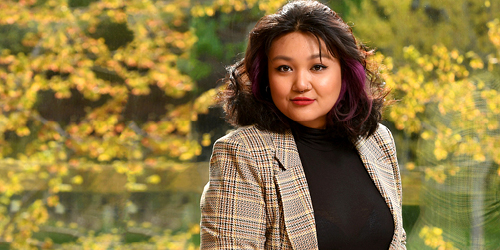 Caitlin Alvarez didn't know anything about Rowan University when she went to a regional audition event for college theatre and dance programs in her hometown of Dallas in 2016. Now, she's a member of the Class of 2021 in Rowan's College of Performing Arts with a bachelor of arts degree in Theatre and about to graduate from the university that, in a sense, chose her.
"They found me," she said of meeting Rowan faculty member Lane Savadove after her audition. "He said they might want someone like me in the department."
Since that encounter, Alvarez has used the opportunity to experiment within the realm of the performing arts. Her entrée into it was singing, and while music is still a big part of her life, she has been an actor, playwright, composer, producer, and deviser. She also plays the ukulele and guitar. Clearly, Alvarez likes trying different things.
"I didn't really expect to like directing," she said, but after taking the department's courses in Directing and then Devising, "something just kind of came out of that experience. I found a part of myself I didn't know existed."
Projects and experiments within the context of classes started the ball rolling (though her first directorial effort was actually a production of Dr. Horrible's Sing-Along Blog as a high school senior).  When it came time for her Rowan senior project, a Netflix documentary as well as concern about and awareness of one issue - sexual assault - inspired her work. It was important for Alvarez to examine such a serious topic in an impactful way, and what she had available to her were the skills she'd learned about creating and devising theatre. She premiered it in February 2020.
Titled 00:00:73 (aka 73 seconds) the original work was a movement piece that followed three individual storylines centered on the aftermath of a rape. Statistics show that every 73 seconds in America, someone is sexually assaulted. The reality behind bits of information like that has fueled Alvarez's interest in making work that addresses and illuminates women's issues.
About a year after that production, at the end of February 2021, Alvarez along with friend and Theatre & Dance student Heather Sirisky was co-directing the annual Women's History Month production of The Vagina Monologues for Rowan's Office of Social Justice, Inclusion, and Conflict Resolution. When it was learned the licensing house required that the production be done live and in-person, impossible during the pandemic, Alvarez and Sirisky immediately started working on an original idea to take its place.
Streamed on March 31, One in Five was centered on themes related to women's rights and sexual assault. There were performance elements, including an original song and a dance section. But, at its heart, One in Five addressed concepts of consent and women's rights in stories, interviews, and discussion shared through the work of Rowan faculty, students, and alumni.
Alvarez is proud of these achievements and of driving the narrative in these endeavors, even though she never imagined she'd be a director.
Born in Los Angeles, but raised primarily in Dallas, Alvarez appears to have been a performer from the start.
"I've always been a diva, according to my parents," she said with a laugh. Having an uncle who was an opera singer - and very competitive, according to Alvarez - the karaoke machine would come out at family gatherings when she was a child…and she would challenge him.
When some of Alvarez's friends became involved with a local theatre, her mother took advantage of the chance for a group activity to keep them all busy. This led to her debut in a children's theatre production of The Sound of Music. She was just an "extra" but the seed was planted. In a middle school with a solid theatre program, she was cast in the title role of Rodgers & Hammerstein's Cinderella.
"That's what actually got me hooked," she recalled. Alvarez was involved in her school productions from then on. She still loved singing, and even got through several rounds of auditions for The Voice, but she had started to broaden her perspective.
At Rowan, she's sought out experiences on campus and off. She was among the leads in Rowan's production of the musical Urinetown, but she's also appeared at EgoPo Classic Theater in Philadelphia, apprenticed at the award-winning Barrington Stage Company in Massachusetts, and performed in a concert at the Kennedy Center. Additionally, she studied as part of the National Theatre Institute program at the renowned Eugene O'Neill Theater Center in Connecticut (where she was still able to thrive and learn despite the fact that her time there coincided with the first months of the pandemic).
Now, Alvarez has her sights set on moving to Philadelphia, auditioning, creating more new work, and eventually making the leap to New York City. There might be a master's degree in directing, too, somewhere down the road. That's all a product of what she's learned in her undergraduate years, Alvarez pointed out.
"I've been able to explore here," she noted. "Rowan's theatre program is about creating your own work and it kind of pushes you to be multi-faceted."