Changing the narrative: Rowan's Faculty Research Day spotlights COVID-19, DEI and Camden
Changing the narrative: Rowan's Faculty Research Day spotlights COVID-19, DEI and Camden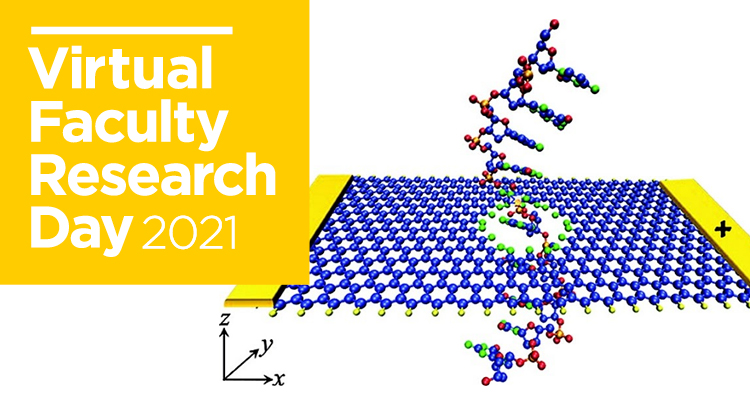 Rowan University hosted its fourth annual Faculty Research Day Wednesday, an opportunity to highlight the breadth of scientific investigations from across Rowan's three campuses, everything from advancing prenatal medicine using nanoparticles to finding ways to remove toxic metals from contaminated soil.   
"I really do believe we've entered into the world of research very aggressively as a university," said President Ali Houshmand. "The research we do is very impactful, practical research." 
Organized around three themes—COVID-19, Diversity, Equity & Inclusion, and Camden—the virtual event featured keynote speakers who shared how research is changing the narrative in the fight against the novel coronavirus, systemic racism and injustice. 
Groundbreaking research amid a pandemic 
Barely a year after the SARS-CoV-2 virus was first detected in the United States, researchers have already developed a rapid antigen test consumers can administer at home, said keynote speaker Dr. Stephen S. Tang, president and CEO of OraSure Technologies, Inc. His company recently applied for the FDA's emergency use authorization for its test.
"The FDA has a very high bar for home tests that are conducted by the individual on themselves," Tang said. "It fundamentally comes down to simplicity, ease of use and performance." 
Another keynote speaker, Dr. Marian McCord, senior vice provost for research, economic engagement and outreach at the University of New Hampshire, offered insights into how her institution responded to the pandemic in order to bring students safely back to campus. New Hampshire's flagship university is now using that experience to look ahead, McCord noted. 
"We need to enhance our surveillance and research capabilities to address not only the current pandemic, but also to anticipate future threats," McCord said. 
Research at Rowan
The daylong event featured 15 breakout sessions, allowing dozens of Rowan faculty to share their work and field questions from participants who joined the Zoom call from as far away as India.
As a regional COVID-19 vaccination site, Rowan University School of Osteopathic Medicine in Stratford, N.J., has administered more than 32,000 doses of the Moderna vaccine, said Dr. Kanad Mukherjee, a RowanSOM assistant professor leading operations at the site. 
Staffed by more than 600 Rowan volunteers, the site has made a special effort to reach underserved populations, including black and Spanish-speaking communities and adults with special needs, Mukherjee said. Its compliance rates for second doses consistently ranks above 90 percent, he added.
"We've done an excellent job of making sure that if you've received your first dose here, you have an appointment for your second dose," Mukherjee said. 
Dr. Rachel Riley, assistant professor of biomedical engineering at the Henry M. Rowan College of Engineering, said her lab is developing new drug delivery platforms to study and treat diseases using nanoparticles, particularly  gynecological cancers, and maternal and fetal conditions during pregnancy.  
"A lot of the diseases in fetuses can be diagnosed before birth, but there's really not many treatment options and the options that are available, such as fetal surgeries or transplants, are highly invasive and come with a lot of risk," Riley said. "Our goal is to develop new ways to treat these diseases during pregnancy that are safe and effective." 
Focusing on diversity, equity & inclusion
After a year of intense national focus on racism and injustice, the event offered an opportunity to spotlight ways to increase diversity, equity and inclusion in education, as well as to expose inequality in various systems.
As one example, a team of researchers from across the country spent two years documenting best practices in higher education that lead to more Black students obtaining their undergraduate degrees in astronomy and physics, said keynote speaker Arlene Modeste Knowles of the American Institute of Physics. 
"Oftentimes, people had talked about students needing this or needing that," Modeste Knowles said. "We wanted to come from the approach that students did not need fixing—they were perfectly capable of being successful, but what about their environment might possibly contribute to the lack of persistence in physics and astronomy?"
In examining the impact of a Clinton-era law, Rowan's Dr. Joel Capellan and his fellow researchers found local crime rates were unaffected by increased immigration enforcement due to cooperative agreements between local police departments and U.S. Immigration and Customs Enforcement. The assistant professor of law and justice studies said a literature review found that detention and deportation efforts under any program have detrimental social, psychological and health effects on those communities.
"It doesn't work for crime, but it does have a number of important negative impacts," Capellan noted.
Research in Camden 
In Camden, Rowan's research projects are making the city "ground zero for solutions that could patch enormous holes in the framework of our society," said keynote speaker Dana L. Redd, CEO of the Rowan University/Rutgers–Camden Board of Governors. 
As an example, Redd pointed to a project led by Rowan University's Dr. Sarah Bauer which seeks to track opioid consumption in the city using wastewater-based epidemiology. The assistant professor of civil and environmental engineering said her team will spend a year working with the city's utilities authority and wastewater treatment facility to track in real time what drugs are consumed within the city.
Nationally, "we are seeing more and more overdoses and deaths due to the overuse of opioids, whether they are prescription or illegal," Bauer explained. "This wastewater-based epidemiology technique can be used to predict changes within a community, as well as estimate drug use patterns."