Off to Oxford: Katherine Trauger to study human rights development in former Soviet republics
Off to Oxford: Katherine Trauger to study human rights development in former Soviet republics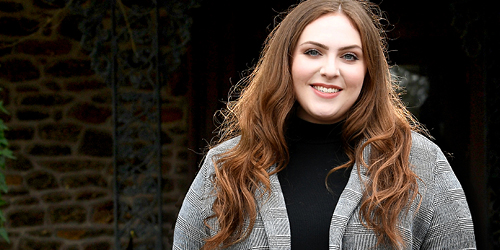 "The humanities and social sciences are major catalysts for progress in the world on the same level that the sciences and STEM are," says Katherine Trauger, who will continue her education in the humanities in graduate school at the University of Oxford.
Katherine Trauger is ready—so ready—for the University of Oxford.
Let's hope the University of Oxford—widely considered the most prestigious institution of higher learning in the world—is ready for Katherine Trauger.
"Oxford creates a community of some of the brightest up-and-coming people in their fields," says Trauger, who will pursue her MSc in Russian and East European Studies at Oxford—on full ride…and then some—this fall.
"But it's not just education. It's debate. It's challenging one another. It's saying, 'This is how you view it? That's not how I view it.' I think part of that dialogue of progress is having that environment where it's comfortable and you feel comfortable enough to challenge yourself to change the way you think. And, also, to challenge other people. You have that ability to develop, not just because of your professors, but because of your peers."
Trauger was awarded the Oxford-Nizami Ganjavi Graduate Scholarship, an extraordinarily competitive award that fully covers course fees and provides a generous grant for all living expenses. The scholarship goes to students studying Central Asia who will "contribute to the university's ground-breaking research and who will go on to contribute to the world as leaders in their field, pushing the frontiers of knowledge," according to Oxford officials.
"I'm aware of what's upon me as an individual, as a scholar, and as a future policy maker. It is life altering in an intense meaning of the word. It's a large responsibility…unbelievable, exciting and thrilling all at the same time," says Trauger, who graduated May 13, summa cum laude, with bachelor's degrees in history and political science from Rowan University's College of Humanities & Social Sciences.
Soviet and post-Soviet studies
At Oxford, Trauger will focus on Soviet and post-Soviet studies. She wants to use her knowledge of history, focused on human rights, gender equality and democratization, to develop more successful liberalization policies for post-Soviet republics, particularly Uzbekistan and Kazakhstan.
"I hope to build necessary bridges between history, memory, and political science that will allow for the creation of more historically informed progressive liberalization policies in the future," says Trauger, who plans to pursue her doctorate. Her long-term goal is to work in policy planning for an international organization, such as the United Nations.
"I want to look where others aren't looking to find solutions. In the public sphere, all of the post-Soviet republics get a bad rap because we're so indoctrinated to believe they are the enemy. In essence, we haven't progressed enough past the Cold War ideology.
"I want to try to create a relationship that is less focused on competition and the ways in which we view each other on the world stage and more focused on actually improving the livelihood of people. Are children getting education? Do people have enough food to eat? Are people advancing gender, race, identity, ethnicity? How can we stop wars?"
Blame it on Tchaikovsky
Why the fascination with Russia? Trauger blames it on Tchaikovsky.
The daughter of an opera singer, Nancy Stott Trauger, who earned her music degree from Rowan (then Glassboro State College) in 1980, Trauger grew up listening to classical music.
"And only classical music because my mother wouldn't let me listen to anything else. There's something about Russian classical music that embodies the spirit of the country and of the culture and a deep, deep sense of emotion that you just cannot find in Beethoven or Mozart or Bernstein," says Trauger, who studied music and ballet as a child.
"It truly was the most magical childhood. I found such joy and such peace in music. It gave me a proof of understanding of the world around me.
"I've been highly informed through my upbringing. It has been very useful in my studies. I think I have a profound awareness of the way the world works."
Passion for the humanities
Trauger almost pursued a music degree. As a student at Cherry Hill East, she was in an elite choir that performed at Barack Obama's White House Christmas party and also at the Kennedy Center. But, at Rowan, she found her life's work in the humanities.
In addition to her two majors, Trauger pursued the Thomas N. Bantivoglio Honors Concentration in the Honors College and minors in international studies and women's and gender studies.
As a freshman, she joined Rowan's CLIO program, which fosters a sense of community among first-year history students. Her sophomore year, she traveled to Holocaust-related sites through Europe on a summer program co-led by Rowan historian Stephen Hague, himself an Oxford alumnus. On the plane ride, she began to teach herself Russian.
"I started learning grammar and vocabulary that I might not come across in daily language but that I might come across in an archive," says Trauger.
Trauger also worked as a program assistant for the Hollybush Institute for Global Peace and Security. The institute is led by Rowan historian Jim Heinzen, a scholar of Russian history and institute director, and Hague, a scholar of modern European history and deputy director.
"Katherine is a superb student, a dynamic leader, an incisive thinker and a tremendously engaging personality," says Hague, who encouraged Trauger to apply to Oxford. "She's extraordinarily focused. She's done a lot of hard thinking about what she wants to do.
"Receiving the scholarship to Oxford really is a staggering achievement. Attending Oxford is hard, hard work and these programs are really, really competitive. Katherine has not only made the grades, but she has the approach to learning that has positioned her for this."
According to Oxford's admissions site, upwards of 30,000 students apply for 5,500 graduate spots annually. With roots dating back to 1096, Oxford is the oldest university in the English-speaking world.
Demanding, caring scholars
Rowan's history department has prepared her well for Oxford, Trauger says. There, faculty demanded the best from her as a student and a scholar. They challenged her to think more critically, read more carefully, write more clearly, debate more analytically. Once, she says, Hague required her to revise a paper on social welfare development in inter-war Britain seven times.
"Every day that I walk into the history department, I feel like I'm walking into my second home. I've developed relationships with professors and scholars that I know I wouldn't have at an Ivy League school or a massive state school.
"The professors want you to think. They're trying to push your mind. They're trying to open new avenues for you to look at the world. That's an incredible thing for a young scholar."
Heinzen's "Russia Since 1914" course ignited her interest in Russian studies, while a class with Political Science Professor Lawrence Markowitz, a scholar of post-Soviet Eurasia, helped Trauger refine her interest in Central Asia, particularly Uzbekistan.
Coordinator of women's and gender studies Melissa Klapper, a historian of childhood, education and American Jewish history, insisted that Trauger read a collection of primary source documents on World War I. She discovered the founding constitution for the Women's International League for Peace & Freedom from 1915. The league grew out of a women's group led by Jane Addams that opposed World War I.
"That made me realize that women have always been involved in foreign policy," says Trauger, who then further scoured secondary sources—letters and documents—from the league's proceedings. "Suddenly, I realized I sort of identified as one of them too, just as somebody trying to campaign against the common notions of the way we think the world needs to function."
Through an internship with the Philadelphia-based Foreign Policy Research Institute, Trauger worked on the Foreign Influence Election 2020 Project, led by national security consultant Clint Watts. She studied state-sponsored media and social media in Russia, Iran and China, examining the types of narratives that worked to sow election discord. She published a few pieces, including "State-Sponsored Media Twitter Activity on 2020 Election Integrity."
"Our material was sent to the Department of Homeland Security," says Trauger, who worked on the project with students from Stanford, Yale, and Harvard, among others.
As she prepares to leave for Oxford in October, to walk the same paths that Indira Gandhi, Alain Locke, Bill Clinton, Percy Shelley, Oscar Wilde, T.S. Eliot, John Locke—and 55 Nobel Prize winners and 30 international leaders—have walked, she's working on her Russian and devouring a reading list recommended to her by Rowan scholars.
Grit, hard work, belief
She can't wait for that moment when she first pulls on her sub fusc, the academic gown and bow tie that Oxonians wear for formal events. That won't be much of a stretch for Trauger, who regularly dresses in blazers and heels for her Rowan classes, even when it's snowing.
"I really like that sense of professionalism. It's a show of respect to others and to myself.
"Sub fusc is something they wear to keep tradition alive for centuries. I cannot wait to put that on and march around on the cobblestone streets and really bask in the Oxford-ness of Oxford."
Trauger also is eager for the intellectual discourse, which she believes is critical to developing new solutions to the most pressing global challenges of our time.
"A large part of progress and development is challenging ideas and beliefs, debating the best paths forward and engaging with a community of like-minded scholars from across the globe who seek the same thing," Trauger says. "The humanities and social sciences are major catalysts for progress in the world on the same level that the sciences and STEM are.
"I am aware that the people that Oxford accepts and turns into scholars are some of the people who get into positions of power to literally change the world," she adds. "I hope to be an example of what you can do with enough grit and hard work and belief."