Gold standard in public safety: Rowan department reaccredited by CALEA
Gold standard in public safety: Rowan department reaccredited by CALEA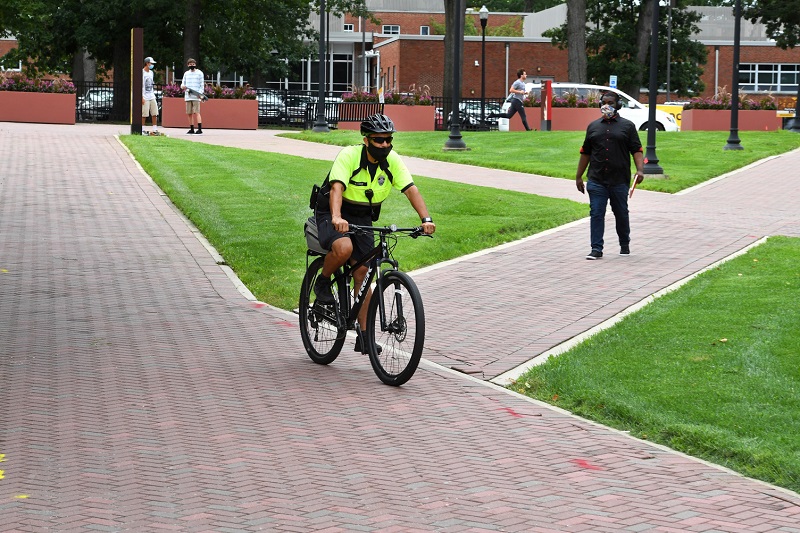 Security Officer Hector Torres Jr. patrols Rowan University's main campus in Glassboro. The Department of Public Safety has been reaccredited by the Commission on Accreditation for Law Enforcement Agencies, Inc. for the fourth time.
Rowan University's Department of Public Safety has once again been recognized for achieving the gold standard in public safety professional excellence.
In 2011, the department was the first department at college or university in New Jersey to earn accreditation from the Commission on Accreditation for Law Enforcement Agencies, Inc. (CALEA). Now, CALEA has reaccredited the department for the fourth time, which is unprecedented among New Jersey institutions.
Reaccreditation by CALEA means that Rowan's department adheres to the same standards as the finest law enforcement agencies in the nation. To achieve accreditation, the department was required to demonstrate compliance with 464 standards that address nine major areas of law enforcement.
"We strive every day to provide the best public safety service possible to the Rowan University community through our dedication to service, professionalism and commitment to excellence," says Senior Director of Public Safety Reed Layton, who oversaw the department's accreditation team. The reaccreditation leadership team also included Office of Emergency Management Associate Director Steve Rolando and Senior Clerk Lori McDonald.
CALEA accreditation helps law enforcement agencies strengthen crime prevention, formalize essential management procedures, establish fair and nondiscriminatory personnel practices, improve service delivery, solidify interagency cooperation and coordination and boost citizen and staff confidence in the agency, according to CALEA.
The five-step accreditation process culminated last November, when a pair of CALEA assessors conducted a campus site visit. The assessors determined the department's compliance with CALEA standards, viewed the agency's operations, and conducted a public information session.
Across all campuses, Rowan's Department of Public Safety, which, in 2015, became the first department at a New Jersey institution to require officers to use body cameras, includes 37 police officers, 49 security officers, 12 communications personnel, 15 administrative and support personnel and 16 student patrol members.
During the past four years, the department responded to more than 163,000 calls for service across all campuses.
"Our reaccreditation through CALEA demonstrates our unwavering commitment to upholding the best public safety practices to serve the Rowan community," says Assistant Vice President of Rowan Public Safety and Emergency Management Coordinator Michael Kantner.
"We want to be among the finest public safety agencies in the nation and our CALEA reaccreditation keeps us focused on that goal every day."
Rowan Public Safety also is accredited through the International Association of Campus Law Enforcement Administrators (IACLEA).
IACLEA accreditation constitutes recognition that a department conforms to the highest professional standards for campus law enforcement and protective services while fulfilling their mission to protect students, faculty, staff and millions of annual visitors to colleges and universities.