Elizabeth Dunn, Honors grad and filmmaker at 16, heads west to film school
Elizabeth Dunn, Honors grad and filmmaker at 16, heads west to film school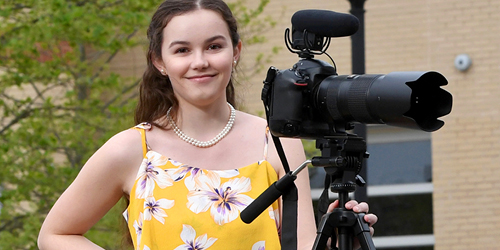 Like all of us, Elizabeth Dunn has a story to tell. In fact, she's got many. Her own just started a bit earlier than most.
Dunn graduated from Rowan University at just 16 in December with a degree in Radio, Television & Film from the Ric Edelman College of Communication & Creative Arts and will celebrate during Commencement in May.
Graduating with a perfect 4.0 GPA, the Ocean City native, who pursued the Thomas N. Bantivoglio Honors Concentration in the Honors College, transferred to the University at 14 from Rowan College at Burlington County after earning her associate degree online.
In September, Dunn starts graduate school at the ArtCenter College of Design in Pasadena, Calif., where she'll continue her film studies.
But Dunn is hardly waiting for film school to start making films. Like many students in Rowan's popular RTF program, she was an avid member of the Cinema Workshop club where she found a community of like-minded aspiring filmmakers. She used an assignment in her Cultural Geography class with Dr. Jennifer Kitson as a springboard for an episodic documentary about the history of Glassboro called, appropriately, The GlassRoots Project.
"As part of the class we went on a walking tour through Glassboro and stopped at the Heritage Glass Museum," Dunn recalled. "The assignment was to propose a mural design in Glassboro but my partner (rising junior) Darien Brown and I thought, instead of doing a mural, let's do a documentary."
Rather than create a standalone film, Dunn and Brown conceived a model, not unlike the Images of America book series, that explores towns and cities across the U.S.
"Our idea was to create a non-profit that would document towns through film," Dunn said.
The idea was so good, and so powerful, that Kitson encouraged Dunn, Brown and six other Honors students to enter it into the annual Idea Challenge through the Rohrer College of Business.
"The GlassRoots Project was one of ten teams to make it to the final public competition on December 6th, 2019," Kitson said. "Elizabeth and her team gave a fabulous public presentation to a packed room of business students, faculty and community leaders, earning the GlassRoots team an Honorable Mention."
Though the team didn't win, Kitson said, it "was invited to participate in an even more rigorous business development training in Spring 2020 and the Rowan Center for Innovation and Entrepreneurship purchased film equipment to make the first season in Glassboro as a proof-of-concept. They received a private investment offer from one of Glassboro's most influential businesswomen and enthusiastic support from the Heritage Glass Museum and the Glassboro Historical Society, both of which are featured in the documentary trailer they made."
Dunn said a pilot episode of The GlassRoots Project is in development with participation from students and faculty in art, business and the Edelman CCCA.
"It's going to be a documentary mini series, about five 15-minute episodes," she said. "The first, 'Glassboro, the Beginnings,' is still in post-production and it includes the early history of the glass making area starting in the 1600s."
Dunn said she reveled in the research required for the project, unearthing documents about the earliest settlers of what would become Glassboro and its glassmaking heritage.
"Glassmaking was actually illegal in the colonies," Dunn said. "They weren't supposed to be manufacturing anything here, they were supposed to be importing everything from England."
Published at 12
The story of Dunn's college town was not the first she set out to tell. At just 12 years old – still a child herself – she published a children's book, "MacCarrig," whose title borrows her own middle name, that she wrote with one of her teachers.
"It's about Ocean City and the Jersey Shore and four birds who are doing the annual boat parade in Ocean City," she said. "I just love the idea that a kid who might be in Kansas would learn about the Jersey Shore."
Dunn, a classically trained pianist, said she's drawn to filmmaking because of all the creative elements that making a film entails – from the research and writing of a script to directing, shooting and scoring a final project.
"I know I'm young, and I don't know where I'll end up, but right now I want to be a director and direct films," she said. "I think the main thing is telling small, personal stories."
The 15-minute film, "Glassboro: the Beginnings", has a limited, by-invitation-only premier in Business Hall on May 3.
Watch the promo video
. To learn more, visit @glassrootsproj on Instagram and Twitter.