Edelman CCCA celebrates RTF Media Festival 2021
Edelman CCCA celebrates RTF Media Festival 2021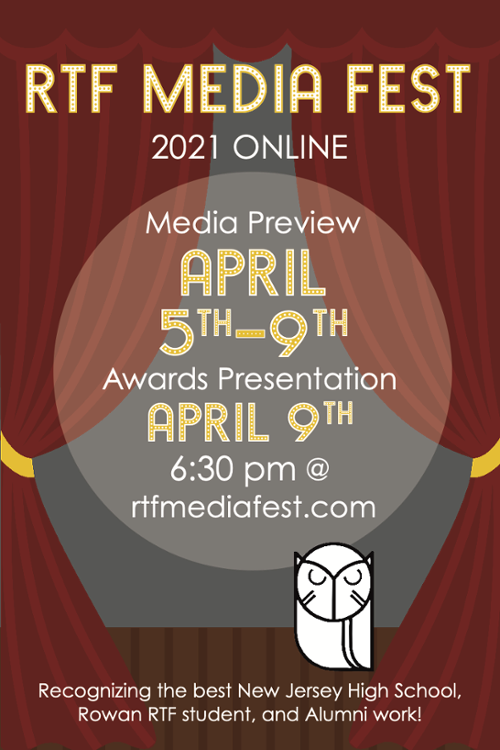 All this week, and ending with an awards celebration Friday evening, the Ric Edelman College of Communication & Creative Arts is hosting RTF Media Festival 2021, a showcase of Rowan and New Jersey high school students and their creative work.
The 7th Annual RTF & N.J. High School Media Festival includes a wide variety of works by students in Rowan Radio, Television & Film courses as well as by students from around the state whose projects were judged by experts outside of the University.
The works, like A Predictable Cartoon by Jake Campbell; the short documentary Covid-19: A Father Taken Too Soon, by Dimitrios Tobar; and Support Local Everything, a television program by the team of Shawna Barry, Elijah Mitchell, Julia Faupel, Jenna Gooch, Dina Folgia, Joseph Scelza, Valerie Monzo, Jack Stober, may be viewed all week.
RTF Chairman Keith Brand said the festival provides a unique opportunity for aspiring professional creatives to learn what it means to prepare work for, and show it in, juried competitions.
"Submitting work done in the classroom for outside evaluation raises the stakes on students' work and allows them to embody a level of professionalism in everything they complete," Brand said.
Further, Brand said, producing top flight creative work like narrative and documentary films, animations, audio productions, new media, television productions and screenwriting provides students important samples with which to make the leap from undergraduate to professional.
"Sometimes, having that winning work on their resume makes a tremendous difference in getting the first job out of college," he said.
Rowan's RTF Media Festival, which began in 2013 for undergraduates and alumni, evolved to include opportunities for talented New Jersey high school students eager for a platform on which to display their work.
The Edelman CCCA's celebrated RTF program has, for decades, produced high achieving professionals across an array of fields including radio, television, video and movie production, some of whom, like Adam Chazen '08, have reached the pinnacle of their fields with Prime Time Emmy and other awards. Chazen, a visual effects associate producer for HBO's Game of Thrones, earned multiple Emmys for his work on that show.
In addition to entries from RU undergraduates to this year's RTF Media Festival, the program features entries from a dozen N.J. high schools in five categories and entries from seven alumni.
A livestreamed awards program will be held Friday, April 9 at 6:30 p.m. at the festival website, rtfmediafest.com. Meanwhile, please visit the site throughout the week to view this year's entries.