Artistic, entrepreneurial and driven, Kymonie Thomas-Nagil is a work in progress
Artistic, entrepreneurial and driven, Kymonie Thomas-Nagil is a work in progress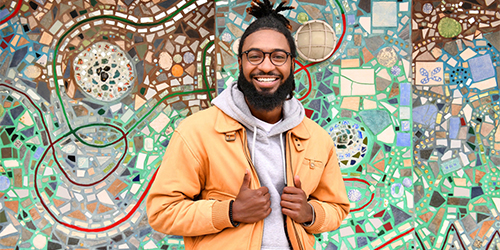 Thomas-Nagil in front of downtown Glassboro public art work.
Plans change, and for Kymonie Thomas-Nagil, a change in plans led, ironically, to a degree in planning.
Thomas-Nagil graduated May 11 with a B.S. in Community & Environmental Planning, a program through Rowan University's School of Earth & Environment that prepares students for a wide array of career options, including positions in government and engineering firms whose work involves municipal infrastructure and community design.
Thomas-Nagil, who originally started at Rowan with an interest in civil engineering, decided, as students often do, to pursue a degree that better aligns with his goals and interests in life. Rowan's program in Community & Environmental Planning focuses on sustainable community design, land conservation, food systems and the planning practices and challenges of the South Jersey region.
"Planning is important for a lot of reasons, but especially from a perspective of someone who cares about community engagement, about the ways we come together to interact," he said. "Planning can also be used to correct generational traumas within low income communities and on people of color."
For example, he said, the lingering effects of past practices like redlining can be addressed through smart and well-considered planning today. That practice, a formerly common and legal means by which banks could selectively limit access to loans for homeownership, targeted areas of low socioeconomic means, many populated by Black and Brown communities.
"Redlining sectioned off people of color, and today in those areas the tax values are a lot lower, the education systems are still often really poor, and so is the overall way of living," he said.
In addition to his Bachelor of Science degree, Thomas-Nagil will graduate with minors in International Studies and Sustainable Built Environments as well as a Certificate of Undergraduate Study in Spanish.
Study abroad
Thomas-Nagil's study of Spanish came in handy when, his junior year, he spent a semester as an overseas exchange student in Spain.
"Study abroad showed me how different life is in America," he said. "In America we have this common goal of working, working, working instead of taking a pause and enjoying life. In America it's more of a rat race, which I'm a part of as well, but in Spain I got a sense of what it's like to rest."
Based in Granada in southern Spain, Thomas-Nagil's study abroad experience took him through London, Amsterdam and other parts of Europe.
"It helped me see the bigger picture, which is that there are problems around the world that we don't always hear about here," he said. "In Granada I saw many black people from Africa on the street selling merchandise, but they really weren't owning things. And that's similar to how it is here, where in the cities people are renting, and they're often people of color, renting but not owning."
Scholar-swimmer-entrepreneur
A resident of Plainfield in Union County, Thomas-Nagil was a 2020-21 recipient of a Creative Inquiry Scholarship, one of just six students to receive one. An avid swimmer and longtime lifeguard, he started working at age 12 to help support his family and has an entrepreneurial flair with plans to start his own business after graduation.
But Thomas-Nagil does not simply want to make money. He has an artistic side that he indulges in part by making mosaics, colorful works fashioned by embedding pieces of stone, glass and other materials onto plywood.
Starting with an art class he took freshman year in high school, he's spent a hundred hours or more crafting a single piece.
"I love the intricacy behind them," he said. "There's a level of patience required that not a lot of people have."
Upbeat and keen to take his next step in life's journey, which one day may lead him back to Europe, Thomas-Nagil said finishing college during the pandemic was "extremely challenging" but it did not get him down.
"I feel there aren't many obstacles that I can't handle," he said. "Right now I feel I'm doing my best. This is my second straight semester on the dean's list and I think living through the past year just made me stronger overall."