At vaccination clinics, Rowan students lead…and learn
At vaccination clinics, Rowan students lead…and learn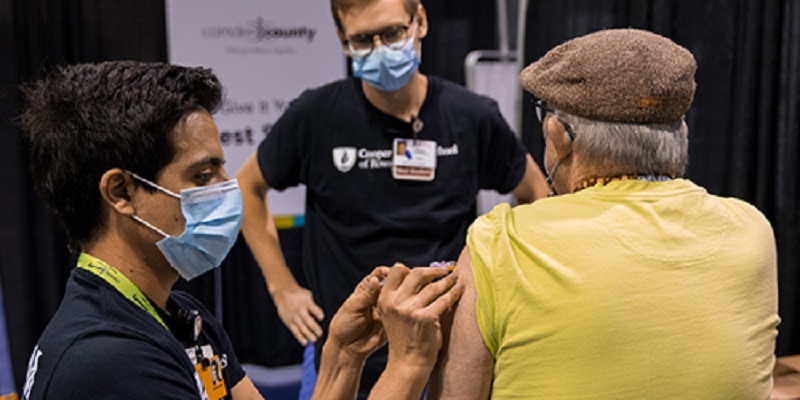 As third-year CMSRU student Brian Schonewald looks on, first-year CMSRU student Ryan Moazamian administers a COVID-19 vaccine at a community clinic. Rowan students are volunteering thousands of hours to help in the national vaccination effort.
Everyone wants to give the vaccine.
But, by volunteering at the Rowan Medicine Vaccination Center, first-year medical student Eamonn Brace has learned there's more to the art of medicine than giving a shot.
"The more you spend time talking with people, the better physician you become," Brace said. "This is introducing me to a whole new skill set."
On a recent snowy morning, Brace was dressed in four layers, topped with a white coat, as he volunteered at the center on the campus of Rowan School of Osteopathic Medicine in Stratford.
Brace's official title that day was "greeter." His work involved shepherding patients through the vaccination process--from welcoming and temperature checks to paperwork, registration, vaccination and observation.
Since Christmas Eve, the Rowan Medicine Vaccination Center has administered more than 19,000 vaccinations. The site is staffed by 450 Rowan SOM students—from first-year students, like Brace, on up to fourth-year students gearing up to graduate. The COVID-19 Task Force at SOM established the clinic and student volunteers keep it humming. Thus far, they've volunteered nearly 11,000 hours.
The situation is similar at Cooper Medical School of Rowan University, where medical students on the CARE (COVID Associated Response Effort) established a school-wide volunteerism drive to support the vaccination center at Cooper University Hospital. They did so at the behest of CMSRU Dean Annette Reboli. Students have volunteered 6,100 hours over the past 10 weeks.
The work at CMSRU started with vaccinations of Cooper staff. In recent weeks, students have begun volunteering to vaccinate community members at the Salvation Army Ray and Joan Kroc Community Center in Camden and at the Camden County College vaccination site in Blackwood.
"Dr. Reboli told us all the time that this is a historic moment and that everyone in healthcare should participate," fourth-year CMSRU medical student Lauren Burgoon said, adding that when the center opened, hospital staff ran into Cooper's conference center to receive their vaccines.
"We saw how desperate people are to access the vaccine. "It honestly is a privilege to work on this," she added. "You get to see the relief in a lot of people's faces."
Supporting a national effort
The volunteerism of students at both of Rowan's medical schools support the nationwide vaccination effort to combat COVID-19. Thus far, 82.6 million vaccines have been administered across the U.S., according to the Centers for Disease Control. More than 517,000 Americans have died from the coronavirus.
Rowan's nursing students, as well as a dozen undergraduates in the Disaster Preparedness and Emergency Management program, also are staffing various vaccination sites throughout the region. Working as interns, DPEM students provide logistical and planning support to the operation of the vaccination mega site at Rowan College of South Jersey.
"This opportunity allows students to not only observe, but participate in one of the longest disaster response operations in recent history," DPEM Professor Len Clark said. Students assist with everything from making sure supplies are on hand to helping incident command staff to developing public information materials.
'The smallest things matter'
At the Rowan Medicine Vaccination Center, medical school students are working every day to "make it a better experience for our patients," said third-year medical student Anjani Patel, president of the SOM Student Council and co-chair of the COVID-19 Student Task Force. Patel proudly administered the Moderna vaccine to SOM Dean Thomas Cavalieri on the center's first day.
"When we discussed the jobs students would do in the center, I said I would like students to do clinical jobs. However, as time went on and the clinic progressed, our students stepped into roles such as registration and data entry. We learned how to access the Electronic Medical Records systems, verify insurances and much more—things medical students aren't usually taught in their curriculums.
"Volunteering gives us a whole encounter with a patient," Patel added. "There are so many things that go into a patient's experience…so many little things. And the smallest things matter."
In addition to learning the proper vaccination technique, Burgoon said CMSRU students learned the ins and outs of setting up a clinic and how much the little things—the spacing, the placement of a "sharps" box for used syringes, the sanitization of chairs and tables and pens—actually were big things.
"There are parts of this that aren't glamorous. But even if you're a 'runner' at the clinic, you're helping people get through it…literally get through it. I'm re-energized by this work. I feel like I'm making a direct difference."
'When you're in a white coat, there are a lot of thing that come with that'
Brace, who is still waiting to administer his first vaccine, got into medicine to make that difference.
"I wanted to do something that was impactful," said Brace, whose vaccination center volunteer work has included observing patients after their vaccine and wiping down the timer each patient receives while they're in 15 minutes of observation.
"You're making sure nobody looks like they're faint, that they don't have an allergic reaction," said Brace. "I'm getting used to looking for physical signs of distress or discomfort. One of the biggest 'tells' is facial expression, and, with masks, that's taken from us.
"When you're in a white coat, there are a lot of things that come with that. People are looking to talk to you and to feel better about the process. It is interesting to be a medical student during this time. This will make us better physicians."
Vaccinating underserved populations
Both of Rowan's medical schools have a true spirit of collaboration among their students, Patel and Burgoon said. They add that both schools are dedicated to getting vaccines to underserved populations, which have been especially hard hit by the virus.
"We know we have to focus on marginalized communities," Patel said, noting that SOM recently held a Saturday vaccination clinic for the special needs community served by the Rowan Integrated Special Needs Center. "I'm so proud to work with my colleagues. We're ready to do this for months. Every shot saves a life."
"When you ask CMSRU students to do something, they get behind it," Burgoon said, noting that, through their vaccination efforts, students are living CMSRU's mission of equity and justice. "I'm proud to go to a medical school with people like this."