Engineers test new pavements designed for military use
Engineers test new pavements designed for military use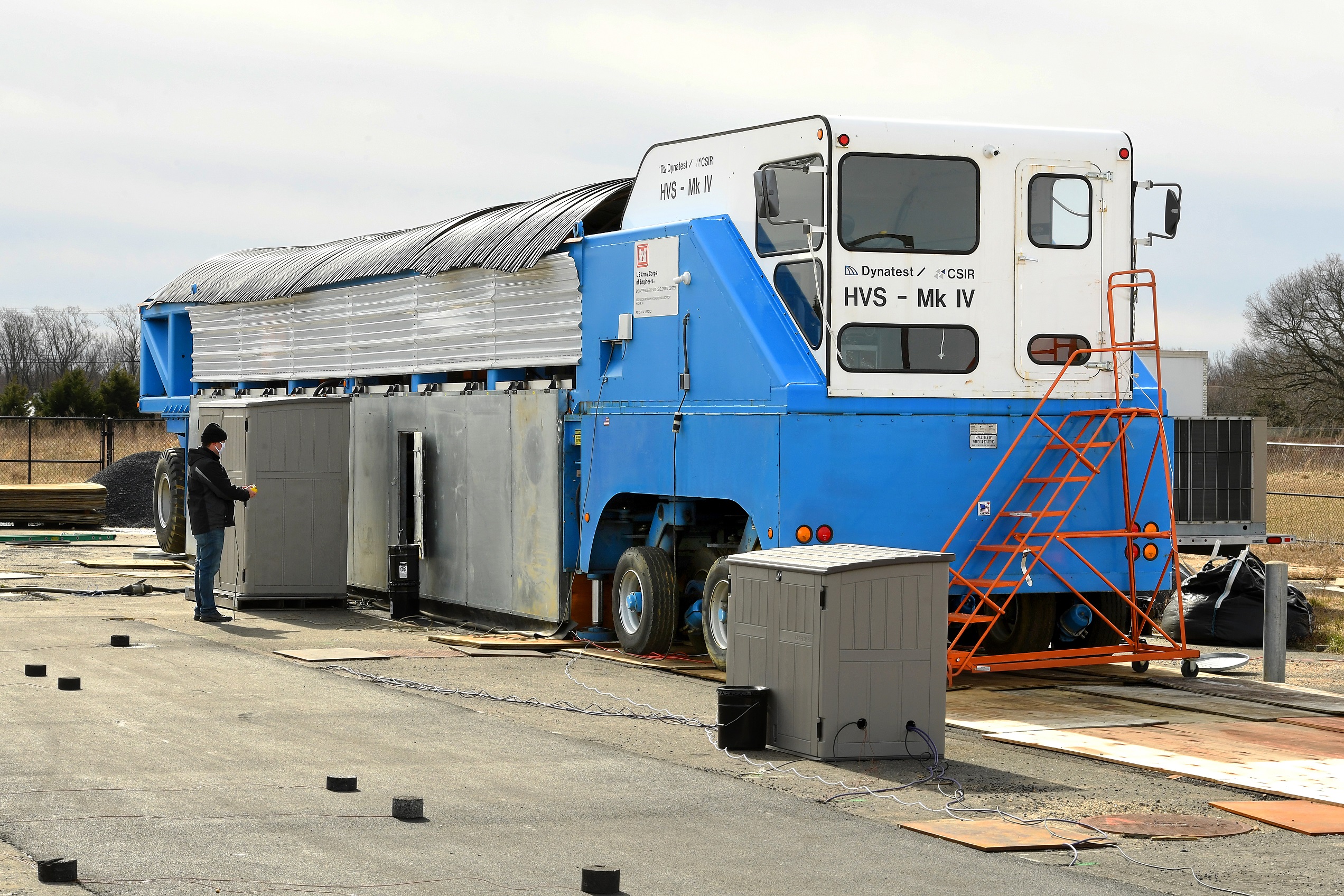 CREATES researcher Ian Sennstrom monitors the movement of two massive tires running back and forth beneath the Heavy Vehicle Simulator that Rowan University operates through a partnership with USACE-ERDC-CRREL.
After months spent developing special asphalt mixtures inside a lab, a team of researchers at Rowan University's Center for Research & Education in Advanced Transportation Engineering Systems (CREATES) has rolled out its massive Heavy Vehicle Simulator (HVS) to determine the life expectancy of new pavements designed for military use. 
The only one of its kind in a Northeast academic institution, the HVS compresses the wear and tear of 20 years' worth of heavy traffic in just a few months' time.
Called to duty only after months of lab testing is complete, the simulator's hulking presence outside its hangar means Rowan engineers and students are inching closer to hard answers on projects by partnering with the U.S. Army Corps of Engineers' Engineer Research and Development Center and Cold Regions Research Engineering Lab. (USACE-ERDC-CRREL). 
For 22 hours a day, the HVS grinds two giant tires back and forth beneath its stationary body, applying 9,000 pounds of load to a 25-foot section of pavement below. The machine pauses only for necessary maintenance or repair. Researchers collect data throughout, ending the tests once the pavement breaks down. 
"This is a very busy time," said Dr. Yusuf Mehta, the center's founding director and professor in Rowan's Department of Civil & Environmental Engineering. The HVS last rumbled into action during the summer of 2019. 
This spring, the team is studying the lifespan of pavement embedded with a layer of mesh fabric called a geosynthetic interlayer. Intended for use on bridges or on airstrips, the fabric is meant to prevent—or at least delay—the development of ruts, cracks and potholes, said Dan Offenbacker, a post-doctoral fellow who has studied the fabric's use in pavement since 2016.
The study is one of 13 projects for the U.S. Department of Defense now underway at CREATES, which also performs studies for federal and state transportation departments, as well as private industry partners. Seven of its military projects are slated for completion this spring. 
CREATES has already published research demonstrating the interlayer performs well in a lab, but there are lots of questions to answer, said Mehta: Is the fabric cost-effective? Why does it prevent a breakdown? And exactly what happens when there is a failure in the embedded pavement?  
Once the HVS testing phase is complete, the team hopes to install and monitor a section of the specialty pavement on a nearby military base, so researchers can see how it fares in the field. 
"It's very promising," Mehta said. "We're clearly seeing the benefits (of a geosynthetic interlayer). We're now trying to understand the reason for the benefits."  
CREATES engineers are also studying conductive asphalt mixes designed to de-ice themselves. Those pavements are intended for military use in cold regions, especially for bridges and airports, said Dr. Ayman Ali, the center's associate director.  
"Instead of sending out the snowplow to get the snow out of the road, you can just flip a switch and the electricity will take care of it," Ali said. The pavements work, but questions remain about which mixes are best. How long will they last and are they cost-effective?
Once the lab and simulation testing is complete, the team hopes to install a section of the conductive pavement somewhere on Rowan's campus—again, to see how well it performs under real-world conditions.
"The more data we get," Ali said, "the better." 
Graduate students Sean Cullen and Rahaf Hasan, as well as undergraduate students Britton Williams and Jenna Wyshinski, were part of the laboratory and the full-scale construction phases of these two projects. They were supported by CREATES staff Schaina Kolodziej, Chandu Kommini, Kaleigh McDevitt, Caitlin Purdy and Ian Sennstrom.