University of the Future: A roadmap forward
University of the Future: A roadmap forward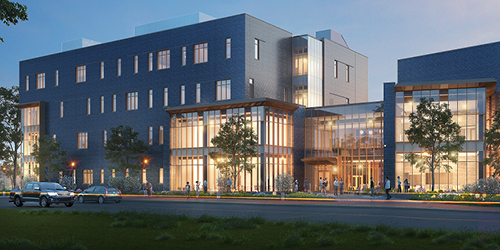 Nearing completion, Discovery Hall is the new home of the School of Earth & Environment. It's one of the new buildings outlined in the University of the Future, a roadmap for the future of Rowan University.
Dear Rowan Community,
I am excited to share an ambitious roadmap for Rowan University developed as a result of what we've learned since the pandemic and after closely examining who we are and what our state needs us to be. I posed the challenge for this project and assembled a broad team to respond. I couldn't be more proud of the outcome.
The University of the Future was written by our colleagues from throughout the institution, at all levels and in roles on all campuses. We can't be sure of what's over the next horizon, but the document's contributors wrote a plan to make Rowan stronger and better for students, employees and all we serve.
The significance of our mission statement may never have been clearer than this year—and in what it says for our future. We've written into our institutional DNA "being inclusive, agile and responsive" and "responding to emerging demands and opportunities regionally and nationally."
I encourage you to read this roadmap thoughtfully. The Board of Trustees and I are grateful for everyone's efforts and invigorated by their insights, even those that challenge conventional thinking and require great change. I hope you will agree.
With thanks,
Ali A. Houshmand, Ph.D.
President