Rowan Entrepreneurship hosts prestigious presentation event
Rowan Entrepreneurship hosts prestigious presentation event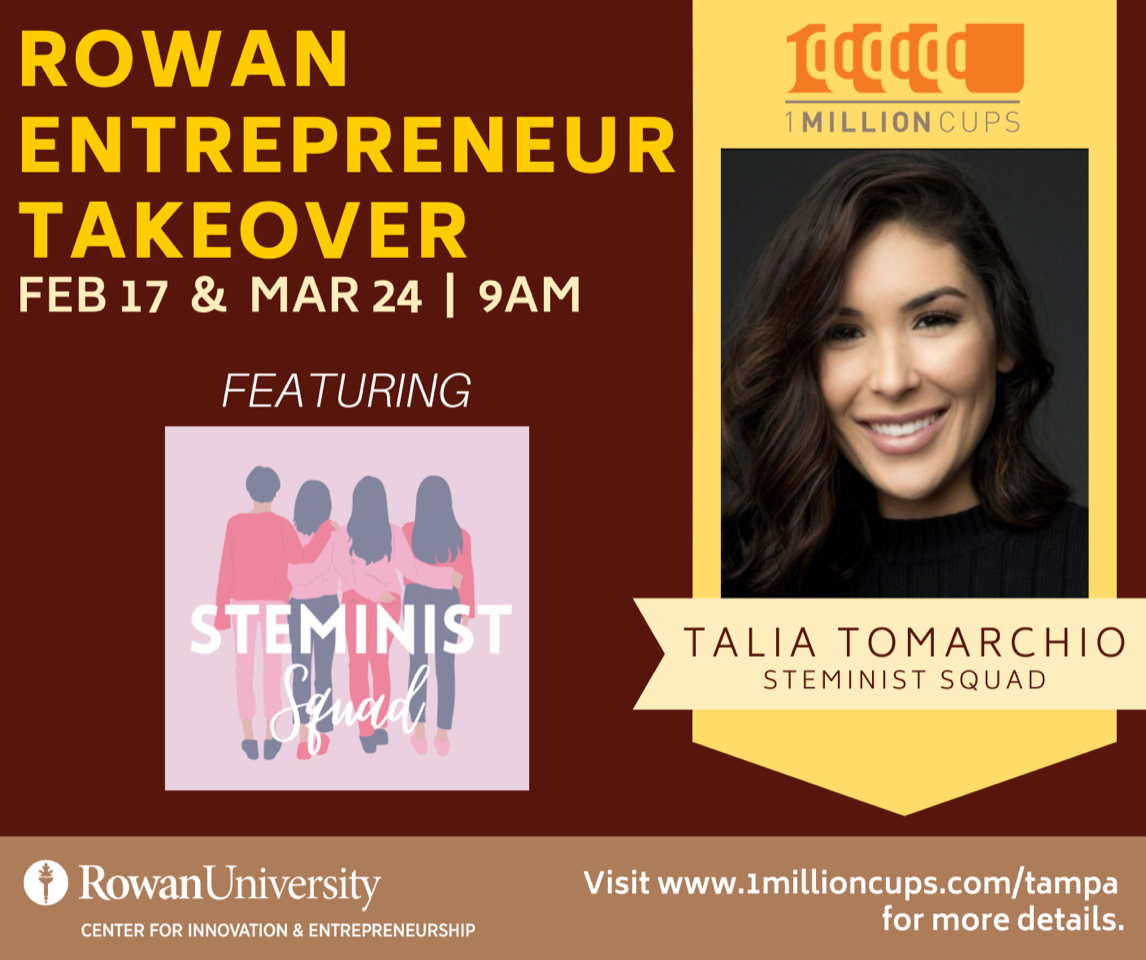 Rowan Entrepreneurship is hosting 1 Million Cups (1MC) Tampa on Feb. 17 and March 24, an event that connects entrepreneurs to a vibrant business network where they can present their companies to a range of mentors, advisers and entrepreneurs.
Through this program, supported by the Kauffman Foundation and operating in more than 160 cities, two entrepreneurs pitch a diverse audience during an hour-long event. Dr. Eric Liguori, professor and Rohrer Chair of Entrepreneurship, emceed the virtual Feb. 17 event, and Rowan entrepreneurship major Luca Fischioni will emcee the following event.
Four Rowan students are presenting their companies: Tanvi Koduru (Entrepreneurship), 3D Confectionary; Brandon Ottey (Entrepreneurship), Clouds and Colors; Jerah Siegal (Entrepreneurship), Biodome; Talia Tomarchio (Computer Science/Honors), Steminist Squad. They each have six minutes to explain who they are, what their mission is and why they started. Each presentation is followed by a 20-minute question-and-answer session.
"This will give our students the chance to refine their messaging, receive invaluable feedback and gain exposure to new markets and people," said Jessica Ciampo, programming assistant, Rowan Center for Innovation and Entrepreneurship. "There are opportunities to apply feedback and present again for one of more than 160 cities 1MC serves. The learning opportunity and connections created through this experience are remarkable."
"The 1MC national network is a powerful resource for new founders looking to connect with communities across the nation," Liguori said. "While most 1MC presentations are locally done, the pandemic and shift to virtual presentations make exploratory partnerships like this possible and are a great example of how entrepreneurs can leverage the 1MC community to reach new markets. We're thankful to Lynn Kroesen and the 1MC Tampa community for embracing the benefits of virtual connectedness and making this opportunity possible for our students."
For more information, visit www.1millioncups.com/tampa