Retired Virtua Health CEO becomes Executive-in-Residence in the Rohrer College of Business
Retired Virtua Health CEO becomes Executive-in-Residence in the Rohrer College of Business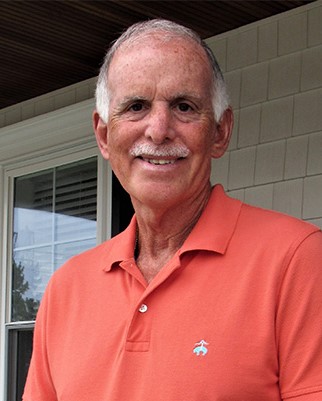 "It takes a team."
If there's one lesson that Rich Miller would distill of the many he learned in a long and celebrated career, one that culminated as president and CEO of Virtua Health, it is that.
Miller this semester began a new tenure, as executive-in-residence with the Rowan Center for Responsible Leadership within the Rohrer College of Business.
"I want to help young people understand what it means to be a leader in an organization," said Miller, who led Virtua from 1995 until his retirement in 2017.
He joined the former West Jersey Health System in 1986 as vice president of finance and served as chief financial officer before being named president and CEO, a position he held for 22 years.
Miller noted that managing a non-profit such as Virtua is different from running a for-profit corporation but he said many of the fundamentals, such as an ability to work well with colleagues, to understand leadership and to communicate well, are universal.
"You have to be able to talk to people about what your vision is," he said. "Vision and strategic buy-in is crucial, so communicating your ideas is crucial. The third cog is making sure you have strong managers around you who can carry out the vision."
Working with undergraduate business majors and MBA students in the College of Business alike, as well as with graduate nursing students, Miller's initial plan is to help motivate them through a variety of virtual forums and panel discussions.
Miller, who serves as vice chair of the Board of Trustees for his alma mater, Mount Saint Mary's University in Emmitsburg, Md., believes the most important lesson for students of any field is to try to determine early what they like and what they're good at.
"It's important to do some soul searching to see what it is you really want to do," he said. "If you want to be an accountant or an engineer, the path is pretty direct. But my advice is don't waste four years deciding what you want to be."
Miller is the RCB's second executive-in-residence currently on staff. He joins Jerry Maginnis, a retired managing partner of KPMG, one of the "Big Four" accounting firms in Philadelphia, who since 2017 has served as the college's accounting executive-in-residence.
The Rowan Center for Responsible Leadership examines the roles of business in society, in particular business' relationships with sustainability, social impact and ethics.
Dr. Sue Lehrman, dean of the RCB, said by providing students access to professionals like Miller and Maginnis, the college complements lessons and work experiences required of its majors.
"Rich Miller and Jerry Maginnis serve as inspiring role models for our students, sharing years of experience and a wealth of external contacts that benefit our students at every stage of their college careers, from early career exploration to interview preparations for their first jobs," Lehrman said. "You just can't replicate the combined years of experience they bring to the table."