NSF CAREER Award: Rowan professor searches for better, greener, cheaper methods for chemical analysis
NSF CAREER Award: Rowan professor searches for better, greener, cheaper methods for chemical analysis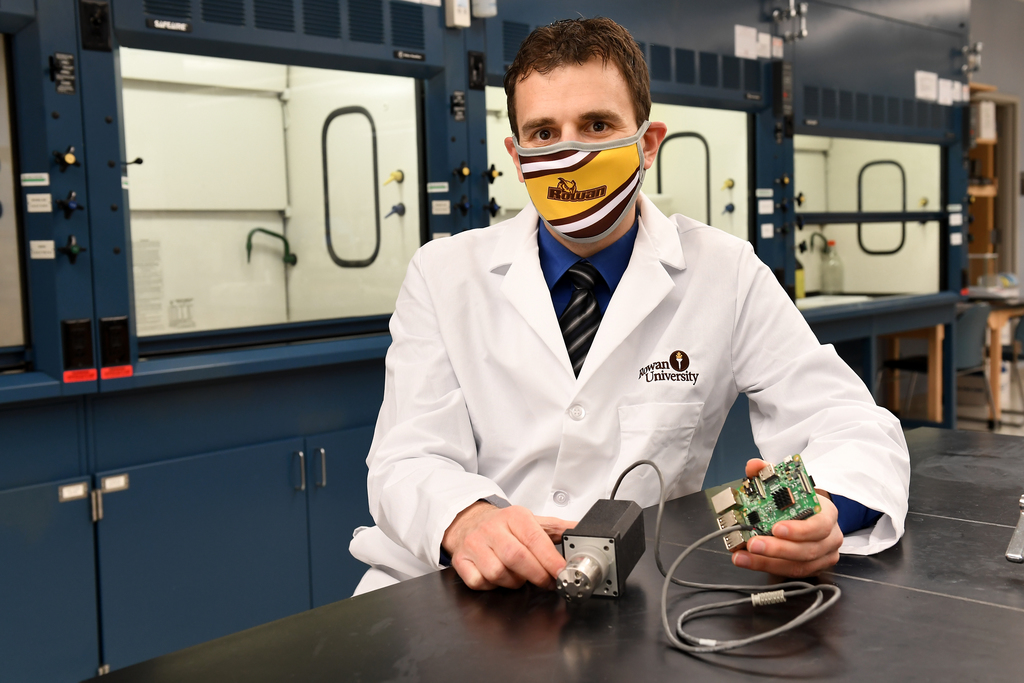 Dr. James Grinias is working to find a new method to analyze chemical samples using small-diameter capillary columns. (Below) A small-diameter capillary column.
For even the most ambitious researchers, opportunities for innovation hinge on the kind of research techniques available. When their methodologies are inefficient, wasteful, or unaffordable, scientists can't do their best work. 
Rowan University's Dr. James Grinias aims to solve this problem with support from a National Science Foundation CAREER Award totaling $524,999. The NSF Faculty Early Career Development Program offers the foundation's most prestigious awards to support early-career faculty who have the potential to serve as academic role models in research and education.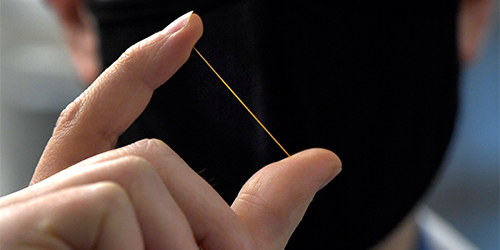 Grinias, an associate professor in the Department of Chemistry & Biochemistry in the College of Science & Mathematics, is exploring new, two-dimensional liquid chromatography techniques to advance the way scientists separate molecules found in chemical mixtures. 
In short, Grinias said, "it's a more powerful technology that allows you to accommodate more complex samples, increase the throughput of tests, and produce less chemical waste." 
Liquid chromatography as a whole is, Grinias explained, one of the most widely used techniques in chemistry—but there's always room for improvement. In fact, because the technique is so crucial to research in all areas of chemical analysis, the gains Grinias makes have the potential to resonate across the field of chemistry. 
To analyze complex chemical samples, like biopharmaceutical drugs, researchers run a lot of tests, one analysis at a time. What if they could use a higher powered, more complex method of separation to run these analyses in parallel, while also automating the process? The new type of two-dimensional liquid chromatography Grinias is working on will let researchers do just that.
What sets Grinias and his team's efforts apart is the implementation of small-diameter capillary columns.
"Using capillary columns reduces the amount of chemical solvents needed for testing by thousands of times" compared to conventional methods, Grinias said. Using smaller amounts of chemicals lowers risk to the environment, while lowering handling and disposal costs for industry. 
One might expect cutting-edge research methodologies to be as expensive as they are sophisticated, but that doesn't have to be the case. 
"One goal of our research lab is accessibility," Grinias explained. "We try to use low-cost materials—like 3D-printed parts and single-board computers—to share what we develop as much as we can."  
Throughout the five-year project, several students, both undergraduate and graduate, will work on two-dimensional liquid chromatography methods in Grinias' lab. Among them is Samuel Foster, a first-year graduate student in the M.S. in Pharmaceutical Sciences program and Rowan alumnus who earned his bachelor's degree in chemistry in 2020. 
"The novel processes needed to further this project have required me to develop custom software and instrumentation," said Foster, a 22-year-old from Hackettstown. "This has served to not only strengthen my skills as a chemist but also helped me develop a well-rounded skill set that will prove useful in whatever research I perform in the future."
Foster's involvement in Grinias' lab has already helped him jumpstart his career. "I have been lucky enough to publish several peer-reviewed papers in the lab already and plan to publish more specifically related to the research funded by this grant," Foster said.
Students like Foster are vital to the research Grinias is undertaking. 
"Receiving this award speaks to the quality of students who work in my lab and the exceptional research work they are doing," Grinias said. "It is a reflection on them, as much as me."