Rowan researcher wins Science Center award for cornea repair innovation
Rowan researcher wins Science Center award for cornea repair innovation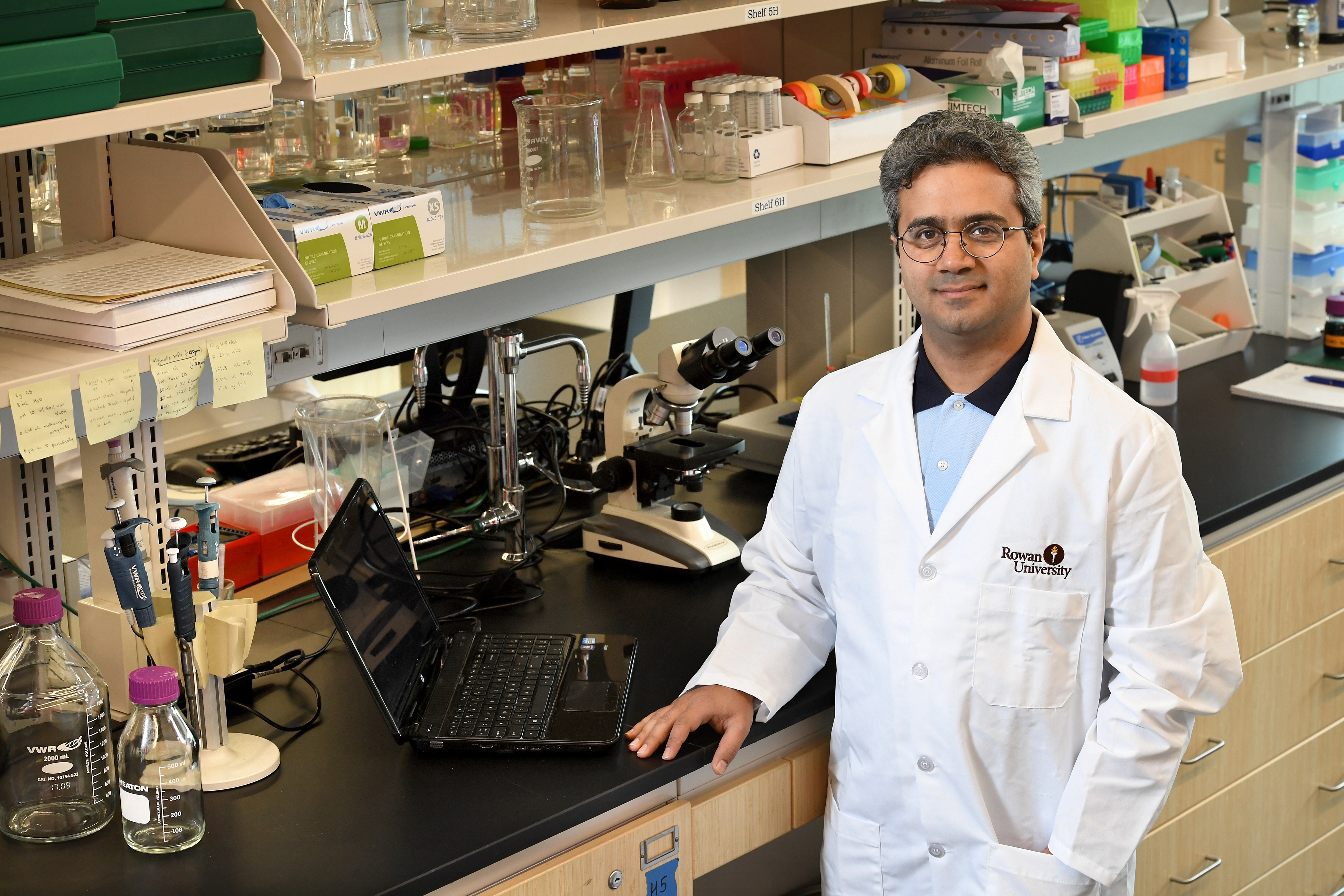 Dr. Iman Noshadi is developing an ocular sealant for eye injuries and cornea tissue repair.
A Rowan University researcher has won an award from the University City Science Center's Proof-of-Concept Program, which works with regional academic and research institutions to prepare their most promising life science and health care technologies for commercialization. 
Dr. Iman Noshadi, a chemical engineering assistant professor in the Henry M. Rowan College of Engineering, is one of three awardees who will implement their proof-of-concept plans and award funding on their projects with assistance from the Science Center in Philadelphia. The other two awardees represent The Pennsylvania State University and Temple University.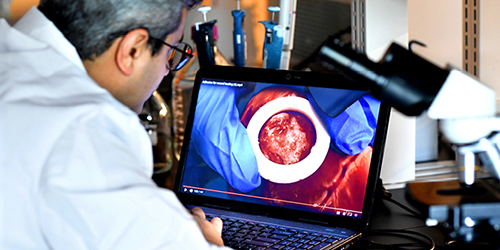 Noshadi is developing an ocular sealant that is strong, resorbable, nontoxic, and can safely be applied to wet ocular surfaces, making it ideal for eye injuries and cornea tissue repair. This transparent hydrogel provides a safer alternative to sutures, with reduced risk of infections and secondary complications, thereby significantly reducing health care costs. 
From advice given as a previous applicant of the QED program, Noshadi recruited an ophthalmologist for his advisory team.
His team includes Dr. Baishali Kanjilal and Vaishali Krishnadoss, who assist with research, business development, operations and regulatory execution activities. The clinical collaborators are Dr. Jeff Carpenter, professor of surgery, and Dr. Stephen Soll, associate professor of ophthalmology, from the Cooper Medical School of Rowan University and Cooper University Health Care.
"A core mission of the Science Center is to transition promising new technologies to market faster," says Aron Starosta, vice president of Commercialization and New Ventures at the Science Center. "These three projects represent the considerable commercial potential of technologies being developed at institutions across our region. We're eager to be working alongside the awardees to develop a road map to transition these projects from bench to bedside."
Noshadi will receive $200,000, half of which will be contributed by the Science Center and half by the institution. Each project will also receive guidance from the Science Center's experienced team of business advisers to position their technologies for exit out of their host institutions and into a startup or licensing agreement. 
Each technology was identified as having high potential for improving human health and of intense industry and investor interest. The awardees for this round of QED were selected from a pool of applicants from institutions in Pennsylvania, New Jersey and Delaware. 
Since its inception in 2009, the QED program has provided business development services for over 130 academic researchers with over $8 million invested in 41 projects, resulting in 12 startups or licensing deals.  
Dr. Nidhal Bouaynaya, associate dean for research and graduate studies at the Henry M. Rowan College of Engineering, also received critical support from the Science Center to develop a proof-of-concept plan.
Both Noshadi and Bouaynaya were among 12 QED finalists who received customized coaching from industry experts, exposure to the investment community, access to regulatory and intellectual property specialists, and support to develop a commercialization funding road map. This support armed the researchers with the knowledge and tools needed to pursue follow-on funding that will help their early-stage projects advance along the commercialization pathway. 
Noshadi began pursuing commercialization for his innovation two years ago with guidance from Dr. Yatin Karpe, director of Rowan's Office of Technology Commercialization. 
Noshadi secured grants through the National Science Foundation's Innovation Corps and Partnerships for Innovation-Technology Translation programs that were instrumental in collecting the appropriate information and designing the pathway toward winning the Science Center's QED Proof-of-Concept award.