Liguori named Fellow of the United States Association for Small Business and Entrepreneurship
Liguori named Fellow of the United States Association for Small Business and Entrepreneurship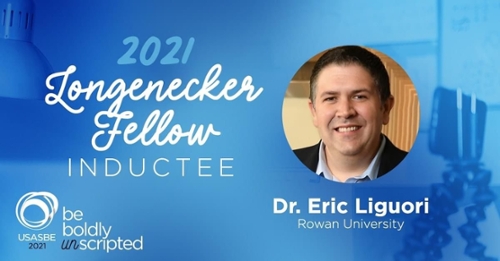 The United States Association for Small Business and Entrepreneurship last week named Dr. Eric Liguori, William G. Rohrer Chair of Entrepreneurship in the Rohrer College of Business, a Justin G. Longenecker Fellow of the leading academic organization dedicated to advancing entrepreneurship education through bold teaching, scholarship and practice.
Induction as a fellow is USASBE's highest honor, given to individuals who have made an outstanding contribution to the development, furtherance and benefit of small and medium businesses. Status as a fellow recognizes the achievements of those men and women whose passion and burning desire for small business and entrepreneurship is reflected in their teaching, writing, research, training and public service.
"From his early work mentoring startups though the SBA's Small Business Development Center program to the hundreds of students he has taught and inspired in classrooms around the globe, to his stellar record of leadership at USASBE and the meaningful impact of his research, we were proud to name Dr. Liguori a fellow of USASBE," said USASBE Fellow K. Mark Weaver, who nominated Liguori for the award.
USASBE President Jill Kickul added that "Dr. Liguori is recognized as a global leader in entrepreneurship research and education. His work has helped define and shape our field through ground-breaking scholarship that is highly relevant to both practitioners and policy makers."
Liguori is managing editor of the Journal of Small Business Management and executive editor of the journal Entrepreneurship Education and Pedagogy. He has published 50 peer-reviewed articles in leading outlets including Journal of Management, Small Business Economics, Journal of Small Business Management, Entrepreneurship and Regional Development, and International Journal of Entrepreneurial Behavior and Research. His work has been featured in media outlets including USA Today, U.S. News and World Report, Forbes.com, and BuzzFeed.
"I am honored to receive this recognition," Liguori said. "I believe strongly in the adage if you want to go fast you go alone, but if you want to go far you go with others, so I thank the entire USASBE community for their continued support, collaboration, and inspiration as we collectively work to educate and empower the next generation of entrepreneurs."
Liguori, Jeff Reid of Georgetown University and Nathalie Duval-Couetil of Purdue University were inducted as fellows in a virtual ceremony January 7.
Since 1986, USASBE has inducted 87 distinguished educators, researchers, government officials, small business advocates and trade association leaders as Fellows.
Founded in 1981, USASBE is an inclusive community of educators, researchers, and entrepreneurs advancing entrepreneurship education through bold teaching, scholarship, and practice. Membership is open to all, as is attendance at USASBE's hallmark annual conference. USASBE also publishes a peer-reviewed academic journal, Entrepreneurship Education & Pedagogy, and develops a variety of helpful resources and professional development opportunities for entrepreneurship educators as they create a positive impact.