COVID-19 testing required for all Rowan students returning to campus for spring term
COVID-19 testing required for all Rowan students returning to campus for spring term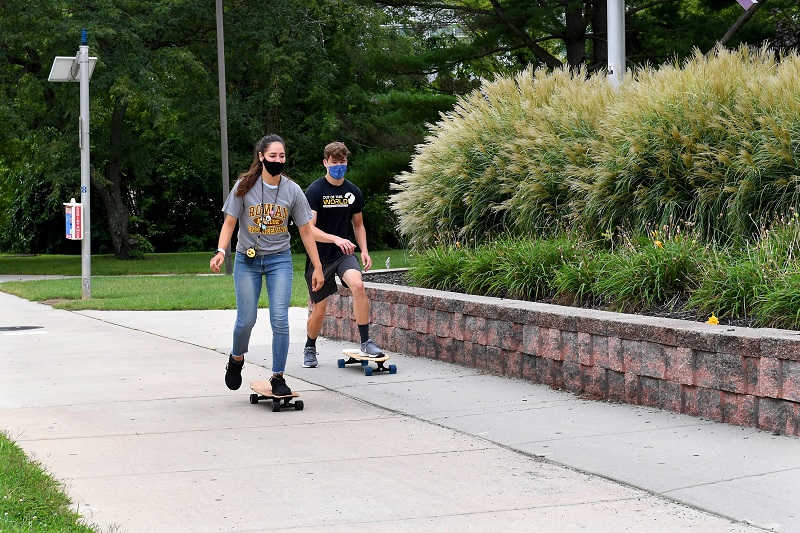 Students heading back to Rowan's campus for the spring semester are required to complete free COVID-19 testing before they return to campus.
Students heading back to Rowan University's campus this spring will be required to complete COVID-19 testing before they return.
Any Rowan student who will be on campus in any capacity—whether as a residential student, as a student in an in-person class, lab or studio setting, as an athlete, or as a participant in on-campus activities—is required to provide a negative COVID-19 test result within 10 days before their first day on campus.
The full, 15-week semester begins on Monday, Jan. 25.
Students are being offered a free, University-provided, self-collected nasal swab test through Pixel by LabCorp. The test can be ordered online and the kit will be delivered to homes and returned to the lab via FedEx.
The kit includes all supplies and instructions needed to complete the self-collection. Once results are in, students will be required to upload test results on the confidential Rowan Medicat site, which students use to upload other medical information, such as immunization records.
Students will not be permitted to live on campus or engage in in-person activities until a COVID-19 test demonstrating a negative result has been reported on the Medicat site.
Students who have a history of a positive test within the past 90 days will not be required to be tested. However, if they were not tested by the Wellness Center, they must submit proof of their positive results through Medcat.
Registering for a test: Students will receive full instructions via Rowan email about accessing the Pixel at LabCorp web site to order a test. Additional instructions can be found here. For customer service support, contact LabCorp at 1-844-251-6524.
Sending a testing sample: Upon completion of the test, students will secure it in a postage-paid, pre-addressed FedEx return package and deliver it to a FedEx drop box. All instructions are included in the test packaging. Completed tests must be delivered to a FedEx drop box the same day the nasal swab sample is collected. Students will be able to track their sample via the Pixel by LabCorp site.
Receiving results: Once received by the lab, results will be available on the secure, online HIPAA-compliant portal where students requested their kit. Students will receive an email when the kit has been received and when results are ready to view. Results will be available in two to four days. Students receiving results positive for COVID-19 will be contacted by a health care professional.
Reporting results: Students must upload an image of their negative test result to the Rowan Medicat site. The site includes an area to upload the result under "COVID Lab Test Result" in the drop down menu. Students with Medcat questions should contact the Wellness Center at 856-256-4333.
Additional testing
The COVID-19 testing program for students this spring is in addition to other testing protocols Rowan has in place for the new semester. Once on campus, all residential students will be scheduled for COVID-19 testing on a biweekly basis. Additionally, Rowan will begin monitoring wastewater. Wastewater testing is not individualized, but will help determine if viral load is detected in a target population.
More information for students can be found on the Return to Rowan website.