Students move Rowan's Get FIT program online
Students move Rowan's Get FIT program online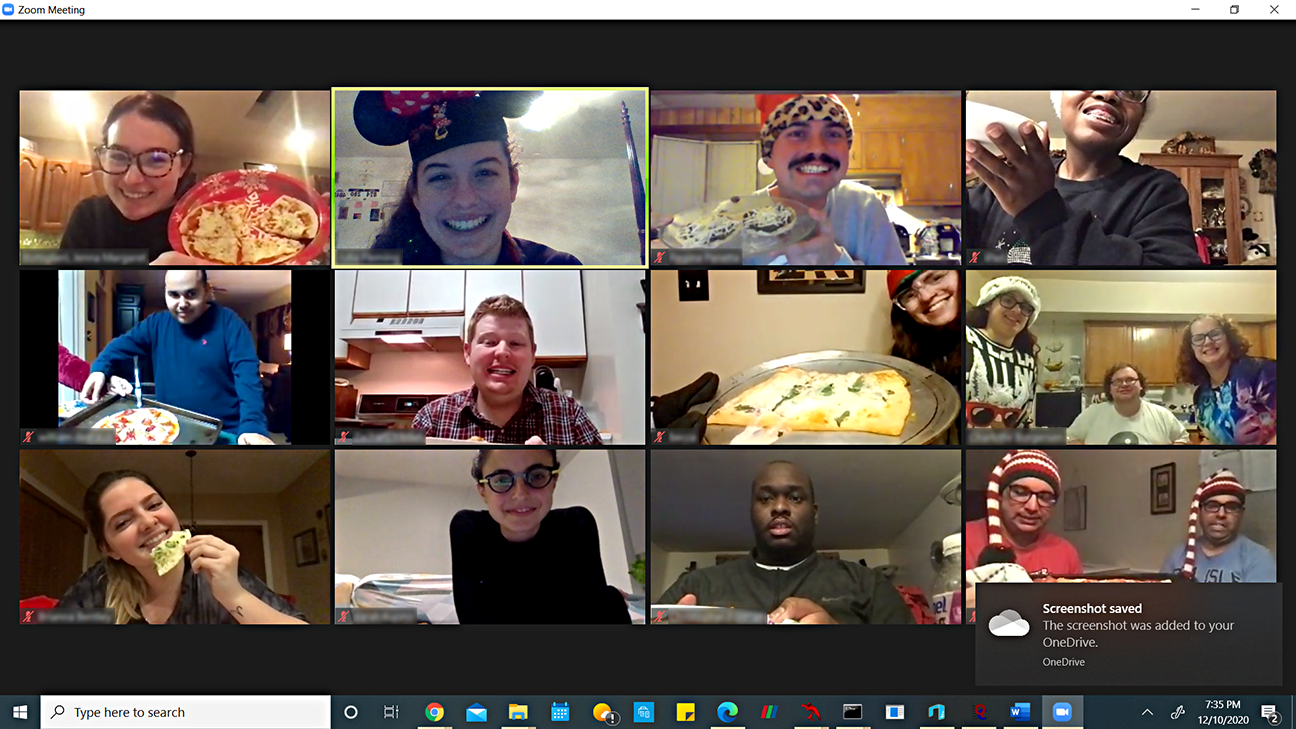 Rowan's Get FIT participants show off their snacks during an online session. (Below) Jenna Bottiglieri, an Exercise Science major, coordinated the program this semester.
When the pandemic interrupted many in-person activities this year, Rowan University students found a way to bring back a beloved program serving people with intellectual and developmental disabilities—this time, virtually.  
With her internship plans canceled, Jenna Bottiglieri, an Exercise Science major in the School of Health Professions, worked hard instead to coordinate an online version of the school's Get FIT (Fitness, Integration and Training) @ Rowan program for the fall semester.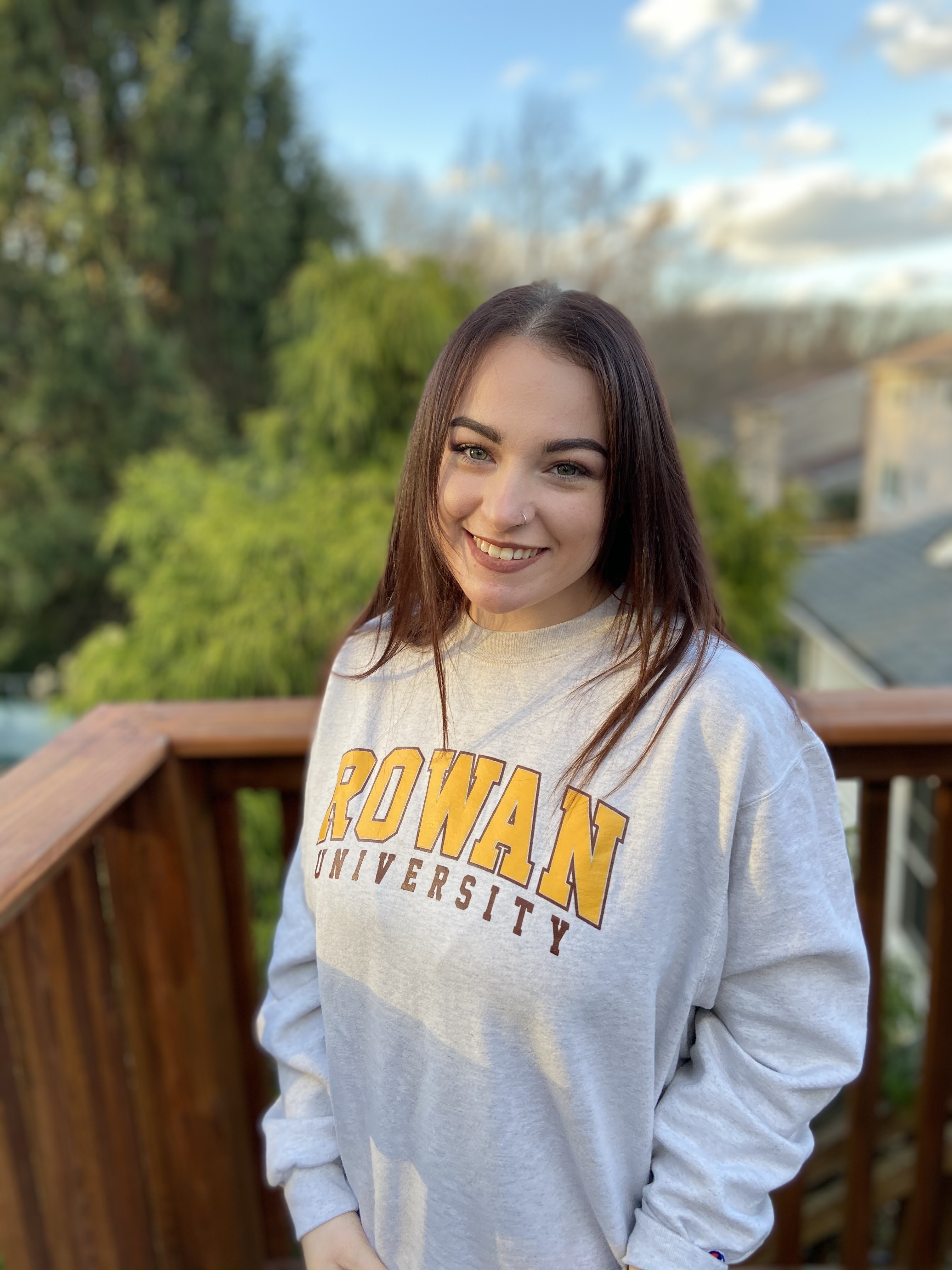 The program is a collaborative effort between Rowan and the nonprofit Family Resource Network. Volunteer Rowan students and employees train to be personal fitness coaches for participants with disabilities. The goal is to promote physical, social and emotional well-being. 
Participants and their families exercise within a comfortable and trusted atmosphere, socialize with new people, and become part of a community. Perhaps most importantly, they build friendships with their trainers and other participants—something they may not otherwise have the opportunity to do.
The program started more than a decade ago with in-person sessions on campus. Due to COVID-19 restrictions, the program went all virtual this fall without a cost to participants. Twenty-four participants sign in to Zoom for weekly workouts and sessions designed to build strength and improve overall health.
"Running the program virtually through Zoom has its challenges. However, the experience is still wonderful," Bottiglieri said. "I find comfort in knowing our participants are safe and healthy at home, and still able to see trainers and others. This platform has given us an opportunity to continue our program."
Bottiglieri found the hardest part of the virtual format is the lack of in-person interaction. 
"I am often told how our participants miss seeing their trainers and other clients in person," Bottiglieri said. "It is challenging to have the same energy and motivation as we do in-person, but we are absolutely making the most out of this experience."
"Virtual Get FIT has been an awesome substitute method to in-person Get FIT. Along with training, we get to interact socially with our clients," said Sal Murphy, a volunteer trainer and Health & Exercise Science major. "Fitness training is only one important part of this program. Social interaction is crucial to improving our clients' overall health." 
On the upside, going virtual has spurred new ideas for creatively engaging participants. Dr. Leslie Spencer, a Department of Health & Exercise Science professor and the program director, said that "one of the surprise success stories has been the addition of our Snack and Chat sessions. We share the ingredients list of a healthy snack with them ahead of time, and they join in with our instructor to make and eat the snack. Clients loved it and asked for more."
As volunteers, Rowan students receive specialized training, gain valuable experience working with clients with special needs, and see their efforts make a meaningful impact.
Julia Fleming, a Biomedical Engineering senior, has been a volunteer trainer since September 2019. 
"I'm very proud of how our volunteers and administrators have organized to keep GetFIT going in spite of obstacles," said Fleming. "Seeing a client's joy during their session is one of the most rewarding aspects of being a special-needs fitness instructor.
Bottiglieri is coordinating the program for her senior internship. In high school, Bottiglieri was always interested in anatomy and learning about how the body functioned. 
"I knew I wanted to be in a field in which I was directly helping others," Bottiglieri said. "I began taking an interest in my own personal health, and grew passionate about spreading health awareness."
As coordinator, Bottiglieri and her predecessors instruct exercise classes, manage and train volunteers, develop and schedule programming, communicate with caregivers, and more. 
"It is truly a remarkable program that benefits everyone," said Bottiglieri. She has witnessed firsthand how participants look forward to spending time with their trainers.
"Get FIT @ Rowan is, without a doubt, the best part of my day," Bottiglieri said, "and it is the best part of the participants' as well."