RowanSOM joins national COVID-19 vaccine effort
RowanSOM joins national COVID-19 vaccine effort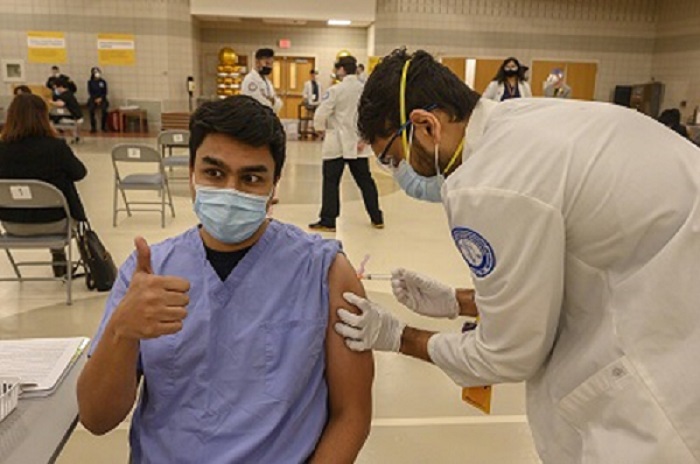 Dubbed "Operation Saving Lives," the Rowan Medicine COVID-19 Vaccination Center on RowanSOM's Stratford campus is now open. The center will provide COVID-19 vaccines to as many as 400 people daily for at least six months.
It only caused a slight pinch and was over in seconds, but the COVID-19 vaccine delivered to Dr. Adora Okoli-Umeweni culminated weeks of nearly around-the-clock planning to launch the Rowan Medicine COVID-19 Vaccination Center.
With the injection, delivered by Rowan School of Osteopathic Medicine student doctor Nida Ansari on Christmas Eve morning, Rowan joined the fight to turn back the tide of the COVID-19 pandemic that has engulfed the world in a public health crisis unlike any other of the past 100 years.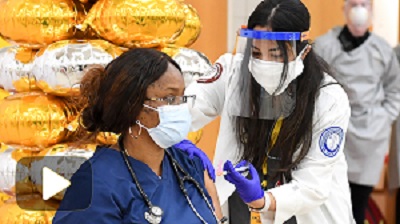 Ansari is among 500 RowanSOM medical school students who are volunteering at the clinic, including many who are giving up their holiday break to do so.  
Complete silence fell over the multi-purpose room of the RowanSOM academic building as Ansari gave the first official dose at the vaccination center.
"I was 1,000 percent nervous," Ansari smiled, moments after she administered the vaccine to Okoli-Umeweni, chief of geriatric medicine at Rowan Medicine. "There was dead silence. Everyone was watching. I was thinking to myself, "Please don't mess up.' But I've been trained by great physicians and nurses who taught me well.
"I'm excited to be able to do this. It's a very unique opportunity for a medical school student."
'Operation Saving Lives'
Moments after Okoli-Umeweni was inoculated, Dr. Thomas Cavalieri, a geriatrician and Dean of RowanSOM, joined Okoli-Umeweni in receiving the first of a two-injection inoculation with the Moderna vaccine. They were followed by Rowan Medicine physicians and medical staff who are among the front-line health care workers, prioritized by the state to receive the initial round of vaccinations.
"I call this project 'Operation Saving Lives' because every vaccine we give has the potential to save not only one, but many lives," said Cavalieri, who received his vaccine from third-year medical student Anjani Patel, RowanSOM's student council president.
"We are the first center in the region that will be serving front-line health care workers who are not affiliated with a hospital system. Because we are community based, we are also uniquely positioned to provide vaccinations for first responders and other essential workers in the area.
"We want to reach out to everyone, especially underserved communities. We've converted our lobby and café to accommodate 400 patients a day."
Remarkable achievement
Rowan University President Ali Houshmand was on hand at the opening of the clinic and expressed his enormous pride in the effort to establish the Vaccination Center on the University's Stratford campus.
"As is the Rowan way, our employees demonstrated extraordinary commitment, expertise and enthusiasm to establish this long-term vaccination center in just two weeks. "It is a remarkable achievement and one that will begin immediately to pay enormous dividends by saving lives throughout our state."
After Okoli-Umeweni and Cavalieri received their vaccines—and were observed keenly for 15 minutes by Ansari and Patel—RowanSOM employees began registering to receive their own vaccinations. The café-turned-registration site was abuzz as masked up employees waited six feet or more apart to receive the vaccine. Medical school students handled the registration process.
'A true Rowan community'
"This is a true Rowan community…all of us working together," Ansari said. "Everyone is eager to step up and do what we can. No role in this is a small role."
"This experience will shape us as physicians," added Patel. "This is all volunteer. It's not part of our curriculum."
Both Patel and Ansari are co-chairs of the Student COVID-19 Task Force, overseeing student involvement for the Vaccination Center.
Patel's inoculation technique was flawless, Cavalieri said.
"Her shots don't hurt!" he said with a smile as Patel presented him with a celebratory sticker indicating he received the vaccine.
Ansari also received high marks from Okoli-Umeweni.
"Perfect. It couldn't have been better. She's going to be an excellent doctor," Okoli-Umeweni said, praising Ansari's compassion and empathy.
Receiving the vaccine, Okoli-Umeweni said, "is the right thing to do. It's the safe thing to do. It saves lives."
A season of hope
University officials expect the COVID-19 Vaccination Center to remain operational for the next six months, supporting the state's ambitious goal to vaccinate 70 percent of the New Jersey residents before the beginning of summer. The University also will be supporting the vaccination mega center that is slated to open at Rowan College of South Jersey (RCSJ). As one of the designated regional mega centers throughout the state, the RCSJ site will have the capability to vaccinate 2,500 people per day.
Consistent with federal and state guidelines, the center initially will provide vaccinations to 200 front-line health care workers per day, then progress to other groups as prioritized by the New Jersey Department of Health. Those additional groups will include non-health care essential workers, adults at higher risk of severe COVID-19 illness, and adults 65 years and older before including members of the general public.
"COVID-19 is the leading cause of death in our nation," Cavalieri emphasized. "This is no exaggeration.
"This is the season of hope and there's reason to be hopeful. We are going to help New Jersey get back on its feet."
The Rowan COVID-19 Vaccination Center is located on the campus of Rowan's School of Osteopathic Medicine, in Stratford. Vaccinations are available Monday through Friday, by appointment. Additional information can be found at www.rowanmedicine.com/vaccine.