Rowan researcher explores new medications targeting addiction
Rowan researcher explores new medications targeting addiction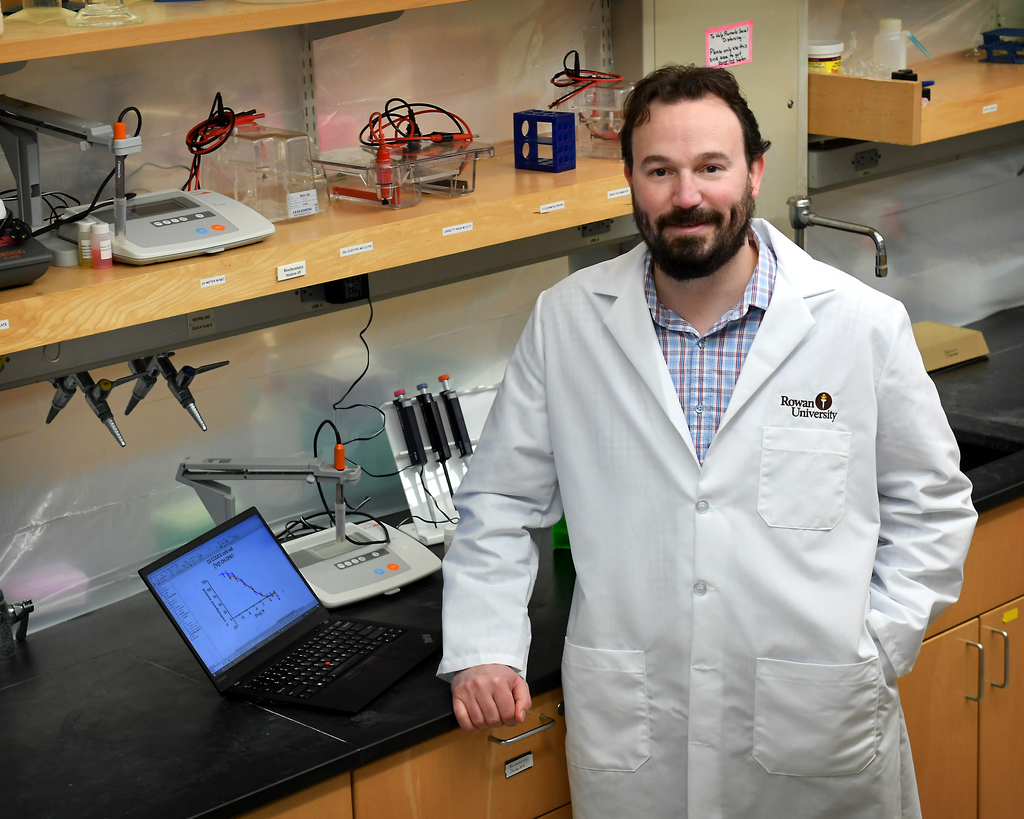 Rowan University's Dr. Thomas Keck is developing potential new medications to treat addiction.
More than 2 million Americans older than 12 abused cocaine and more than 11 million abused opioids in 2017, according to the National Survey on Drug Use and Health. This growing epidemic carries devastating consequences, but a Rowan researcher is exploring potential solutions. 
Dr. Thomas Keck, an associate professor in the Department of Chemistry & Biochemistry and the Department of Molecular & Cellular Biosciences in the College of Science & Mathematics, is developing potential new medications that may be used to treat addiction to psychostimulants, such as cocaine and methamphetamines, and opioids like heroin.
To support this work, Keck and his colleague, Dr. Comfort Boateng of High Point University's Fred Wilson School of Pharmacy in North Carolina, landed a grant for $428,000 from the National Institute on Drug Abuse of the National Institutes of Health. Of this total, $80,500 will be allocated to Keck's research at Rowan. Keck is focusing on medications that target the dopamine D4 receptor.
"We believe the D4 receptor plays a role in decision-making, attention and similar cognitive processes," Keck explained. "Drug addiction is a problem of decision-making. Can you resist the urge to take drugs, or do the decision-making circuits get short-circuited by the drugs of abuse? We think that if we can alter the signaling of this particular receptor in the decision-making parts of the brain, that might help people avoid taking drugs."
Keck has studied this receptor since he was a graduate student and wrote his doctoral dissertation on it. His lab also is analyzing other aspects of drug and alcohol addiction and neuropsychiatric disorders, such as Alzheimer's disease, schizophrenia, attention-deficit hyperactivity disorder and more. He was thrilled to receive the grant. 
"To have the funding from the NIH to continue pursuing this research is a good validation for the level of work that we have already done," Keck said. "It will help us build beyond what we have already created."
Undergraduate students are advancing Keck's work by culturing cells and performing radioligand binding assays—highly sensitive tests—to determine how well the new molecules adhere to the D4 receptor. 
"We have a couple of molecules that we've discovered that adhere to this receptor well, but we need to more fully characterize them. Then we will make new versions to see whether they adhere even better," Keck said.
If the work is successful, the research will fill an important gap. 
"There are currently no medications approved by the U.S. Food & Drug Administration for psychostimulant addiction, so it's a completely unmet need. There are also limited options for people with opioid-use disorders. Generally speaking, there are not a lot of high-quality therapies for drug addiction overall," Keck said.
"If we are successful and can create new molecules that could be medications for drug addiction, that would have a dramatic impact," Keck added. "Even if we do not achieve that larger goal, the molecules that we are creating and testing could be very useful research tools to teach us more about how this receptor works in the brain and its particular role in decision-making."