Looking toward a bright future
Looking toward a bright future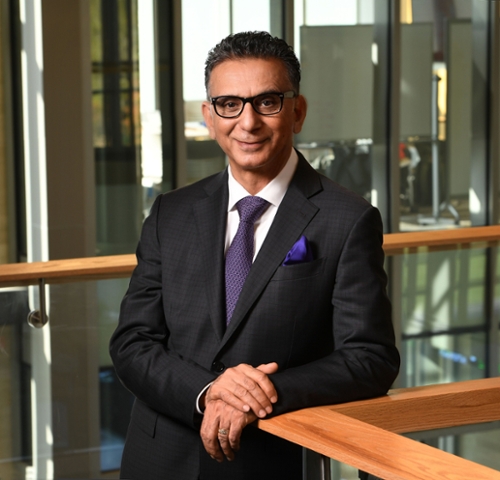 Dear University Community:
I truly cannot be more proud of the University's collective efforts and accomplishments this year. The pandemic tested all of us, some more personally than others. As an institution, 2020 forced us to do more, think more, achieve more. This year brought historic challenges — challenges we've met with innovation, purpose, resilience and a caring, can-do spirit.
A look back at this year will surely warm your heart and fill it with Rowan pride:
We quickly pivoted to create a flexible educational experience that allowed our students to continue their education, despite the pandemic. We earned national accolades for our response, serving as an example for other institutions.
Recognizing COVID-19's financial impact on families, we offered students a 10 percent tuition discount, making us one of just a handful of schools nationwide to reduce tuition by so much. We also created new food initiatives for our students and our neighbors in the surrounding community.
We increased our enrollment this fall and are once again recognized by The Chronicle of Higher Education as the fourth fastest-growing public research institution in the country.
We've shared our resources and expertise, devising intubation boxes and lightweight battery packs for local hospitals, creating a reusable, 3D-printed face mask with our industry partners, making hand sanitizer, delivering virtual artistic performances, and assisting teachers around the world as schools abruptly switched to online learning.
Rowan University is seen as a solution and a path forward for many. Looking forward to the spring, we're already seeing an increase in transfer students and Rowan Global enrollment.
And, most importantly,
New Jersey has recognized our contributions and capabilities, allowing our School of Osteopathic Medicine to host and manage a regional vaccination center, and to partner with Gloucester County to run a regional mega vaccination center at the Rowan College of South Jersey. Our region is depending on us. We are proud to take on the challenge.
Along the way, we've made personal sacrifices to keep one another safe. We've worked together to overcome each day's obstacles. It hasn't been easy. I want to thank each of you for doing your best under very difficult circumstances.
It's because of you that we have a very bright future. We have bold, exciting plans for 2021. We'll open Discovery Hall and RowanSOM's new campus in Sewell for medical school education and more clinical offices. We'll break ground for the Jean & Ric Edelman Fossil Park museum and research center. We will continue to expand our online program offerings to accommodate the new normal and offer new opportunities. Plans will move forward for the expansion of the Chamberlain Student Center. We will roll out creative, new ideas developed by several committees tasked with rethinking how the University runs its daily operations, from educational delivery to the student experience. And, we will continue with our efforts to convert regular classrooms to smart classrooms, furthering our path to offer high quality, flexible, relevant education.
Even as we continue to celebrate the holidays, we must continue to follow precautions. I urge everyone to follow CDC guidelines as you celebrate the season: Wear your masks, maintain physical distancing and wash your hands often.
I wish you all a safe, healthy and happy New Year. 
Very truly yours,
Ali A. Houshmand, Ph.D.
President