Free COVID-19 testing before Thanksgiving
Free COVID-19 testing before Thanksgiving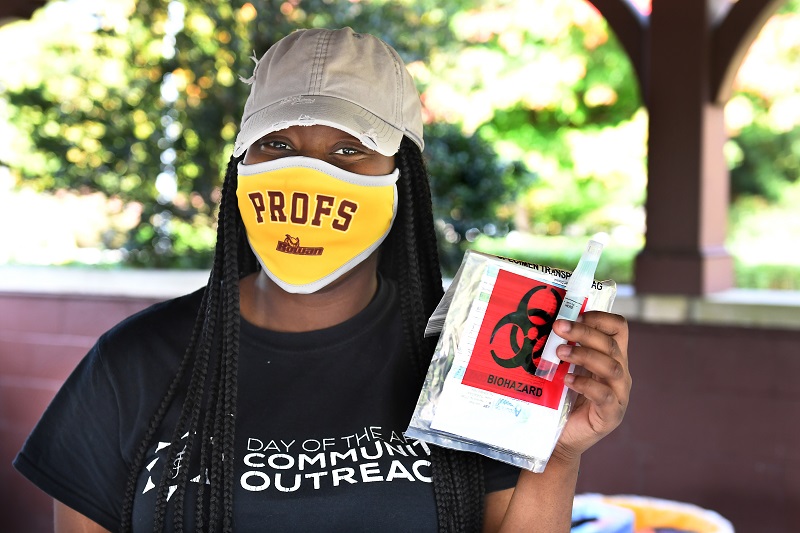 Law & Justice Studies major Abigayle Harris took advantage of asymptomatic testing this fall. Now, all Rowan students and employees will have the opportunity to get free COVID-19 testing before the Thanksgiving holiday.
Rowan University will offer free asymptomatic coronavirus testing to all students and employees before Thanksgiving Day to continue efforts to help reduce the spread of COVID-19.
Students will be tested, primarily using saliva tests, at a tent on Robinson Circle. Employees and medical school students will be able to request a nasal swab test to be mailed home.
Accurate, reliable testing is only one tool in the fight against COVID-19. When coupled with diligent physical distancing and good public health practices, these safety measures can provide a high degree of reassurance.
Student testing:
Testing begins on Friday, Nov. 13.
Students must register for testing at least 72 hours in advance. Click here for more information and to schedule your test. Your insurance will not be processed and results will be back within four days.
Any negative test result will be emailed to your Rowan email account. Students with a positive test result will be called by Rowan University health staff and contact tracers.
Public health officials do not recommend retesting if you've had a positive result in the past three months. There have been cases of individuals testing positive for weeks or months after a confirmed infection.  This offering is for asymptomatic students. If you are exhibiting symptoms of COVID-19, contact the Wellness Center at 856-256-4333 or your healthcare provider.
Students who test positive for the virus will be offered the opportunity to isolate on campus in Triad Hall, the residence building set aside for isolation throughout the semester. The University will continue to provide health monitoring and meals for students throughout their stay in Triad Hall.
Students who choose to remain on campus or nearby over the long Thanksgiving weekend will be able to enjoy activities the Division of Student Life is hosting, including a Thanksgiving Day meal and outdoor, in-person programs, as appropriate based on public health considerations. Dining services also will be available throughout the weekend.
Register at:        
https://sites.rowan.edu/universityevents/covidtesting.html
Testing location:             
Robinson Hall Circle (Park in Lot 0-1)
Employees and medical school students:
Employees and medical school students will have the opportunity to register online to receive at-home nasal swab testing kits. More information regarding the process will be announced this week.