Experience Rowan: In-person campus tours welcome students and families
Experience Rowan: In-person campus tours welcome students and families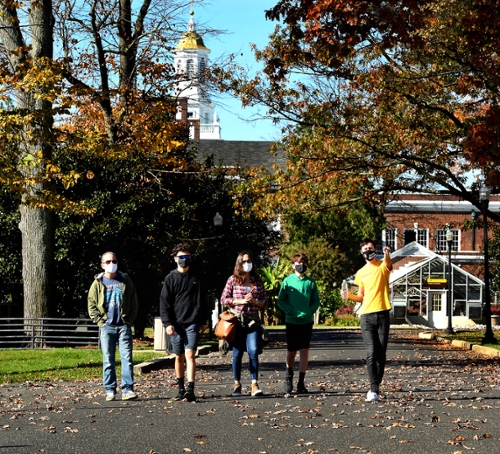 Prospective students and families are back on campus.
Websites are great, brochures are fine, but there's nothing like the see-it-for-yourself experience of an in-person tour when deciding where to attend college.
For this reason, Rowan University has resumed in-person tours for prospective students across the main Glassboro campus, with stops tailored to incoming students' interests, from Art to Athletics and from Engineering to English.
Dan Reigel, associate director of Admissions, said campus tours, which went fully virtual following the first Covid-19 outbreak in March, are now offered in-person and individually, in contrast to the group tour format in which dozens of prospective students and parents often snaked through campus, stopping at Bunce Hall, Hollybush Mansion and other historic and academic Rowan landmarks.
"We're really pleased to be offering personal one on one tours," Reigel said. "They're intimate –one student, their family and one Admissions Ambassador, no more than six people total."
Reigel said all public health protocols are followed during the campus tours, which are by appointment, including a mandatory wearing of masks, social distancing and temperature checks.
He said that while personal tours have resumed, much of the admissions process remains virtual and there are a great many online resources available to prospective students including virtual admissions presentations, transfer Q&As, Equal Opportunity Fund info sessions, and more. There are also specialized online sessions for students with particular interests including athletes, prospective engineering students, business students, and a section for students who are undecided about choosing a major.
Reigel said Admissions Ambassadors who conduct the tours are highly trained undergraduate students with a great wealth of information about Rowan and its history, highlights and offerings.
"Our Ambassadors know the ins and outs of the University," he said. "But they don't just repeat tour information. They provide a great perspective about what it's like to be a student at Rowan University."
Since fall is the busy recruiting season for the following school year, Reigel advised prospective students and their parents to reserve a tour slot as early as possible.
"As of now, we'll be doing about 850 personal tours in the next two months but we'll add more if necessary," he said.
Reigel said the tours, which take roughly 60 to 90 minutes, are offered seven days per week, from 10 a.m. to 3 p.m.
"We limit going inside buildings but we take them to the building where they'll spend most of their time," Reigel said. "Generally, everyone will see the Student Center, inside the Library, Rowan Boulevard and the inside of at least one academic building. It's a walking tour so most is done outside and it's a chance to see the entire campus."
Reigel said Admissions will also soon launch a self-guided walking tour in which prospective students and their families can get a map and follow along with a You Tube or Spotify playlist as they see the campus for themselves.