Building better engineers: ExEEd researchers work to innovate, save lives
Building better engineers: ExEEd researchers work to innovate, save lives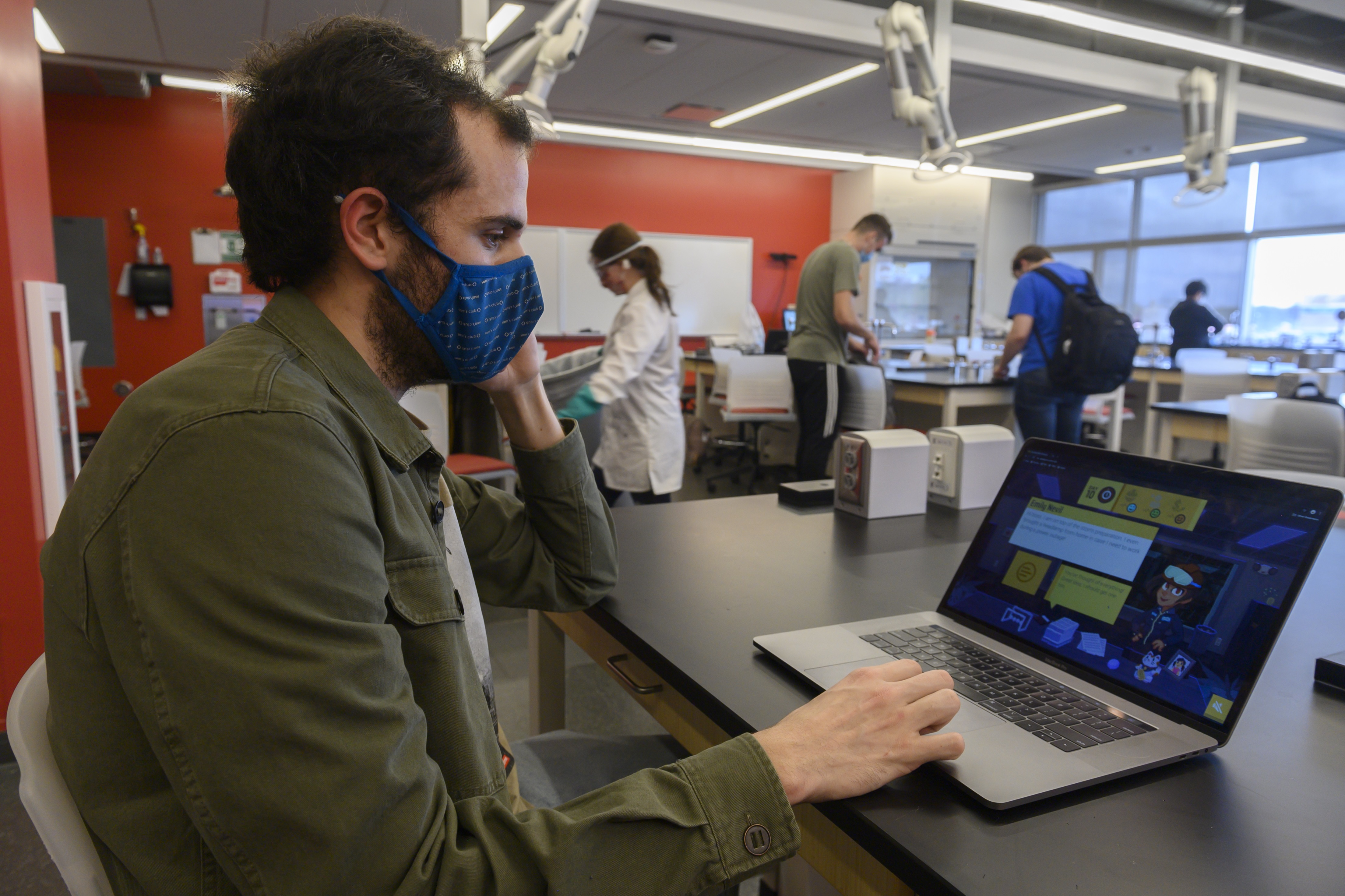 Zach Nicolella, a chemical engineering senior, demonstrates the game, Contents Under Pressure.
At Rowan University, future chemical engineers sweat through an immersive digital game built to teach a critical lesson: staying safe in the workplace isn't as easy as it appears. 
Created by Rowan's Experiential Engineering Education Department (ExEEd) in collaboration with its partners and developed as part of a National Science Foundation grant, the game is much better at predicting a person's real-world responses than traditional electronic surveys, according to new research published in the Australasian Journal of Engineering Education.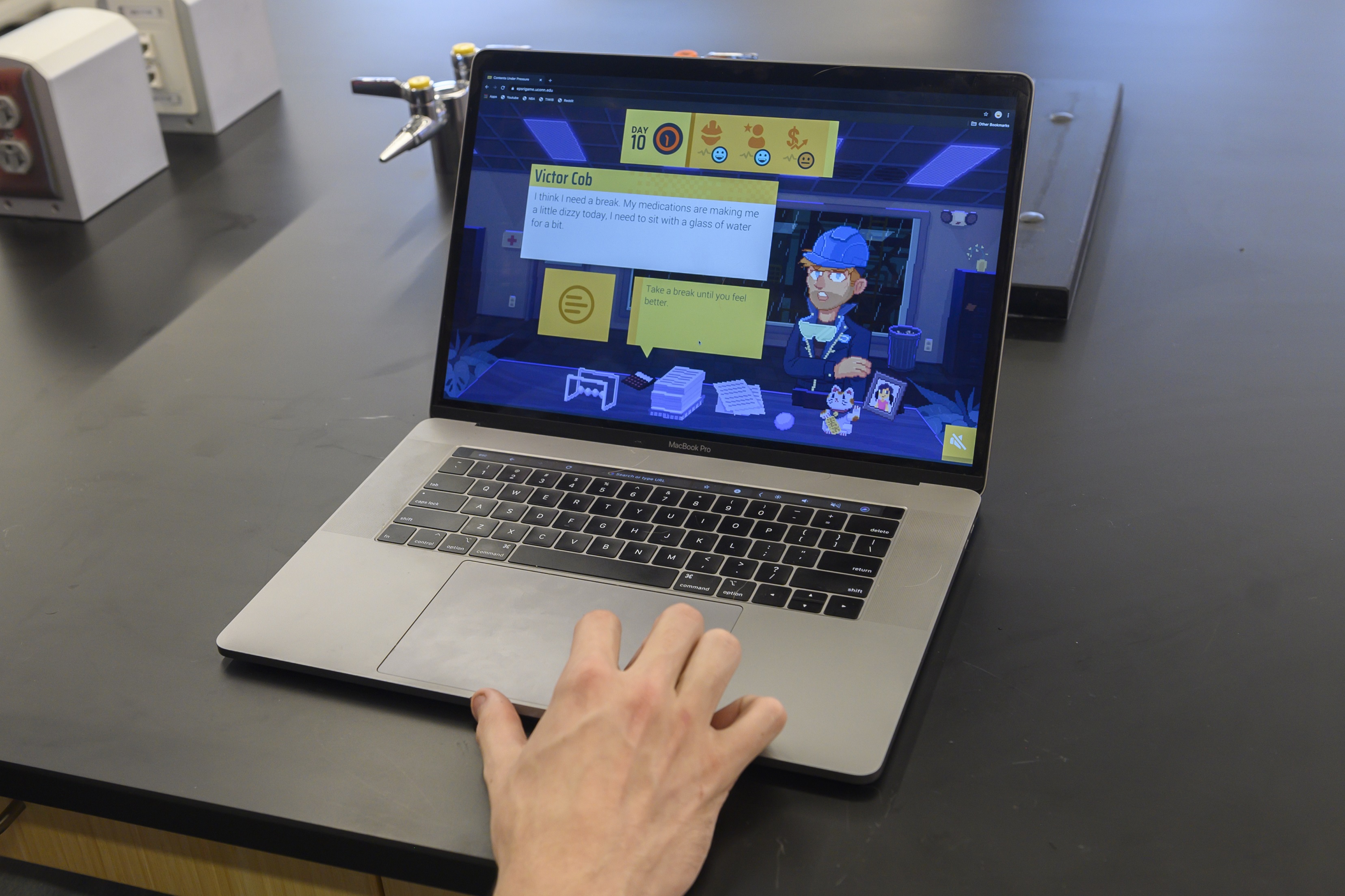 That means students who play the virtual simulation over a 15-day period also better learn how to prevent accidents from occurring due to poor decision-making, explained Associate Professor Cheryl Bodnar, whose engineering education research is backed by the National Science Foundation and the Kern Family Foundation. 
"The students always say it's way more challenging than they anticipated," said Bodnar. 
To develop the game, ExEEd worked with Filament Games, North Carolina State University, Rose-Hulman Institute of Technology and the University of Connecticut.
The result is an example of the evidence-based teaching tools ExEEd develops to meet the evolving needs of industry and move engineering education forward. The department produces engineering entrepreneurship graduates with a background in both engineering and business skills, alongside engineers with doctoral degrees focused on engineering education who will serve as leaders in engineering student development in the future. 
One day, Bodnar hopes, the department's research will save lives and lead to a well-trained engineering workforce that better represents the population. 
"We produce really great engineers, but there is definitely a need in society right now to have individuals who can pivot, think outside the box, approach problems and look at a variety of different stakeholders," Bodnar observed.
In finding better ways to teach and train engineers, ExEEd's researchers build the bridge between so-called hard science and social sciences, said Assistant Professor Juan Cruz. He recently received a nearly $400,000 grant from the National Science Foundation to develop sustainable models to graduate 1,500 underrepresented students from doctoral-level engineering programs at 25 institutions over the next five years. 
"Increasing diversity in our industries is a huge problem," Cruz noted. "It's something that requires a lot of time to work."
Rowan's ExEEd researchers are also working on grant-funded projects to increase the number of female engineering graduates, faculty members and women in STEM leadership positions at higher institutions. That work is aimed not just at dismantling systemic barriers, but at advancing the field of engineering as a whole. 
"When you have a diverse perspective on things, the problems you can solve are bigger and better," Cruz said. "We are, by definition, biased. When you have different perspectives, that allows for more innovation and gives us more eyes and ears to a particular problem." 
ExEEd's research affects more than just how engineers are taught in colleges and universities. Industry is taking an interest, too. 
With disaster hovering over each decision its players make, "Contents Under Pressure" could be a useful training tool for employees, Bodnar said. 
"We've had a lot of companies that have signed on and have said it is important," Bodnar added. How important? Since 1990, the U.S. Chemical Safety and Hazard Investigation Board has investigated 130 major incidents, including explosions, chemical releases and fires that led to injuries and deaths. 
"Hopefully, down the line, this will help create fewer incidents," Bodnar said.
Jeff Stransky '19 applies his research and engineering skills to solving people-centered problems. As an experiential engineering education doctoral student, the Atco resident is studying the impact of the "Contents Under Pressure" game for his dissertation and has already published papers describing research outcomes. 
"People are being trained—there are textbooks, there are videos," Stransky noted. "But they don't realize how the real world differs from textbooks and that's the gap we're trying to hit." 
It's a lofty goal, but such impactful work is why the field exists. ExEEd researchers "have this wide-eyed perspective of what engineers could possibly do," Stransky said. 
"They're looking at what is going to be needed and how we can create engineers who will address those needs down the line," Stransky said. "And I think that's what we're doing."