Air Force veteran soars in Rowan's Materials Science & Engineering doctoral program
Air Force veteran soars in Rowan's Materials Science & Engineering doctoral program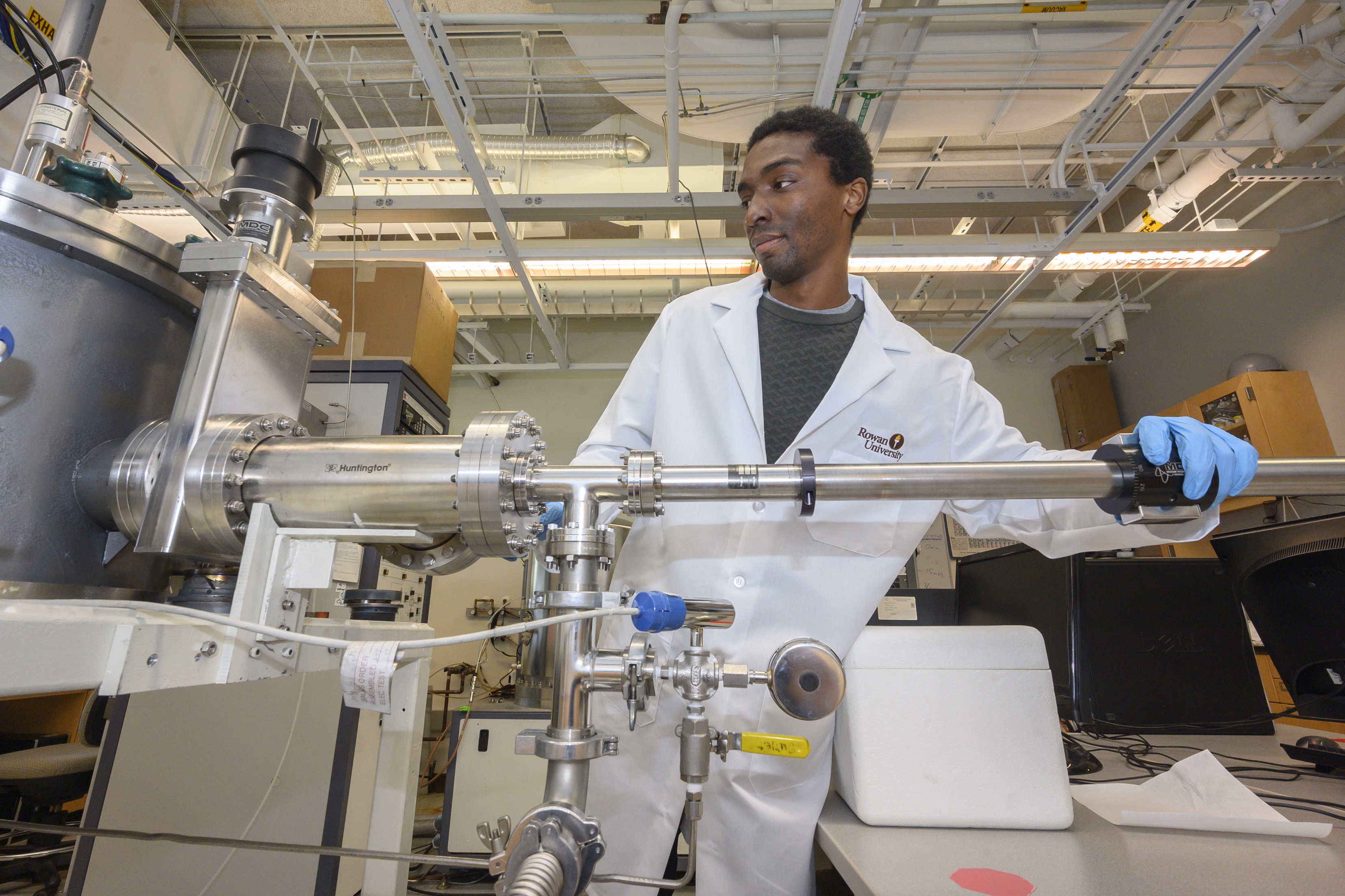 Graduate student Greg Taylor works in the lab at Rowan University's Science Hall.
When Greg Taylor graduates from Rowan University with his Ph.D., the Materials Science & Engineering faculty will celebrate a milestone along with him.
The Magnolia resident is expected to be the first to earn a doctoral degree from the interdisciplinary new program that brings together the College of Science & Mathematics and the Henry M. Rowan College of Engineering.
After high school, Taylor didn't intend to go to a four-year college. He enlisted in the Air Force, in hopes of becoming a Survival, Evasion, Resistance and Escape (SERE) operator—an instructor who teaches others how to survive.  
"You think you're going to die every day," Taylor remembered. "It was the hardest thing I'd ever done. I didn't end up being a SERE operator, but I survived. I failed, knowing I tried and learned that taking risks comes at a great reward." 
After serving two years of active duty, Taylor took a risk that paid off: going back to school, while serving six more years in the Air Force as a reservist. Interested in learning about ways to harvest and store renewable energy, he earned his bachelor's degree in physics from Rowan in 2015. 
Around the time he began thinking about graduate school, he heard from his former advisor, Dr. Jeffrey Hettinger in Rowan's Department of Physics. Hettinger wanted Taylor to be the first student in Rowan's new MSE doctoral program.
"There were many characteristics required of the first student in a new program—smart, self-motivated, flexible," Hettinger said. "We needed someone we knew would stick with the evolving program and be successful. Greg was a can't-miss candidate."
Taylor accepted Hettinger's challenge and enrolled in the program in fall 2017, starting research in his first year.
Now, the former staff sergeant is developing coatings for medical devices that can be implanted into the body to stimulate neural tissue. These coatings can enhance the efficacy of medical devices like pacemakers, improve pain regulation and even restore motor function.
"Greg has successfully tried synthesis parameters that are outside the range that we usually consider for this type of work and developed new materials that outperform existing materials for neurostimulation applications," Hettinger said. "Already, his work has resulted in important advances." 
"Greg has a keen insight in research," said Dr. Wei Xue, associate professor of mechanical engineering in the Henry M. Rowan College of Engineering and its program coordinator for MSE. Xue, a member of Taylor's doctoral dissertation committee, added that Taylor has the "critical research skills to carry out his tasks in a thorough and profound way."
To work in materials science and engineering, a person must understand both the theories of materials and the practical skills required to engineer materials for a purpose. 
Such interdisciplinary programs offer "the best of both worlds," Taylor said. "You get closer to the practical application by studying engineering, without sacrificing the theoretical understanding you get from studying physics and chemistry." 
Taylor's accomplishments bode well for the future of the program, Hettinger observed. 
"Greg has exceeded what were already high expectations," Hettinger said. "His success will help us recruit excellent students to the program going forward." 
The breadth of Rowan's curriculum may be the program's most compelling asset for potential students. 
"This program is a real win for students like Greg, because it offers diverse options for research experience," said Dr. Timothy Vaden, professor in the Department of Chemistry & Biochemistry and the College of Science and Mathematics' program coordinator for MSE. "If a student has any interest in the world of materials at all, there's something for them in this program."