Watch live: NASA's first asteroid sample collection featuring Rowan faculty member
Watch live: NASA's first asteroid sample collection featuring Rowan faculty member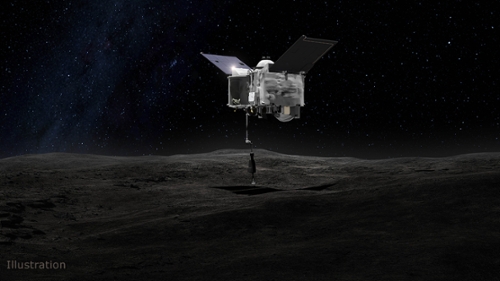 Artist's rendering of NASA spacecraft OSIRIS-REx "touch-and-go" on Bennu.
This afternoon at 5 p.m., NASA will begin a live broadcast of the OSIRIS-REx mission, the first in agency history, to collect a sample from a moving asteroid.
Dr. Harold Connolly Jr., founding chair of Rowan University's Department of Geology, serves as mission sample scientist for the OSIRIS-REx project and will lead analysis of the spacecraft's payload when it returns to Earth from the asteroid Bennu in 2023. Connolly and an international team of researchers have already begun publishing results from this historic mission including a forthcoming article in the journal Nature.
The unmanned spacecraft launched on Sept. 8, 2016, rendezvoused with Bennu in 2018, and will attempt to collect a sample of carbonaceous surface material as viewers from around the world watch the procedure live.
NASA's broadcast of the spacecraft's touch-and-go (TAG) maneuver to collect a sample on Bennu may be viewed on NASA TV.