Engineering faculty, students probe satellite-Bluetooth connection
Engineering faculty, students probe satellite-Bluetooth connection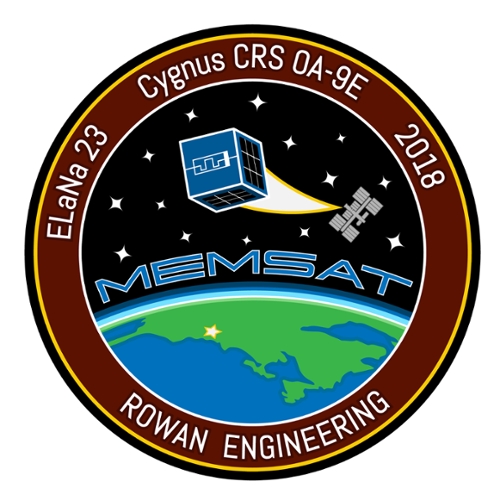 Student 2018 mission patch design
Sure, Bluetooth technology works great connecting smartwatches, ear buds and portable speakers to iPhones and Androids, but Rowan researchers wonder: Would it work in space?
It's a question that some enterprising faculty and students in the Henry M. Rowan College of Engineering seek to answer.
Assistant Professor of Electrical & Computer Engineering Dr. Sangho Shin is conducting research into the versatile power of wireless technology like Bluetooth for use in "nano satellites," small devices roughly ten centimeters cubed that NASA is sending out into the cosmos.
A Rowan team including Dr. Shin built a small cube satellite that in 2018 launched to the International Space Station and, from there, into the low-earth orbit, as part of the space agency's CubeSat Launch Initiative. The project enables universities, high schools and non-profit organizations to build small satellites that ship to the orbit with NASA rockets.
Working with emerging memristor technology, the current team seeks to build a low cost, efficient, reliable nano satellite that, among its key features, replaces much of the copper wiring contained in the first gen device with Bluetooth technology, an idea that has caught the attention of NASA.
The program receives $57,000 in annual funding from NASA, and faculty and students work in partnership with the agency through its Marshall Space Flight Center in Huntsville, Ala.
Shin said the current generation of nano satellite, a device roughly the size of a softball, embraces wireless technology over copper wiring for several reasons: it is cheaper, lighter, less bulky and can be reprogrammed anywhere, even in space.
"There are many benefits (to wireless technology), starting with the cost factor," Shin said.
In fact, he said, the space agency's determination to keep costs low spurred Rowan researchers to make pricing such a primary concern that they dubbed the current iteration "LoCoSat".
Not only does the team seek to keep the cost of their developing technology low, but they will give it away so other researchers may benefit from their work once it's perfected.
"Our primary goal is to hit the lowest possible price tag and release it freely to the public," Shin said.
The college's 2018 team, dubbed MemSat, was the first nano satellite in New Jersey to launch with a NASA rocket. Shin said the current team hopes their work will be included in the next round of small satellite research NASA deploys.
 "In November we will submit our proposal to NASA and the next selection will be announced next year," he said. "We are working on Rowan Engineering's second launch."