Robert Wood Johnson Foundation commits $1.68 million to support new School of Osteopathic Medicine campus at Rowan College of South Jersey
Robert Wood Johnson Foundation commits $1.68 million to support new School of Osteopathic Medicine campus at Rowan College of South Jersey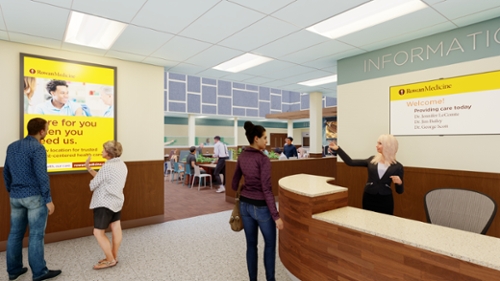 Artist's rendering of lobby on SOM's new Sewell campus.
The Rowan University Foundation has received a $1.68 million grant from the Robert Wood Johnson Foundation (RWJF) to maximize the potential of Rowan University School of Osteopathic Medicine's (RowanSOM) new campus at Rowan College of South Jersey-Gloucester. The funding will enhance the training of future physicians and improve health care for residents in southern New Jersey.
South Jersey exemplifies health care challenges in the U.S., including uneven access to health care services, a shortage of physicians and health care professionals, and escalating costs of health care delivery and education.
The project will support RowanSOM's new Sewell campus as it combines medical education and clinical services to address physician shortages and provide South Jersey residents with a new opportunity for accessing health care. Rowan Medicine clinical programs and training sites will be co-located on the campus.
Initially, Rowan Medicine, the clinical component of RowanSOM, will open six health care programs on the first floor of the two-story, 55,000 square foot building scheduled to open in March 2021. The programs will provide integrated primary care and behavioral health services for residents of Gloucester, Salem, Cape May and Cumberland counties.
Pending approval of the medical school's accrediting body, the expansion also will increase annual enrollment at RowanSOM from 200 to 272 medical students per class, making it the largest medical school in New Jersey. Recent developments due to the pandemic have delayed enrollment of the first class until July 2022.
"This project has the potential to transform health care in South Jersey," said Rowan University President Ali Houshmand. "This new campus uniquely positions our School of Osteopathic Medicine to both provide quality care to vulnerable populations and respond to the region's physician shortage, especially in primary care disciplines."
A Carnegie-classified national doctoral research institution, Rowan is one of only three universities in the nation with medical schools granting both D.O. and M.D. degrees, through its School of Osteopathic Medicine and Cooper Medical School of Rowan University, respectively.
The Robert Wood Johnson Foundation funding will allow RowanSOM to support staff and recruit students who will generate revenue from student tuition and fees and clinical reimbursements, which will help the campus to become self-sustaining starting in June 2024.
The new campus will offer comprehensive medical education using an innovative Problem-Based Learning curriculum fully integrated with the clinical health care programs located in the facility: Rowan Pediatrics, Rowan Family Medicine, Rowan Integrated Special Needs (RISN) Center, NeuroMusculoskeletal Institute, New Jersey Institute for Successful Aging, New Jersey Medication-Assisted Treatment Center of Excellence, and Rowan Behavioral Health.
Funding from the Robert Wood Johnson Foundation will maximize the potential of the vision for the campus in its first two years through support for three key objectives: recruiting premier clinical faculty specializing in primary care and care of special needs patients, recruiting premier Problem-Based Learning instructors and academic leaders, and hiring staff to recruit faculty and students and promote Rowan Medicine in the region.
By the completion of the project, the campus will enhance services to the most vulnerable populations in the region including individuals with special needs, residents struggling with substance abuse disorders, the elderly, children, low-income families, and individuals who are disabled due to musculoskeletal disorders.
Through the integration of clinical services with innovative public health initiatives and medical student training, Rowan University School of Osteopathic Medicine will support the health and well-being of the South Jersey community.
"On behalf of our School of Osteopathic Medicine and the entire University, I want to extend our sincere appreciation to the Robert Wood Johnson Foundation," said RowanSOM Dean Thomas A. Cavalieri. "This generous grant will be invaluable in helping us to address our state's physician shortage and to fulfill our mission to provide exceptional patient-centered care to underserved and special needs individuals in our communities."
About the Robert Wood Johnson Foundation
For more than 45 years, the Robert Wood Johnson Foundation has worked to improve health and health care. We are working alongside others to build a national Culture of Health that provides everyone in America a fair and just opportunity for health and well-being. For more information, visit rwjf.org. Follow the Foundation on Twitter at rwjf.org/twitter or on Facebook at rwjf.org/facebook.