Rowan Engineering CREATES 'more than just pavements'
Rowan Engineering CREATES 'more than just pavements'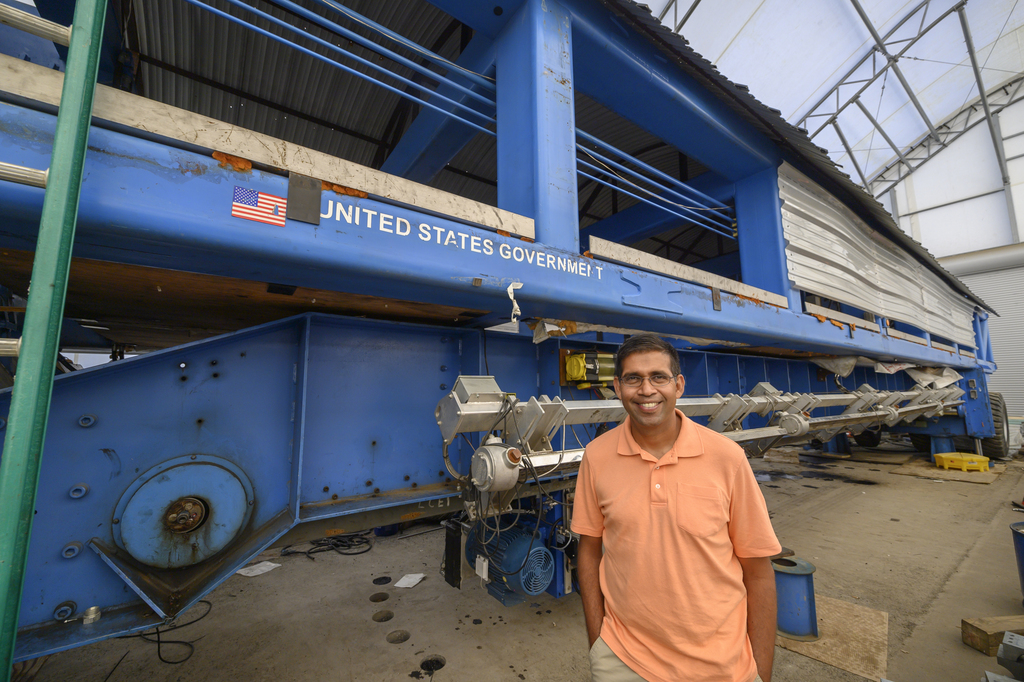 Dr. Yusuf Mehta, professor of civil and environmental engineering, stands inside the Accelerated Pavement Testing Facility at the South Jersey Technology Park in Harrison Twp., N.J. Below, Kayleigh McDevitt, assistant lab manager, measures asphalt samples in a CREATES lab.
At Rowan University's Center for Research and Education in Advanced Transportation Engineering Systems, Dr. Yusuf Mehta and his fellow engineers are studying ways to improve streets, airfields and the traffic that rumbles along them. 
Want to add more recycled materials to an asphalt recipe? Grappling with rapidly fluctuating temperatures damaging roadways? Need an inexpensive way to detect and map potholes or a more efficient method to de-ice a landing strip?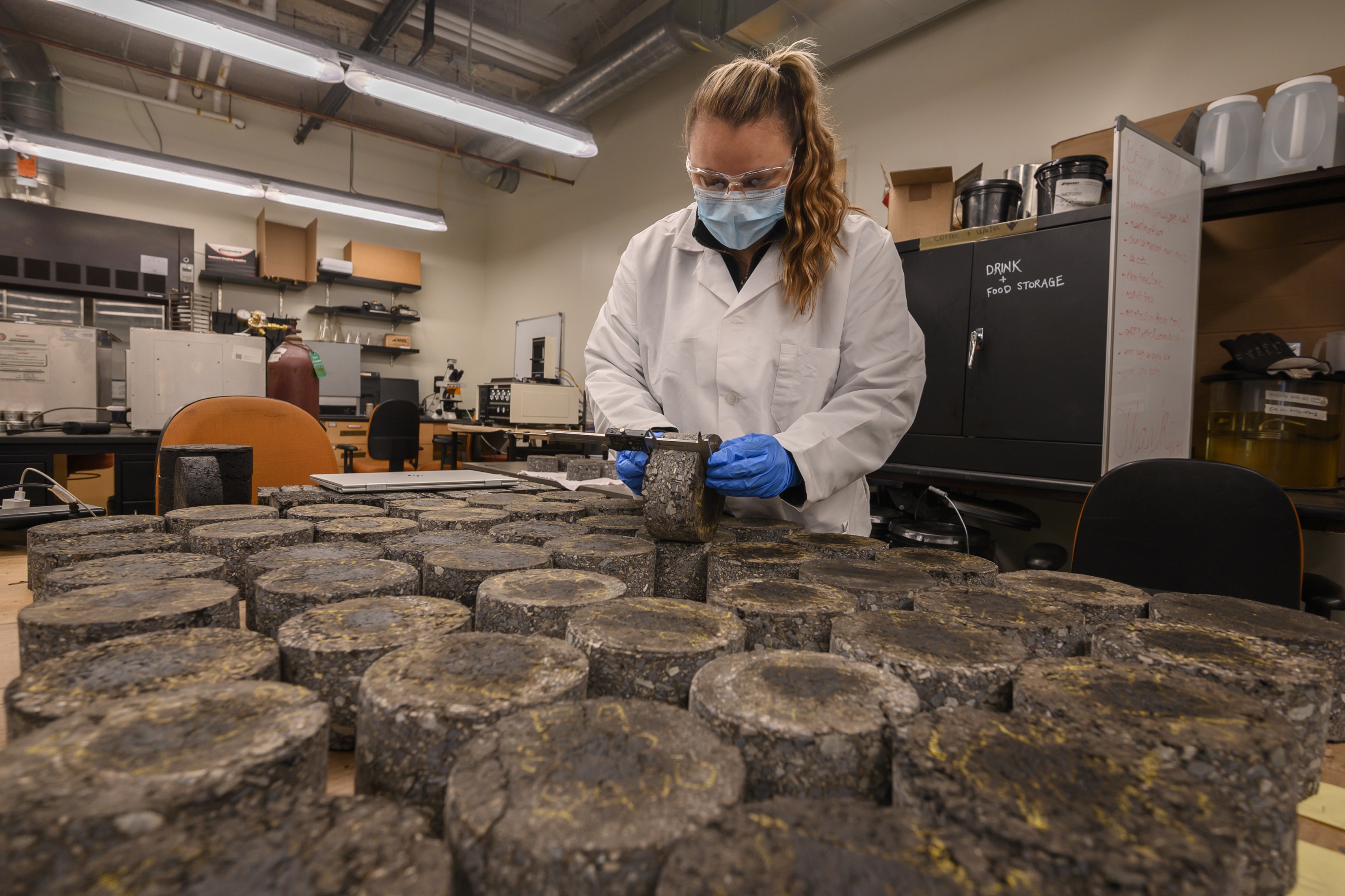 CREATES is working to find the answers to those questions, plus many more about traffic signal performance, driver fatigue analysis, environmental sustainability, and the effectiveness of pedestrian safety campaigns. 
"We're more than just pavements," said Mehta, professor in the Department of Civil & Environmental Engineering at Rowan University and founding director of CREATES. 
Since opening in 2016, the center has attracted millions of dollars in government and private research funding. Roughly 50 investigations are underway in its labs, led by a diverse team of investigators, graduate researchers and undergraduates. The center's faculty researchers include seven engineers, a mathematician and a petrologist.  
In the center's Accelerated Pavement Testing Facility at the South Jersey Technology Park, researchers run tests on pavement using a Heavy Vehicle Simulator—a massive, truck-like machine that produces decades' worth of wear and tear in a matter of months. 
The center's biggest customer is the Department of Defense, which supplies roughly $11 million in research funding. The military needs improved pavement materials for cold-weather climates to protect national security interests in the Arctic region. 
This summer, the department extended its support with another $500,000 grant to develop a testing procedure to assess and characterize freeze-thaw damage to asphalt mixtures, and to integrate sustainable materials in airfield mixtures for cold regions.  
Rowan researchers are developing highly elastic asphalt binders, fiber-reinforced asphalt mixtures and cold weather concrete, as well as innovating ways to insulate pavement and predict the depth of frost in soil. 
With materials like asphalt and concrete, Mehta explained, "you have rutting at high temperatures and cracking at low temperatures. You have to look at both. The innovations here are applicable to a broad range of applications outside the Arctic."  
The center is also earning accolades for projects in environmental sustainability. Mehta's work on the environmental impacts of recycled asphalt pavement recently won the N.J. Department of Transportation's Research Implementation Award.
"A study in 2016 found that asphalt was the most recycled material in the U.S," said Caitlin Purdy, CREATES technician, laboratory manager and a 2013 Rowan alum. 
Most local roads, Purdy explained, contain approximately 15 percent recycled asphalt. CREATES is working with industry partners to find ways to increase the concentration of recycled materials in asphalt without compromising the integrity or longevity of roadways. 
"Roads crack over time partially due to the oil component of asphalt breaking down and hardening," Purdy said. Using petroleum or a plant-based oil as a rejuvenator can prevent cracking, allowing manufacturers to boost the percentage of recycled asphalt pavement used in new asphalt mixes.
The center also addresses the many ways people interact with transportation as pedestrians, travelers and drivers.  
CREATES researcher Dr. Mohammad Jalayer focuses on traffic operations and evaluation, highway safety and crash modeling, and intelligent transportation systems. His work is backed by state and federal transportation departments, as well as the National Cooperative Highway Research Program and other funders.  
His projects include developing policies and safety measures to reduce wrong-way driving crashes—efforts he expects will save lives.
"Through this project, we try to identify gaps in the existing research and develop a nationally used guidebook to help researchers and practitioners mitigate the frequency and severity of wrong-way driving crashes and incidents across the nation," Jalayer said. 
"Motor vehicle crashes have a direct and indirect cost to society," Jalayer added. "We, as engineers, can save people's lives. If I can save even one person's life, that would be a big achievement."  
The pandemic's disruption means work at the center now begins early in the morning and ends late at night, due to physical distancing requirements. In the meantime, projects keep rolling in.   
"It's very busy all the time," said CREATES laboratory assistant Kayleigh McDevitt, who earned her degree in 2018 in civil and environmental engineering. "It's just growing and growing." 
Already, Mehta said, approximately 75 fellows have gone through the CREATES program, which offers paid, hands-on experience for undergraduates that can lead to full-time jobs in the industry. 
Among them is Jenna Wyshinski, a chemical engineering senior from Pennsville who mixes and tests asphalt recipes for a project aimed at increasing the recycled content used to make roadways.
"It's great lab experience," Wyshinski said. "They don't just tell me how to do it; they tell me why it's useful and why it's important." 
For Sean Cullen, a graduate student in civil engineering from Cape May Courthouse, innovation is part of what excites him about CREATES' research. 
"For most of the work we do," Cullen said, "we're the first ones doing it."