Rowan researchers work to 'bioprint' vocal cord implants
Rowan researchers work to 'bioprint' vocal cord implants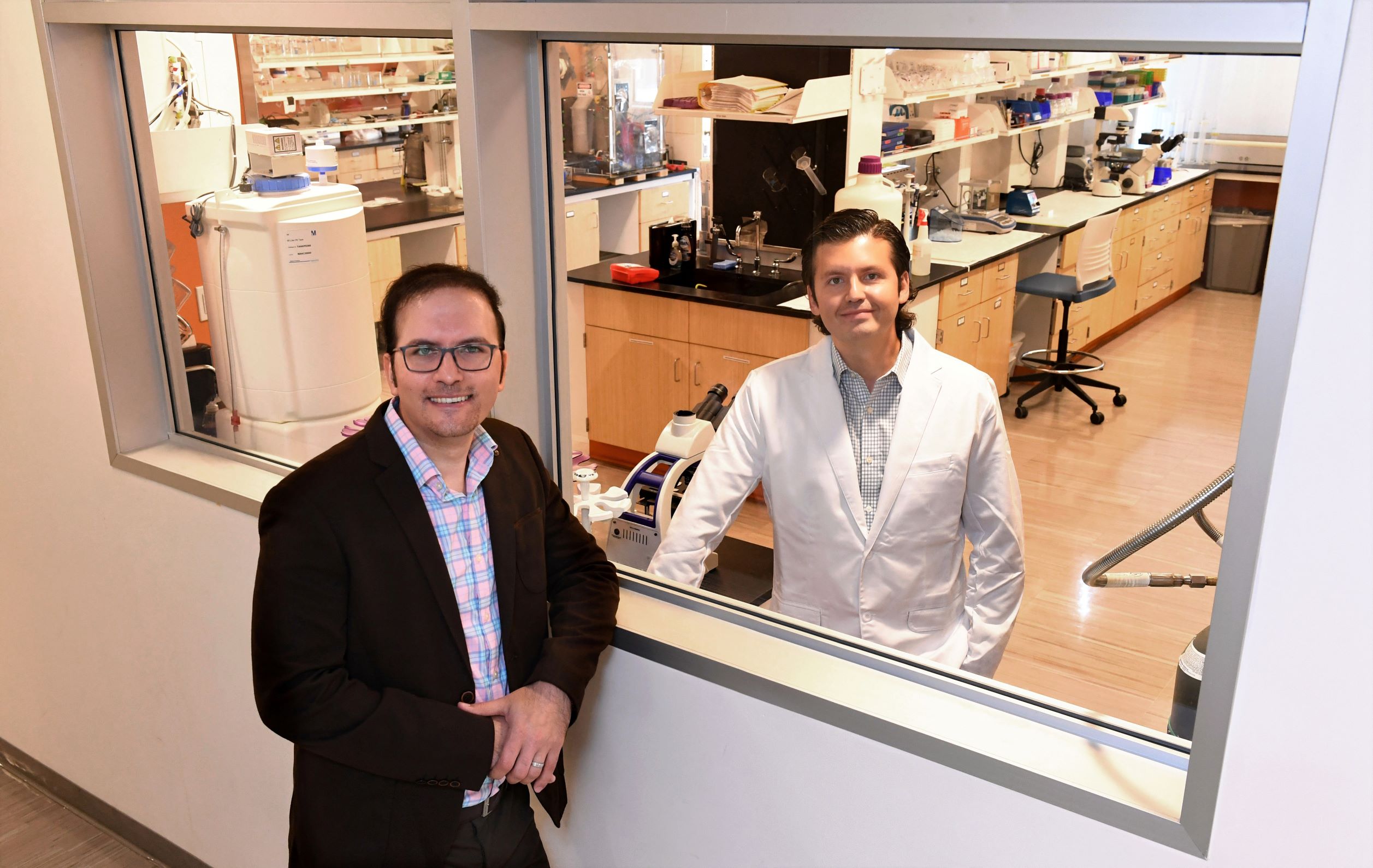 From left, Amir K. Miri, Ph.D., assistant professor, Rowan University's Department of Mechanical Engineering, poses outside the lab of Sebastián L. Vega, Ph.D., assistant professor in Rowan University's Department of Biomedical Engineering.
Two Rowan University researchers at the Henry M. Rowan College of Engineering are developing a minimally invasive method to reconstruct damaged vocal cords through novel bioprinting and biomaterials. If successful, their innovation could restore the voices of people with severe vocal cord injuries.  
Dr. Amir K. Miri, assistant professor of mechanical engineering, and Dr. Sebastián L. Vega, assistant professor of biomedical engineering, recently secured financial backing for the work from the National Institutes of Health with $450,000 in funding over three years.
Miri is working to develop a patent-pending, handheld bioprinting device that can fit onto an endoscope to implant biomaterials in the throat without the need for surgery. Vega is working to develop the liquid "bioinks" that quickly solidify when mixed to form substitute tissue. 
"In terms of the delivery technology, we are not that far away," Miri said. As for the replacement tissue, they're focusing on FDA-approved bioinks they hope will enable them to bring a solution to the marketplace within five years. 
For guidance on the specific needs of head-and-neck surgeons, the researchers are consulting with Dr. Robert T. Sataloff, a renowned vocal specialist and professor at Drexel University College of Medicine in Philadelphia. 
"It's actually a challenging tissue," Vega noted. The replacement biomaterial must have viscous and elastic properties, and it also needs to integrate itself with the surrounding vocal cord tissue.   
"The technology we're developing is not just limited to vocal cord tissues," Vega said. "If you're thinking about tissue engineering or regenerative medicine more broadly, one of the bottlenecks in the field is the inability to implant biomaterials in a minimally invasive manner that replace defective biological tissue." 
"If the problem can be solved by this solution, it might be applied to other parts of the body," Miri said. 
Bringing together researchers from various disciplines strengthens the work, noted Dr. Mark Byrne, founding head of the Department of Biomedical Engineering at Rowan. 
"Interdisciplinary teams are the key to success with these types of complex problems that require the integration of knowledge from many fields," Byrne said. "At Rowan, we highly value these efforts. This work is leading to a major solution to a pressing medical problem."
The research grant allows Miri and Vega to hire two graduate students and six undergraduates to assist in the lab. Undergraduate students will also have the opportunity to contribute to this work through Rowan's hands-on engineering clinics, a signature facet of Rowan's unique engineering curriculum.