Remote instruction: Pandemic leads to an educational evolution
Remote instruction: Pandemic leads to an educational evolution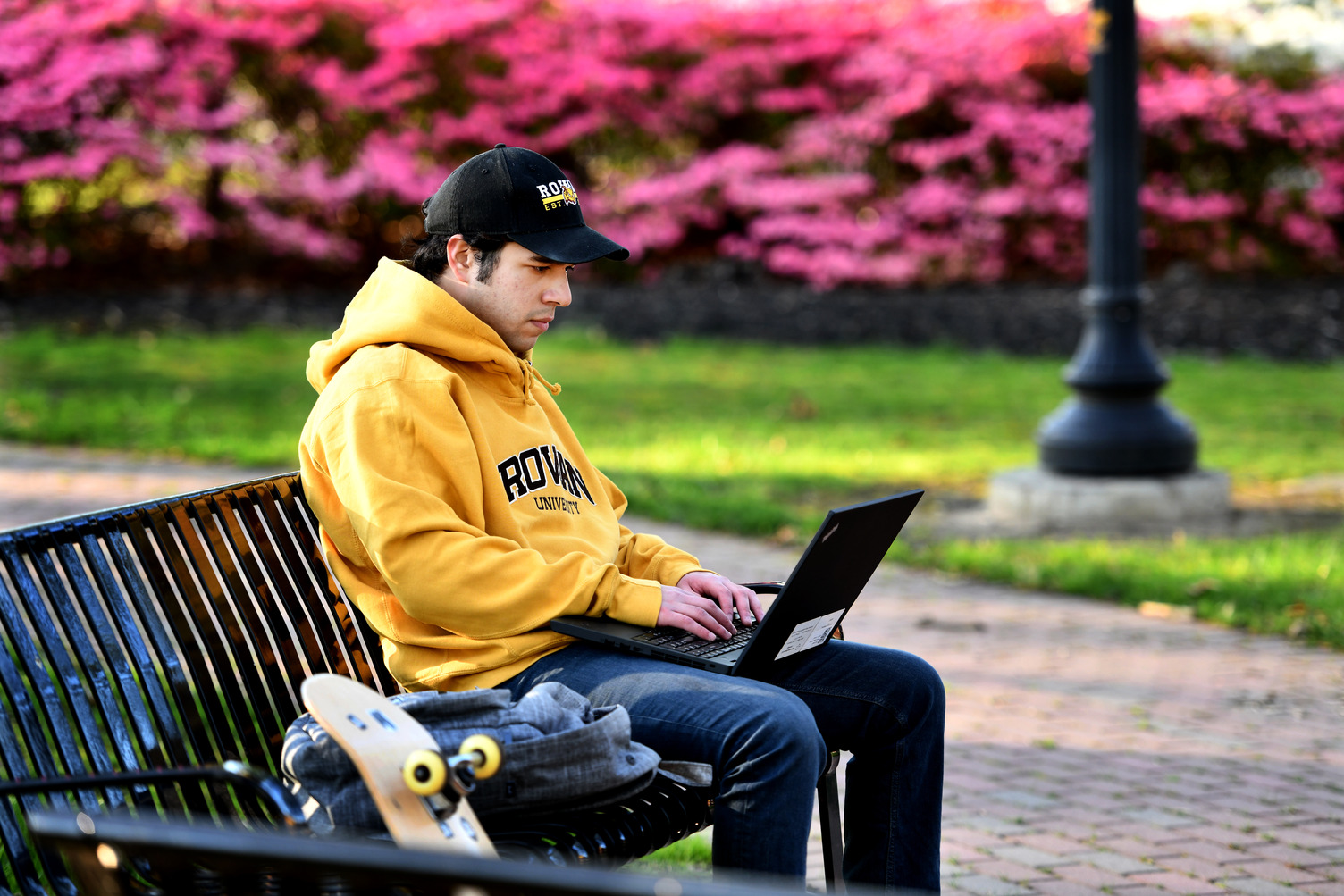 A Rowan University student studies on his laptop at the Glassboro, N.J., campus. (Below), Professor Robi Polikar, Electrical and Computer Engineering
Rowan University is pivoting toward a future that's comfortably online — with or without a pandemic. 
While many Rowan faculty have taught classes online for years, educators across the University worked since last spring to convert traditional courses into a flexible format that can be delivered both online and face-to-face, said Dr. Robi Polikar, who heads Electrical and Computer Engineering in Henry M. Rowan College of Engineering. 
"We're in the business of teaching — that's what we do," Polikar said. "Teaching requires you to be current and up-to-date in the content you're trying to deliver, as well as modern and effective ways to deliver such content."
Of course, that will look different from one class to another.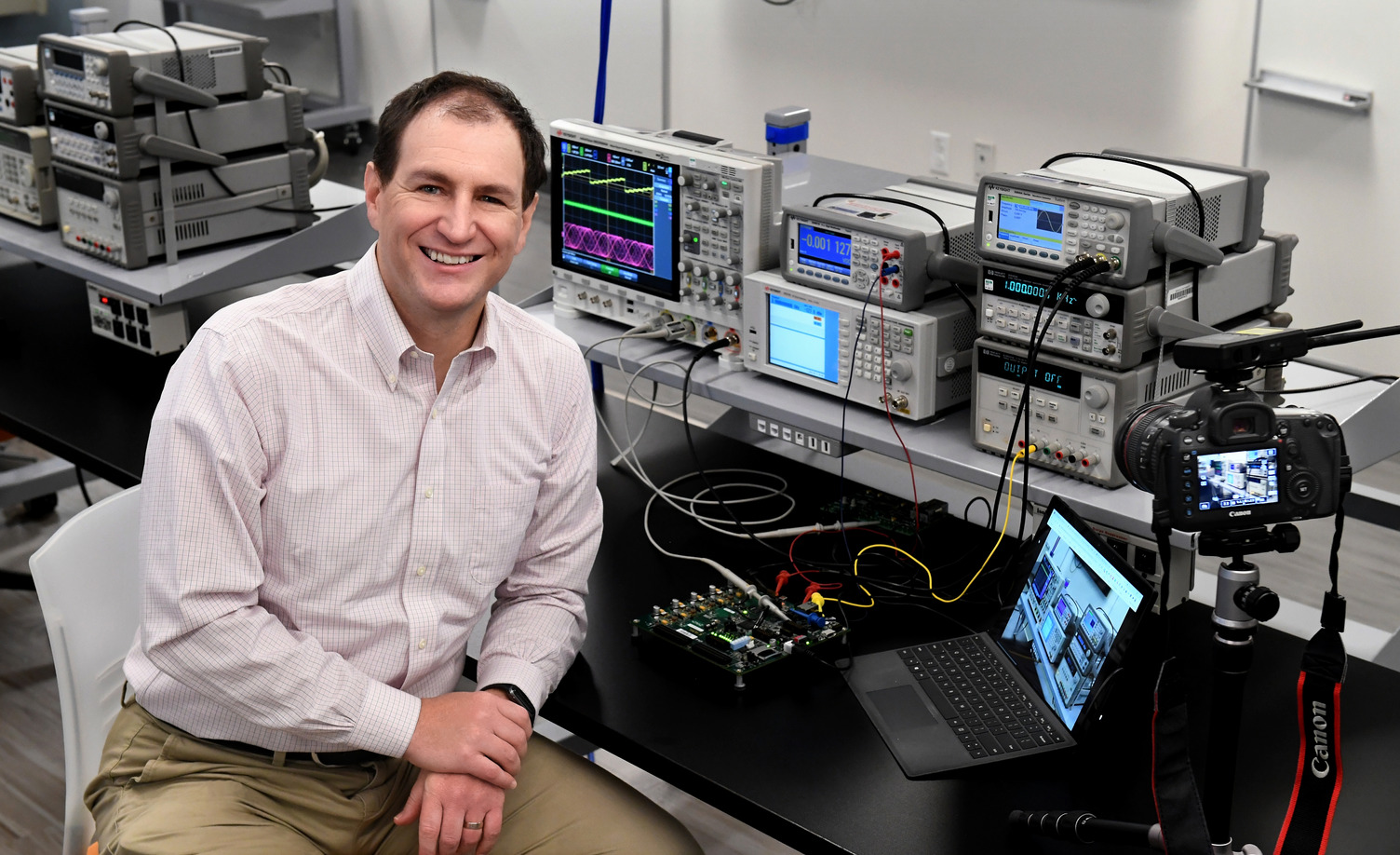 Rowan's hands-on engineering clinics are a hallmark that sets the program apart from other engineering schools across the country, Polikar noted. His department is working to deliver project-based learning remotely.  
Students in his department, for example, can build their own devices at home using inexpensive lab-in-a-box kits. They can use computer simulators to run experiments that mimic real-world conditions. The department is also exploring ways students can operate its expensive lab equipment remotely from their own laptops, as much of their lab equipment is networkable.
Dr. Charles "Chuck" McGlynn, a Geography, Planning and Sustainability assistant professor, began converting lessons for online students long before the pandemic. 
McGlynn's online courses include sections on Population Geography and Geography of the National Parks and involve layered, nuanced instruction he believes works well in a virtual environment.
While many live classes are conducted via Zoom or Webex, Rowan also offers faculty and students access to Kaltura and its video content management platform, which easily supports recorded video sessions.
"I hope the traditional classroom doesn't go away, and I don't think it will," said McGlynn, who won a Rowan online teaching award last fall. "I enjoy being in-person, but I also enjoy teaching online."
Assistant Professor Jenny Drumgoole in the Department of Art thinks online teaching works well for her video art and digital photography classes, partly because the virtual environment is ideal for students to share and critique one another's work.
Included in her digital photography course is access to Adobe Photoshop, Premier and InDesign, a suite of creative tools that enable students to edit and transform their work into finished projects, she said.
Though enrollment in online photography and video classes is surging, Drumgoole said challenges, such as universal access to technology, remain.
"Another challenge is what I call Zoom fatigue," Drumgoole said, "as well as the challenge of structuring things in shorter bites so students can learn asynchronously, on their own time."
Her students want to be together, but are making the best of it, she noted.
"At the end of a lesson I'll leave the Zoom window open and they'll keep talking," Drumgoole said. 
Many students took advantage of the University's well-established online offerings before the pandemic, so they're used to the format. Others say there's something of a learning curve.
"It's still a little weird," said senior art major Giovanna Eley, who is also earning a minor in law and justice and a certification in forensic studies. Even so, she said, classes like digital photography transition naturally and she's adapting.
"I like not having to leave my house, find a parking space and walk to class," Eley said. "I like the comfort and safety. The thing I don't like about online is there's so much more work."
Through virtual field trips to places like Redbank Battlefield Park, Professor Jennifer Janofsky is bringing public history to her students in a way that "is the perfect union of the classroom and 'real' public history," she said. 
"People connect with history through stories," said Janofsky, who teaches in the Department of History. "We've spent years developing tours that help facilitate that connection. We won't miss a beat using a virtual platform to help students connect with the past."
Extending grace
Tantamount to success in the classroom, virtual and otherwise, is the establishment of a strong learning community, said Raquel Wright-Mair, a professor in the Department of Educational Services and Leadership. 
"At the beginning of each class, we do a 'temperature check.' I ask them how they're feeling," said Wright-Mair, who teaches graduate students pursuing careers in higher education. "I take time to cultivate relationships with students from day one."
Wright-Mair instituted impromptu virtual lunch breaks so that students could connect with her and each other. This semester, she instituted a "conversation café," an area in the Canvas system that encourages interaction. 
"Unprecedented times call for leaders … people who are innovative, creative and able to be vulnerable," Wright-Mair said. "I love the community we've built. I haven't compromised my high-quality standards. But we do have to extend grace to each other to be successful."