"Mindfulness Mondays" program helps Rowan community slow down and relax
"Mindfulness Mondays" program helps Rowan community slow down and relax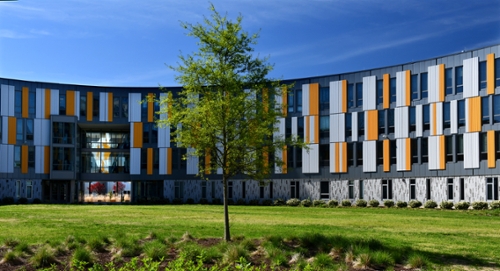 If there was a pill to unwind and relax, to perform better at work and school, games and sports, and to be kinder and more loving to family and friends, drug stores couldn't keep it in stock.
Unfortunately, no such pill exists, but there is such an elixir. And it's all in your head.
The free, easy, ever-popular yet ancient practice of mindfulness meditation – simply focusing one's attention on the present moment – is scientifically proven to confer a wide range of benefits, from reducing stress to promoting overall happiness, and it's offered for free right here at Rowan.
Dr. Amy Hoch, associate director of The Wellness Center, hosts Mindfulness Mondays, a monthly meditation group that's as close as one's smartphone or laptop computer.
"There are so many benefits," said Hoch, whose 30-40 minute guided sessions are built around a theme each month. "Research tells us the benefits include everything from building immunity, which is not a bad thing right now, to building awareness and relationship enhancement to helping us make better decisions."
Hoch said the simple act of consciously thinking, of focusing on one's breath, a word or phrase, enables the mind to clear so that, when the session is over, it is unencumbered by the noise of competing thoughts.
"Our culture enforces multitasking but that's not how our physiology works best," Hoch said. "When we put our awareness and energy into one thing at a time, we do better."
She said mindfulness meditation is very easy to practice and that participants may use techniques they learn during the Rowan sessions to meditate on their own or through guided meditation apps.
Mindfulness Mondays began as an effort to offer diverse virtual programming to alumni but is open to the entire Rowan community.
Rowan's next Mindfulness Mondays program will be held at 8 a.m. on Sept. 14 and participants may register at alumni.rowan.edu/septembermindfulness. Upcoming sessions will be held at 8 a.m. Oct. 19, Nov. 16 and Dec. 21. Participants may register for those sessions at alumni.rowan.edu/events.