Rowan theatre artists project hope onto the campus
Rowan theatre artists project hope onto the campus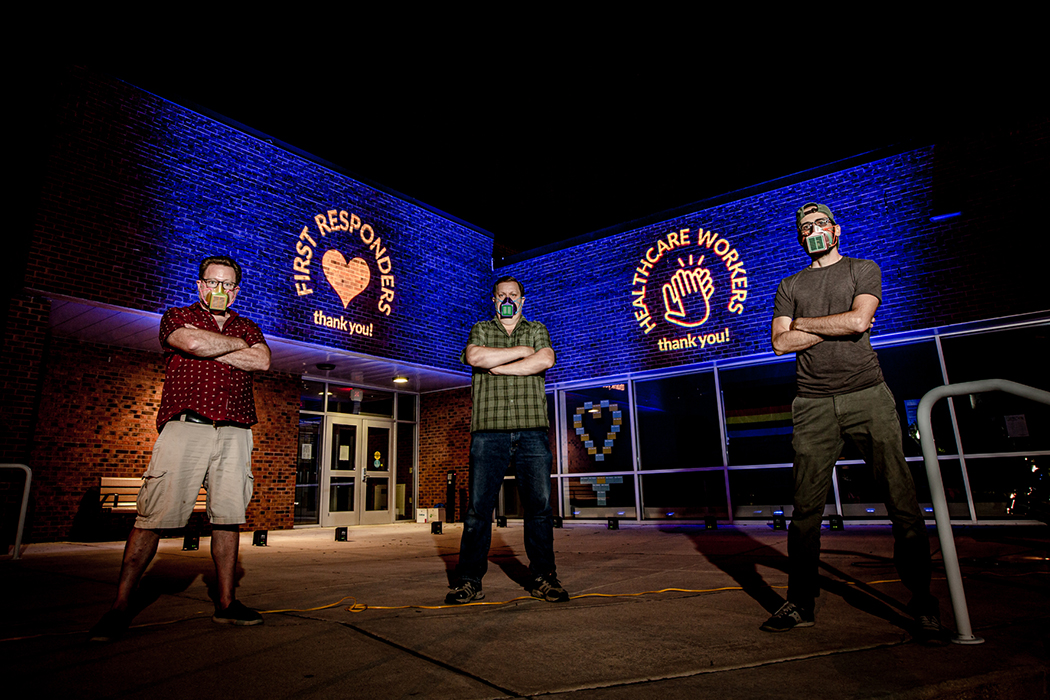 Photos by (as pictured) Tom Fusco, Robert Thorpe, and David Cimetta.
Department of Theatre & Dance staff and faculty members David Cimetta, Thomas Fusco, and Robert Thorpe joined forces this summer to create a theatrical way to show appreciation for the heroes who have been working day and night to get us through the COVID-19 pandemic. 

Thus, "Projections For Hope 2020" was born.

The endeavor first came to life in April when Thorpe, Lighting Designer for the department, decided to use his expertise to offer a visual "Thank You." He purchased a series of glass patterns from theatrical supplier Rosco Laboratories called "Gobos For Hope," with which images can be projected onto walls and buildings using lighting instruments. He started lighting his house in Rancocas Village each night with a different positive message to honor those working so hard during the crisis.

Thorpe then contacted his colleagues from the department's Entertainment Technology production team - Fusco (Technical Director) and Cimetta (Supervisor of Sound and Music) - to take the idea to the next step, a photo essay project. The idea was to illuminate various buildings around campus and record the images.

Adding to Thorpe's glass gobo images, theatrical projection units, and color-changing LED wall-wash lights, Fusco purchased a portable generator specifically for this project and handled the transportation and setup of the equipment while Cimetta provided the camera equipment and his photographic and editing expertise.

The project took place on seven nights over a three week period in May and June with the team setting up and breaking down the equipment each night. The final result now is a series of images that document the effort, which was and is to provide an uplifting message to the Rowan community and to thank first responders, healthcare professionals, and essential workers.

"This was a true labor of love and could not have happened without the efforts of the entire Entertainment Technology team," Thorpe said.

The three men now offer the images as their gift to the university community. The photos are intended to be used free of charge in any positive way. The only request is that, when used, they be credited to the team of Cimetta, Fusco, and Thorpe. For information on obtaining the images or to learn more about the project, email Thorpe at thorpe@rowan.edu.

The work did not stop there, however.
On September 1, another application of this work was used to show solidarity with the national #RedAlertRESTART effort. On that date, from 9 p.m. to 12 a.m., empty arts venues across the country were lit in red to highlight the impact of the pandemic on performing arts and entertainment organizations. Bunce Hall, home to Tohill Theater (just one of Rowan's many performing arts venues), was lit in support of alumni in the industry as well as fellow arts organizations.

Due to COVID-19, 62% of arts workers report that they are fully unemployed and 94% of arts workers report income loss. As theaters, concert tours, festivals, opera houses, trade shows, and other live events as well as film and television production remain closed or open on a limited basis, the entire industry is impacted - from designers, technicians, programmers, and stagehands to rental shops, manufacturers, and distributors of entertainment technology.
The team, having shared the results with Rowan colleagues, are continuing to consider ways to use this technology and the creativity behind it for other purposes on campus. Keep an eye out for new illuminating endeavors in the future.