Saluting Rowan University's Class of 2020 in person, on campus
Saluting Rowan University's Class of 2020 in person, on campus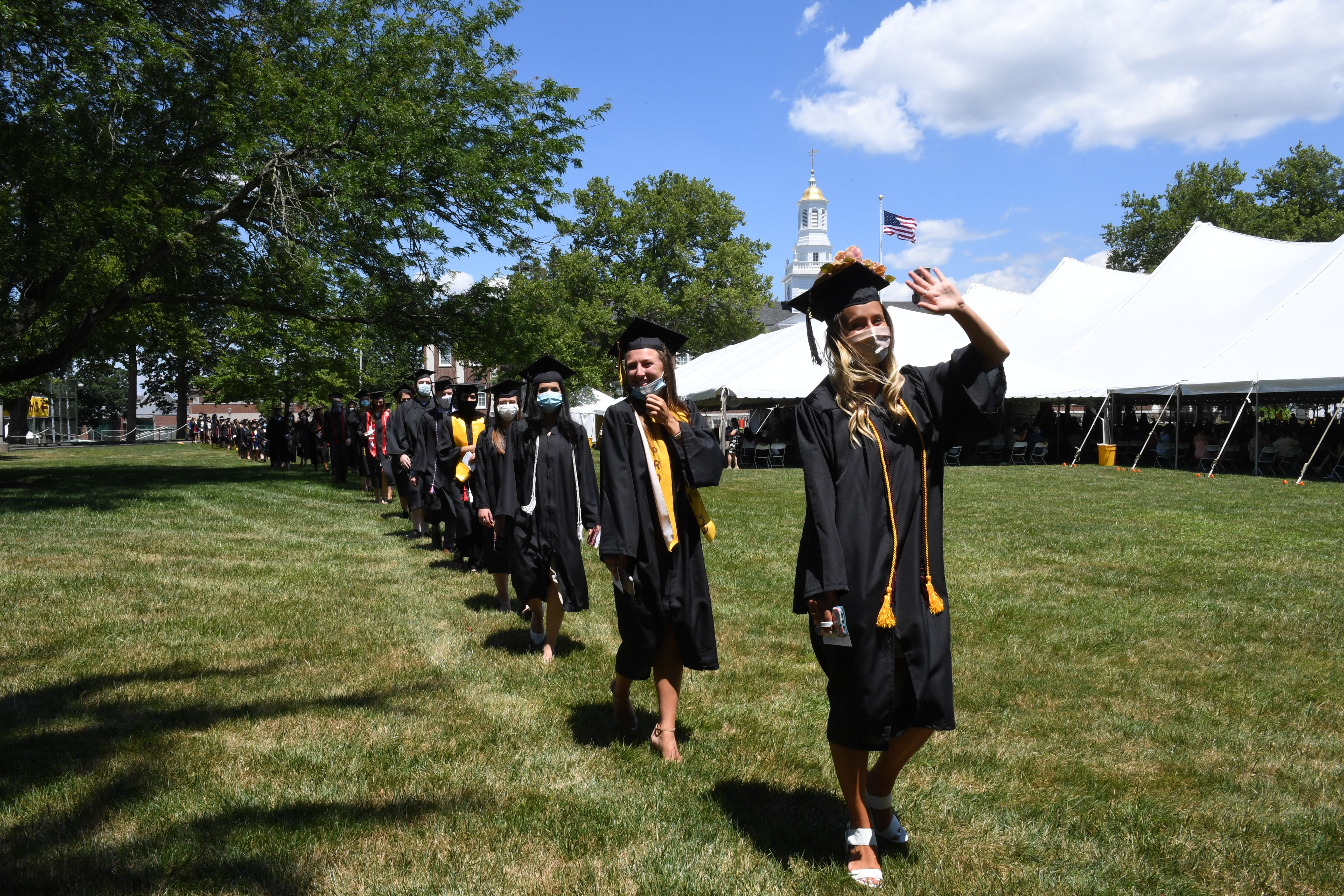 Members of the Class of 2020 march onto the University Green as part of Commencement Week. Rowan is hosting 13 ceremonies over three days for more than 1,800 graduates.
Aislynn Adewale braced herself.
"Here it comes…Here it comes," she thought as Derek Jones, station manager at Rowan Radio 89.7 WGLS-FM, prepared to read the name of Adewale's son, Lani, a member of Rowan University's Class of 2020.
Aislynn worried that the family's Nigerian name would be difficult for Jones to pronounce. But Jones, who is reading the majority of the names of more than 1,800 graduates for 13 ceremonies during Commencement Week July 14-16, nailed it.
"Yes!" she exclaimed.
With that, Lani, resplendent in his cap and gown, honor cords around his neck, strolled across the stage to celebrate his bachelor's degree in health promotion and wellness management, grabbing his diploma cover, posing for a photo, and basking in the cheers of his mom and sister, Sheni.
It was a special moment, one that the Adewale family--like all families of graduates in the Class of 2020--wasn't sure would ever happen because of the COVID-19 pandemic.
Usually, individual college ceremonies are held at Rowan each May for graduates during Commencement Week. This year, because of the pandemic, Rowan held its annual University-wide Commencement ceremony virtually on May 9. But individual college ceremonies, where graduates' names are called, were postponed. After Gov. Phil Murphy announced that small ceremonies could be held after July 6, Rowan's Commencement Team began planning Commencement Week.
Altogether, during Commencement Week, small ceremonies of up to 150 graduates with two guests are being held under a tent on the University Green. Graduates, guests and University staff are following social distancing and mask protocols. University deans are leading each ceremony. Each event includes the national anthem, remarks from the deans, the reading of names, and the traditional tossing of the tassel.
"I wanted to walk across the stage," said Lani, indulging his mom with photos with his sister after the first Commencement Week ceremony on Tuesday, July 14, at 8 a.m. That ceremony honored graduates from the School of Health Professions and psychology majors from the College of Science & Mathematics.
"I was happy Rowan found a way to make it work," Lani said. "Even though our ceremony was smaller, I still feel like I got the same experience."
"It's a beautiful day and it was an intimate ceremony," his mom added. "I was up at 3:30 this morning. I was excited. I'm so, so proud."
As graduates filed off the University Green, a small but mighty group of undergraduates—all Admissions Ambassadors—made sure graduates felt the Rowan love. The group—seniors Arielle Gedeon, Ashley Hermansen and Julia Gibbons and juniors Jessica Newell and Natalie Donisi—cheered for the graduates, something they intend to do at all 13 ceremonies.  They are reporting to their posts at 6:30 a.m. each day.
"I'm so appreciative of what Rowan has done to lift these graduates up," Gibbons said. "They deserve all the extra support they can get."
"A lot of other schools aren't doing this," said Donisi, referring to ceremonies in which graduates will have the chance to walk across the stage. "We definitely want to make it special for them, to bring them some joy."
More than 230 masked Rowan staff members are working during Commencement Week. After each ceremony, every chair and common area in the Commencement tent is wiped down by volunteers to prepare for the next group of graduates and guests.
Commencement Week ends on Thursday, July 16, with a 3:30 p.m. ceremony for the College of Humanities & Social Sciences.