Rowan@Home: Online learning program provides flexibility, financial help to freshmen
Rowan@Home: Online learning program provides flexibility, financial help to freshmen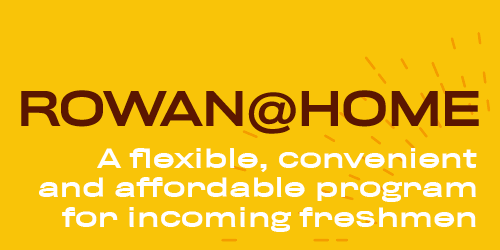 Members of Rowan University's Class of 2024 now have the option to begin their studies online through Rowan@Home, a new program designed to give students flexibility and convenience as they pursue their bachelor's degrees.
Through Rowan@Home, traditional age freshmen can attend class anytime from anywhere as they pursue 15 rigorous majors in areas that include business, communication, health, humanities, the sciences and liberal studies.
"Through Rowan@Home, students will attend class in an online format, but they won't miss out on Rowan's rich student-life experiences," says Jeffrey Hand, senior vice president for enrollment management. "If they choose to, students still can apply to live on campus. And, no matter where they live, they will have access to all services provided to students, including full academic support, as well as student activities, sports and Campbell Library and Rec Center services.
Moreover, says Hand, freshmen enrolled in Rowan@ Home will be eligible for up to $5,000 in scholarships. Scholarships will be awarded based on students' need and academic profiles. The deadline to apply for Rowan@ Home is August 1. Once accepted into the program, students must confirm their enrollment with a $200 non-refundable deposit.
"The program is a flexible, convenient, affordable new path to students who wish to complete their freshman year online," Hand says, adding that Rowan@Home is a test-optional program that doesn't require SAT or ACT scores.
Rowan@Home students will be assigned classes, pursing 12-15 credits, and will progress through their first year as a group, sharing in the learning process as a cohort, according to Hand. Some classes may require some content, such as experiential projects, presentations and group meetings, to be delivered face-to-face.
"Having students together as a cohort will help us track student success and gauge where they require support," Hand notes.
After successfully completing 30 credits, students will have the option to continue in Rowan@Home or move to a face-to-face curriculum. Rowan@ Home students with scholarships would retain them if they continue in the program their sophomore year. If they move to face-to-face instruction, scholarships would end.
The program is especially beneficial for students with financial challenges or for those who require convenience because of work or family responsibilities, Hand notes.
Rowan University has a long history of developing and delivering high-quality, enriching online classes through Rowan Global Learning & Partnerships, which offers academic programs at both the graduate and undergraduate level in partnership with nine of the University's colleges.