With NEH Summer Stipend, Hyde to study modernist visual practices in postcolonial novels
With NEH Summer Stipend, Hyde to study modernist visual practices in postcolonial novels
Rowan University English Professor Emily Hyde has received a highly competitive Summer Stipend grant from the National Endowment for the Humanities (NEH).
Hyde's $6,000 grant will provide funding to continue her research leading to Postcolonial Modernism and the Visual Book, 1947-1968, a book on the modernist visual practices in postcolonial novels.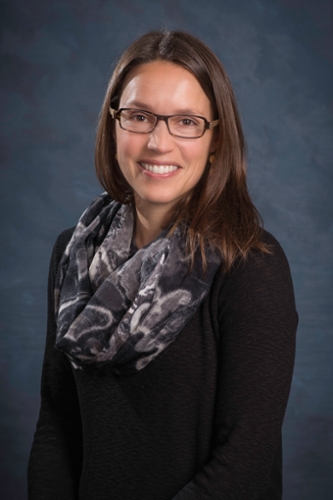 Awarded by the NEH's Division of Research Programs, Summer Stipends support individuals pursuing advanced research that is of value to humanities scholars, general audiences, or both. The grants, which are coveted by humanities scholars, support continuous full-time work on a humanities project for a period of two consecutive months.
In the last five years, the program has a funding ratio of just 11 percent, according to NEH officials. During that time, the program has received an average of 834 applications annually and has funded an average of 77 awards, NEH officials note. Scholars are nominated for the awards by their respective institutions
As the British Empire broke apart from 1947-1968, writers from the newly independent countries "produced a wave of fiction that wrote new nations, subjects, settings, and plots, even new kinds of English, into literary history," Hyde says. The books, she adds, were "packed with illustrations, rhetorical allusions to the visual arts, and descriptions of visual images."
Postcolonial Modernism and the Visual Book will examine the early years of decolonization to show that writers in the period "transformed modernism in the visual arts and used it to decolonize English literature."
Her work will examine visual books produced by four pairs of novelists and artists: Chinua Achebe and the artist Uche Okeke, both of Nigeria; George Lamming from Barbados and the painter, novelist and archeologist Denis Williams from British Guiana (now Guyana); Doris Lessing from Southern Rhodesia (now Zimbabwe) and the artist-reporter Paul Hogarth from northern England; and the novelist V.S. Naipaul from Trinidad and the poet-painter Derek Walcott from Saint Lucia.
"The novels I study imported visual images into the novel to try and represent a new, specifically post-colonial modernity," Hyde says.
When COVID-19 travel bans are lifted, Hyde will use the stipend to study artist Hogarth's personal papers at the Manchester Metropolitan University in the UK.
"The NEH Summer Stipend is unusual in that in addition to funding archival research and travel, it stresses the importance of having two intense months of research and writing," Hyde says.
Hyde's research in the College of Humanities & Social Sciences also has been supported by Rowan's Frances R. Lax Fund for Faculty Development, the Modernist Studies Association Research Travel Grant, and the Princeton Institute for International and Regional Studies.