Led by Black Student Union, Juneteenth protest addresses racism, oppression
Led by Black Student Union, Juneteenth protest addresses racism, oppression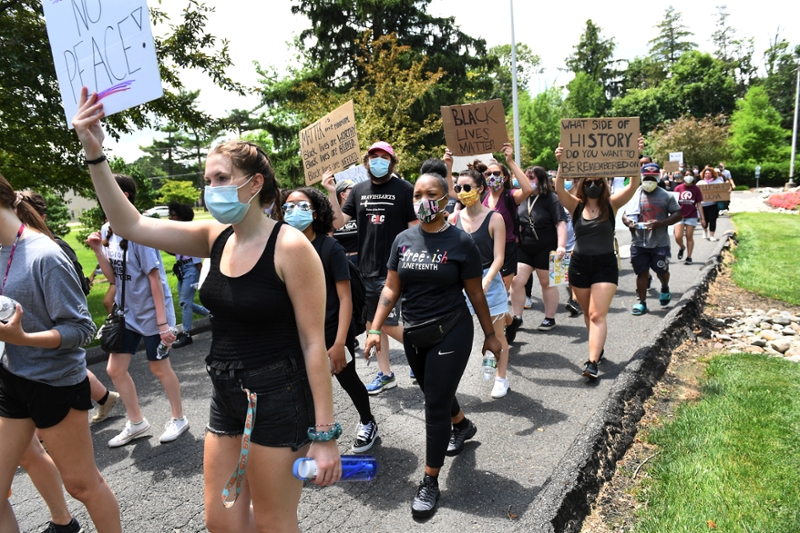 Three hundred protesters marched from the Glassboro Town Square to the University Green in a peaceful show of solidarity and support organized by Rowan's Black Student Union.
Carrying signs saying "Black Lives Matter," "Silence is not an option," "No Justice, No Peace" and "It could be me," among other messages, 300 Rowan University students and staff, plus external community members, led a peaceful protest through the University's Glassboro campus to honor Black lives that have been lost due to police brutality and to fight for change to end systemic racism and oppression.
Held on Juneteenth, a holiday that celebrates the end of slavery, the protest, organized by Rowan's Black Student Union, began at Glassboro's Town Square and concluded on the University Green at Bunce Hall, the birthplace of the University.
Three brass musicians, two current music education majors and a recent alumnus, led protestors out of the Town Square by playing Sam Cooke's "A Change is Gonna Come," used widely as an anthem during the Civil Rights Movement.
On the University Green, all crowd members "took a knee" for eight minutes and 46 seconds as junior political science major Michael Nash recited the final words of George Floyd, who was killed in Minneapolis on May 25 after an arresting police officer kneeled on his neck for more than eight minutes. His death has ignited protests nationally and internationally.
Save for birds chirping, the crowd was still and silent as Nash recounted Floyd's words. President of Rowan's Men of Color Alliance, Nash was struck, he said, by how long the time felt—and by how many times Floyd begged for his life and called out for his mother.
"It's real life," said Nash, who is eyeing law school at Howard University and a career in public service. "Hearing that, I feel it changed a lot of people's perspectives.
"This is going to be one of the defining moments of the next 100 years of our history," Nash said.
Before the march, senior advertising major Chase Campbell told the gathering their fight was critical. Trayvon Martin's death at the hands of a man later acquitted "shook me to the core," Campbell said. It was Campbell's 14th birthday.
"The events of the last two weeks aren't foreign to us," Campbell said. "We are physically, emotionally and spiritually exhausted. We've had enough. This is a fight for our lives."
The protest was an important step, said Emajanae Jackson, a senior law and justice studies major who is president of the Black Student Union.
"We felt it was necessary to use our voice to speak up," Jackson said, noting that the march was organized by 15 students.
Referring to "We Are Not OK," a recent series of critical conversations hosted by the Division of Diversity, Equity and Inclusion (DEI), Monika Shealey, senior vice president of the division, thanked students for leading the charge to work toward change.
 "I'm here to tell you we are not OK, but we are going to be OK," Shealey said. "We are committed to this fight. Let's get ready to work."