Addressing sepsis deaths, medical start-up ChronoCare clinches Rohrer New Venture Competition
Addressing sepsis deaths, medical start-up ChronoCare clinches Rohrer New Venture Competition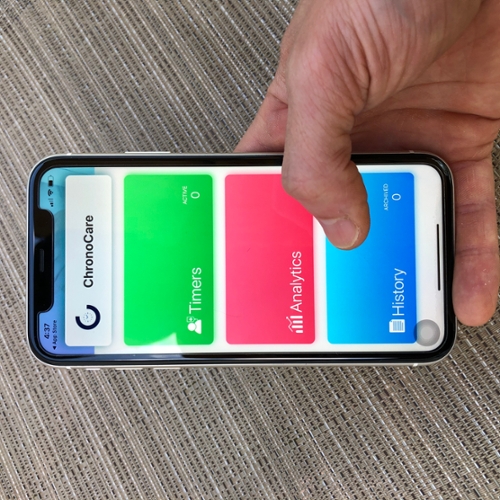 As is always the case with successful startups, this one began with a need – fast, up-to-date, easily accessible information on the standards of care and treatment for the blood infection sepsis.
Responding to that need, an entrepreneurial group of Rowan students created ChronoCare, a company whose first product would be smartphone and computer software to instantly update medical professionals with a variety of data, including standards of treatment for sepsis and changing government protocols.
"Treatment is incredibly time sensitive and the current standards mean you have to treat patients within three to six hours of diagnosis," said Finance major Sam Mardini, a rising senior and one of six students who founded ChronoCare. "The protocol is designed to maximize the treatment's efficacy but the process is difficult to follow given that time frame."
According to the Centers for Disease Control and Prevention, at least 1.7 million Americans develop sepsis each year and some 270,000 die from it.
Mardini said the ChronoCare team, which includes Evan Pierce (Computer Science), Augustino Scorzo (Biomedical Engineering), Matthew Cangemi (Finance), Liam Cutri-French (Civil Engineering) and Christopher Contos (Electrical & Computer Engineering), developed their software system to coordinate information and hasten its delivery.
This spring, the team took the $4,000 first place prize in the annual Rohrer New Venture Competition, which is run through the Rowan Center for Innovation and Entrepreneurship, besting a field that began with 23 teams.
"Our mobile app, developed under the guidance of experts at area hospitals, would allow nurses to keep track of the treatment steps in a more timely way," Mardini said.
Virtual competition
Held for the first time virtually, the 13th annual competition drew a great variety of entries. Following ChronoCare, the winning student start-ups included SafeQuest, whose phone app was designed to help improve campus safety (2nd place, $2,000); Generazione, a small-batch, garden-to-table marinara sauce company (3rd place, $1,000); Konay Spice Company, an online marketer of imported spice blends (honorable mention, $250); and Biodome, a company that would bring locally-sourced, organic produce to urban residents (honorable mention, $250).
Dr. Eric Liguori, the Rohrer Endowed Chair of Entrepreneurship and executive director of the Rowan Center for Innovation and Entrepreneurship (RCIE) said the cohort of aspiring businesspeople presented strong, workable ideas and seamlessly transitioned to the online format.
Rowan, which like most colleges and universities suspended in-person classes because of the COVID-19 outbreak, also moved many non-class programs and activities online.
"We prepare our students to be resilient and to adapt to change as these are essential characteristics of entrepreneurs," Liguori said. "What could be more real-world than adapting to the shift to a virtual environment for the competition."
RCB lecturer Dr. Mike Dominik said the evolving competition continues to draw fresh ideas from across the University.
"What's exciting are all of the different types, from potentially scalable growth enterprises to small-to-medium sized businesses," Dominik said. "The diversity of our entrepreneurs was also enthusing, with more women and underclasspersons represented in our semi-finals and final rounds. We had students from seven different colleges within our University."
In addition to the spring New Venture Competition, the RCIE hosts the Idea Challenge each fall and a summer business accelerator. Located within the Rohrer College of Business, the RCIE is supported by the College of Science & Mathematics, the Henry M. Rowan College of Engineering and the Provost's Office.