Exceptionally driven
Exceptionally driven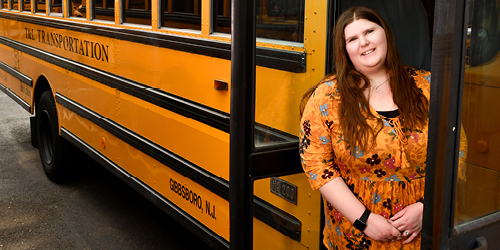 "You can use the Holocaust to teach everything from empathy and compassion to the dangers of prejudice and blind obedience," says Sylvia Hogue, who worked her way through Rowan driving a school bus and serving as a classroom aide. She will pursue her master's degree in Holocaust and Genocide Education.
Sylvia Hogue jokes that she runs on "caffeine and spite."
Add in rabid curiosity, intelligence, stick-to-it-iveness—and a daily dose of school bus fumes—and you have a solid picture of Hogue's road to her bachelor's degree in history, summa cum laude, from Rowan University.
"I never thought this was possible for me," says Hogue, an aspiring Holocaust scholar who was named the Senior of Distinction in history in the College of Humanities & Social Sciences. "I'm most proud of this journey and the diligence it took."
En route to her degree—and a hard-earned 4.0 GPA—Hogue began each day at 4:30 a.m. After driving a school bus of K-8 students to Berlin Community School on back-to-back runs, she then changed gears and worked at the school as an instructional aide. After returning the children— "my kids," she calls them—home each afternoon, she attended Rowan classes, working into the evening…and often all night.
Hogue considered becoming a history teacher. Her goal now is to work in Holocaust education at a museum…and to help develop a federal curriculum for the nation's schools. Currently, only 12 states, including New Jersey, have a mandated Holocaust curriculum.
She already has begun graduate courses for the Master of Arts in Holocaust and Genocide Education, a new program at Rowan. Thereafter, she'll pursue her doctorate.
One course— "Historical Methods" taught by Professor Jody Russell Manning—changed her trajectory. The class, which Manning likens to a history "boot camp," focused on genocide.
"For the first time ever, someone told me there were other genocides," says Hogue, who grew up in Lindenwold. "My head was exploding. That first week I knew academic research was what I wanted to do. I realized I didn't have to be a classroom teacher to make a difference."
Warsaw Ghetto in VR
Hogue is seeing that firsthand through her work as content lead for Rowan's Warsaw Ghetto Virtual Reality Project. Working on a core team of 20 history, engineering and art students under the direction of Professors Jenny Rich (sociology),  Shreekanth Mandayam (electrical and computer engineering) and Amanda Almon (biomedical art and visualization), the group has spent almost a year developing a VR experience to educate visitors about the ghetto.
Expected to open next year at the South Jersey Technology Park, the experience also will be available virtually so that anyone—anywhere—can learn about the lives lived, and lost, during the Holocaust.
In 1940, the Nazis forced nearly 400,000 Jews in Warsaw—30 percent of the population of Poland's largest city—into the ghetto. Starvation, exposure and infectious disease led to the deaths of more than 80,000.
Hogue's work as the research intern on the project is invaluable, says Rich, executive director of the Center for the Study of Holocaust, Genocide and Human Rights. Organizers believe the VR project is the first in the nation dedicated to improving Holocaust education.
"One of the biggest challenges is communicating across disciplines," Rich says. "Sylvia is really direct when she speaks. She's enormously bright, enormously talented. She has a real drive to get it right."
The project's scope is huge. While engineers work on the technology to build the experience, Hogue is leading research to ensure authenticity. Utilizing the famed Ringelblum Archive in Jerusalem and archives at the United States Holocaust Memorial Museum for primary source material, Hogue has researched everything from what Polish signs said in the ghetto to what material the floors were made of to what food was in soup kitchen pots. It's challenging, exacting work.
"Our goal is primary source interaction. We want to show the real story," says Hogue, who will continue working with the team in grad school. "I love the team we work with. And I'm learning to 'speak engineer.'"
'Let's stump Miss Sylvia today'
Hogue was in the final stages of landing an internship this summer at the United States Holocaust Memorial Museum, but that was cancelled due to COVID-19. Her study abroad experience to Europe—for which she saved for three years—also was postponed.
Ever diligent, ever optimistic, Hogue is undaunted. Due to lack of finances, she never thought a four-year degree was attainable. But the harder she worked, the more she saved, the more in focus her goal became.
Her jobs on the bus and in the classroom helped tremendously, she says.
"My kids were always totally interested in my studies. They'd say, 'Miss Sylvia, can I read your paper?' Or, 'Let's stump Miss Sylvia today.'
"I put together 15-page study guides for finals," Hogue continues. "My bus aides would help me study."
'…because not talking about it lets it happen again'
A future as a Holocaust and genocide scholar is the perfect fit for Hogue.
"I don't think the hardest things in life to talk about should ever be ignored," she says. "I study genocide because we have to talk about it…because not talking about it lets it happen again.
"You can use the darkest parts of history to teach the brightest lessons. You can use the Holocaust to teach everything from empathy and compassion to the dangers of prejudice and blind obedience."
Inducted into four academic honor societies—"If I stop giving it my all, I feel like I'm shortchanging myself," she says—Hogue assisted Manning with programming for the Center for the Study of Holocaust, Genocide and Human Rights. She excels in research and scholarly debate, attributes that will continue to serve her well, Manning says.
"She likes to challenge, particularly her professor, which is great," says Manning. "She does the research. She asks the bigger questions. She's very, very determined."