Survivor of two wars, a top RCB student starts spice shop and heads to grad school
Survivor of two wars, a top RCB student starts spice shop and heads to grad school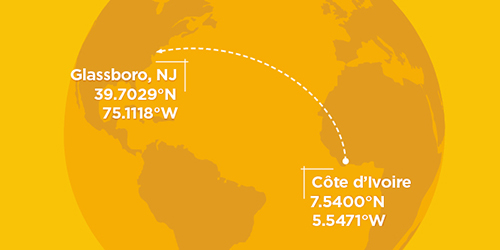 Before she was even a teenager, Malicka Barro saw more hardship in her homeland than most people will see in a lifetime.
Born and raised in Ivory Coast, a French-speaking nation in southern West Africa, Barro lived through a period in which her nation, a major producer of coffee and cocoa, twice descended into civil war.
At 13, Barro's father, then an analyst for the United Nations, moved most of her family to New Jersey and settled them in Burlington County where Barro started life anew, excited but unable to speak even rudimentary English.
But for Barro, a supply chain and logistics major who graduated in December from the Rohrer College of Business but is participating in Rowan's virtual Commencement May 9, a new environment and completely new language to learn were just minor setbacks. Ahead of graduation she started her own Ivory Coast-inspired spice company and is headed to St. Joseph's University in Philadelphia in September for graduate school.
"In 2011, I moved to the U.S., two months after the war ended," she said of the Ivorian Civil War, the nation's second since 2000. "(During the war) I wasn't afraid, really. At the time my biggest fear was that I wasn't going to be able to go back to school, because I always loved school."
Barro's family, except for her mother who remained in Ivory Coast, settled in Mount Laurel, which her father felt was a safe community with a reasonable commute to New York. She attended Doane Academy in Burlington City and started at Rowan as a freshman in 2016.
Though clearly resilient, Barro said there is one element about living on the East Coast that she's never warmed to.
"I lived for 13 years without seeing snow, and I can still live without it," she laughed. "But there are some things I really do miss about Ivory Coast. I miss my mom, I miss the food, and I miss the weather."
Barro said the village she grew up in was not just physically warm. Neighbors looked out for one another, and parents tended not to stress about children not being home at a given time.
"One of the things I miss the most is the communal feel," she said. "Everyone is fraternal, there's a very strong family drive, so if you're not home you're at a friend's house, and it's OK."
Deeply involved with the Rowan community during her time here, Barro was a building manager for the Recreation Center, tutored fellow students in French and Spanish, was treasurer of the Management Information Systems club and was active with the Muslim Student Association and African Student Association.
Though fully Americanized (Barro speaks without even a hint of French accent), a love for her homeland inspired her to start both an Ivory Coast-inspired online company, Konay Spice Shop (watch the YouTube video!) and a non-profit fundraiser for children in her family's village.
Her nascent spice business, which is inspired by flavors from her home country, India and Thailand, has filled orders from Canada, Italy, France and Ivory Coast. Meanwhile, her non-profit, Backpack Girls Nation, is raising money to provide school supplies for girls in Tafire (pronounced "taferay"), the town in northern Ivory Coast where her mother still lives.
"When I was younger, school was very important to me so I decided to try to use my position here as a platform to create opportunities for girls," she said. "Our backpack drive collects supplies for girls and we're going to start sending them to Tafire this year."