Reading. Writing. And Google Classroom-ing.
Reading. Writing. And Google Classroom-ing.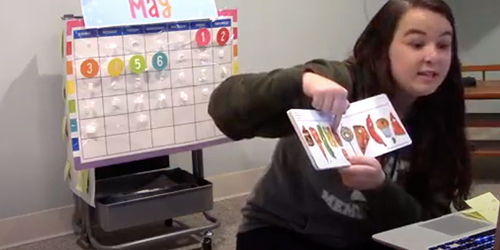 With her book, laptop and background at-the-ready, Emily Flud teaches students at Crest Memorial School. She completed her clinical practice in a pre-kindergarten class.
For even the most seasoned professionals, virtual teaching in the age of COVID-19 has been daunting.
In some ways, student teachers, who are in the beginning stages of their careers as educators, faced even more of a challenge.
But, with their strong educational foundations, some helpful online teaching tools, support from their cooperating teachers, and a whole lot of creativity, Rowan University students completing their clinical teaching practice rose up and made the most of their student teaching experiences…for their students and themselves.
"Our students are accustomed to technology and they became very important when schools moved to virtual teaching," says Stacey Leftwich, executive director for the Office of Educator Support and Scholarships in the College of Education.
"Superintendents have praised our students, who, in some cases, were called upon to lead Zoom meetings on virtual teaching before 30, 40 and 50 teachers. In certain capacities, the teaching experts became the learners."
The virtual teaching experience helped clinical interns build a variety of skills, including flexibility in teaching, increased proficiency with technology, and strong professional communication skills, says Leftwich. Even while teaching virtually, students were observed by their supervising instructors, ensuring they were achieving benchmarks to complete their degrees.
Altogether, 214 College of Education students completed their clinical practice this spring.  Twenty-six more completed the year-long Master of Science in Teaching: Subject Matter Education (MST) or the Combined Advanced Degree Program (CADP)/MST programs. Additionally, 13 students completed their music education clinical practice, while two completed their art clinical practice.
Here are a few of their experiences:
Emily Flud
Pre-Kindergarten, Crest Memorial School, Wildwood Crest
"Lesson planning and preparation was the hardest part of teaching virtually," says Flud, who taught energetic four- and five-year-olds. "I tried new activities each day with my students so that they were excited and eager to learn remotely."
Flud learned to deftly manage Zoom—to the point where her students did virtual show-and-tell with the creations they made with recycled materials for Earth Day. They also worked together to create an online picture book about trees through Book Creator, a virtual book publishing program.
"It is a program I'll use again in the future," says Flud, who earned her degrees this month in early childhood education and American Studies. "This experience will make me a better teacher because I had to adapt and demonstrate flexibility. I missed seeing and interacting with my students every day in the physical classroom.
"Young children learn best through play and socializing with their peers, which can't be facilitated in the same way over technology."
She circumvented that by instituting play-based activities like scavenger hunts, directed drawings and even movement activities over Zoom.
Mark Simone
Second grade, J. Fithian Tatem Elementary School, Haddonfield
Embarking on a second career as an elementary school teacher after years as a professional cook, Simone learned—quickly—how to embrace virtual teaching.  Before schools were closed, his cooperating teacher, Tara Lampman, pushed him at every turn as he taught math and science lessons. That didn't change when they went online, he says.
Simone quickly acclimated to online teaching platforms, including Google Classroom, Epic, Brain Pop and Seesaw.
"Seesaw is the best," says Simone, who earned his degrees in elementary education and history. "Most of our students' assignments went through there and I was able to do my own lessons through Seesaw. That helped me address my students' needs better."
In addition to his lessons, Simone was responsible for the morning routines four days each week, writing the morning message and choosing questions and songs for each day.
"I really got to know and the kids and we were able to stay connected," says Simone. "I simply love teaching. It's a privilege."
Brielynn Kellett
Spanish, Medford Memorial Middle School
Working alongside her cooperating teacher, Rowan alumna Carmel Rios, Kellett taught seventh and eighth grade Exploratory Spanish en route to completing her CADP/MST degree.
"For me, the most difficult part of virtually teaching was taking lessons that were taught in 55-minute class periods and making it so both the online instruction and student work would take no more than 20-25 minutes to complete," says Kellett, of Southampton, who designed a sophisticated Cinco de Mayo lesson for her students that challenged them to identify and discuss stereotypes and inaccurate portrayals of Mexican culture.
"This experience definitely helped my planning and instructional skills," says Kellett, who worked with Rios in making the online curriculum accessible to students receiving special education services. "It was challenging, but rewarding."
Maria Rosalba Trejo-Mendiola
Spanish, Vineland High School
Students in the classroom of Adaliz DeJesύs, Trejo-Mendiola's cooperating teacher, were ahead of the virtual learning curve. They had been using Google Classroom and applications such as Kahoot, Quizlet, and Flip Grid, since last fall. That helped immensely, says Trejo-Mendiola, of Vineland, who earned her CADP/MST.
"From Señora DeJesύs, I learned that it's very important that we, as educators, incorporate technology into our classroom settings. It's a great learning tool."
In their classroom, optional Google meet-ups were established for students.
"They could practice their interpretive, interpersonal and presentational modes of communication just as if we were in a regular classroom setting. We provided students individualized support and feedback.
"Señora DeJesύs welcomed me into her Spanish classroom and guided me through this learning process," Trejo-Mendiola adds. "I learned about effective teaching practices, planning for instruction and assessment, and the importance of maintaining positive communication among students, teachers and parents."
Michael O'Brien
Music, Shawnee High School
"My semester student teaching at Shawnee was incredible," says O'Brien, who just graduated with his undergraduate degrees in instrumental music and music education from the College of Performing Arts.
Under the guidance of his cooperating teacher, Nick Rotindo, O'Brien student taught five courses—two jazz bands, two wind ensembles and a music technology class.
"The music technology class was the smoothest transition. Students were actively engaged and we were seamlessly able to continue the course curriculum," says O'Brien, who led online classes through Google Meets, teaching everything from using synthesizers and drum pads to creating electronic tracks.
After instruction from O'Brien and Rotindo, students in other classes completed their performances virtually for two online spring concerts.
"I was very grateful for the guidance of my cooperating teacher and the dedication of the students," says O'Brien. "That truly made the experience memorable."