Rowan researchers investigate COVID-19 questions
Rowan researchers investigate COVID-19 questions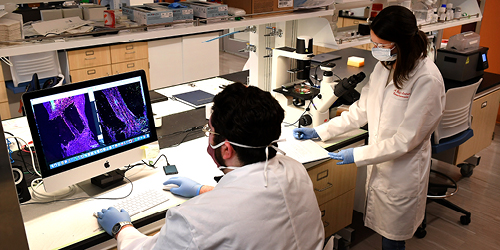 Doctoral students Brandon DeOre and Abigail Baldwin-Leclair assist in Dr. Peter Galie's biomedical engineering lab at Rowan University. Below: Nesrine Bouhrira, doctoral student.
In response to the novel coronavirus pandemic, Rowan University researchers are exploring answers to questions on everything from the effects of social distancing on older people to the possible mechanics behind the increased incidence of stroke among coronavirus patients. 
While some faculty and their research assistants are working under carefully controlled conditions on campus, others are working remotely from their home offices whenever possible. 
Essentially, "the whole world is our laboratory," said Dr. Harriet Hartman, a Rowan University sociologist and professor in the College of Humanities and Social Sciences who is now surveying the Rowan community on the pandemic response. 
Dr. Peter Galie, a biomedical engineer and assistant professor in the Henry M. Rowan College of Engineering, is looking at the effect of the SARS-CoV-2 spike protein on the blood-brain barrier. As part of ongoing research on blood vessels, Galie recently obtained samples of the virus protein that binds to human cells.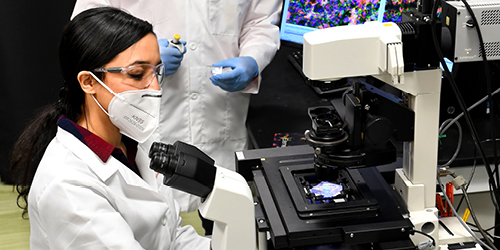 "I had to tell my wife that it's not infectious by any means," Galie said.
Using lab-made blood vessels that are specific to the brain, Galie is studying whether the spike protein causes changes to the cells that could lead to neurological effects in some COVID-19 patients. He incorporated the question into his existing funded research on the blood-brain barrier, and recently applied for additional funding from the National Science Foundation. 
"Not only could this work shine a light on why these patients are more at risk for stroke, but this virus could be telling us something about the blood-brain barrier that we didn't know before," Galie said. "It would be great if we can use this research to develop treatments for a broader set of neurological diseases, not just for patients who have COVID."
Dr. Joshua Coren, chair of the Department of Medicine at Rowan University School of Osteopathic Medicine, secured $95,455 in additional funding from the Health Resources and Services Administration  (part of the U.S. Department of Health and Human Services) to develop COVID-19 telehealth curriculum. The project aims to teach medical students how to screen and test patients for the novel coronavirus, manage their cases and provide outpatient care using telemedicine.
Dr. Anita Chopra, director of RowanSOM's New Jersey Institute for Successful Aging, also secured $90,625 from the same federal agency to expand telehealth for providers, families and patients. The grant targets older patients affected by COVID-19, including those impacted by long-term social distancing.
"Right now, families are struggling. They cannot go visit their mothers, their fathers, their older relatives," Chopra said. "The other concern is that the older people are going to be more socially isolated because of this. There will be mental health consequences." 
To learn more about the impact of COVID-19 on older people, gerontologist Dr. Rachel Pruchno developed a survey for older residents she's been following since 2006. Within six weeks, her Rowan-backed team collected responses from more than 1,200 people who shared in detail how they have been affected by the pandemic. 
"This is work that usually takes me a good year," said Pruchno, director of research at the New Jersey Institute for Successful Aging.
Even as her team continues to collect responses, Pruchno expects to report initial results this summer, offering a real-time snapshot of how older people are faring in social isolation, both mentally and physically. She plans to apply for funding to support follow-up research. 
"I expect that there will be dramatic effects of COVID-19," Pruchno said. 
Sociologist Dr. Harriet Hartman is surveying the university's students, faculty and staff to learn more about how they are coping with the pandemic response. She started the work in late March, and expects to report her preliminary findings this summer.
"I'd like to identify commonalities in our personal experiences and differences according to diverse subpopulations at Rowan," Hartman said. "And I'd like to understand how people are coping more generally, and what are some good coping mechanisms and some disturbing ones."
Hartman expects the results will be useful for guiding policy makers, both at Rowan and elsewhere. She's also seeking funding for work centered on the pandemic's impact on first-generation college students.
The projects are examples of Rowan faculty's resourcefulness, even as the pandemic paused other work, said Dr. Beena Sukumaran, Rowan's vice president for research. 
"Our mission is to advance research in pursuit of excellence," Sukumaran said. "I'm so proud of our researchers who have continued their work on the impact of this pandemic despite personal and professional challenges. Even in the middle of a crisis, we continue to seek answers to important questions and find ways to better serve our community."