The art of healing
The art of healing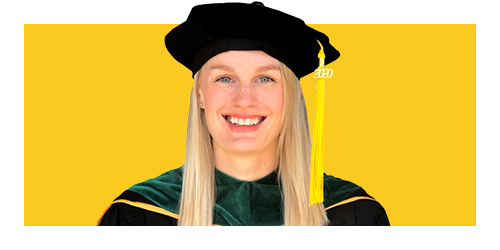 "Orthopedics is the only specialty I felt true happiness about," says Liz Ford, who earned her Doctor of Osteopathic Medicine degree from RowanSOM. "It was the hardest rotation. But when you're super passionate about something, that doesn't matter."
Liz Ford loves putting things back together.
"It's a very powerful moment," says Ford. "In general, with orthopedics, you're dealing with patients with a specific injury that you can help address. When you do that, you give them an opportunity to return to the life they want to live."
Ford's view of the field of orthopedics—she'll begin a residency in that specialty this summer at Inspira Health Network—also could describe her own path to earning her Doctor of Osteopathic Medicine degree from the Rowan University School of Osteopathic Medicine.
When she was 11, Ford's mom died of complications of Type 1 diabetes at age 43. Ford was taken in by Kelly and Jon Reising, then both faculty members at Northern Burlington County Regional High School.
"They noticed I had no family to spend Christmas with," says Ford, 27, who grew up in Columbus and considers the Reisings' two children her younger siblings. "I started to spend more weekends and holidays with them.
"They gave me a huge support system…and unconditional love."
'I was able to resume my passions and outlets in life'
Healing emotionally through a stable family life, Ford faced another big obstacle. In college, she fell while horseback riding, tearing her ACL and PCL in her left knee. Two surgeries and a challenging rehab followed.
"I got the surgery right before Christmas. By spring, I was totally fine," says Ford, nearly dismissing the painful 12 weeks post-surgery when she was unable to bend her leg. The best moment in her recovery, she says, was when she was able to put on her own socks and shoes by herself.
"Once I was healed, I was able to resume my passions and outlets in life," says Ford, an accomplished runner.
Ford can't remember the moment when she decided to be a doctor. But she recalls—with extraordinary clarity—the moment she knew she would be an orthopedic surgeon.
While a sophomore studying Health Promotion and Fitness Management at Rowan—she earned her bachelor's degree in 2014—Ford was invited to observe a surgery by Dr. Sean McMillan, chief of orthopedics and director of Orthopedic Sports Medicine at Lourdes Medical Center/Virtua of Burlington County.
'The perfect production'
"It was a rotator cuff repair, a very common surgery," Ford says. "I loved everything about the operating room…the entire process…the way everyone worked together. It was the perfect production. I fell in love with the art of the operating room."
At Rowan SOM—"My dream school," she says—Ford considered other specialties. Briefly. But it was clear that her heart was in orthopedics. Her talents, too, McMillan says.
"I can't remember a moment when I didn't think I would be a doctor," says Ford, who completed a marathon in Nashville right before beginning medical school.
"I tried to keep an open mind about a specialty in medical school. But an orthopedics course my second year showed me, 'This is it. Yup, that's going to be me.'
"Orthopedics is the only specialty I felt true happiness about," she continues. "It was the hardest rotation. But when you're super passionate about something, that doesn't matter."
Humanism and compassion
"Liz has great hands and natural instincts," says McMillan, who also is an assistant professor of orthopedic surgery at RowanSOM. "Her hand-eye coordination is unparalleled."
When Ford was a still undergrad, McMillan took her into a cadaver lab. She "was able to naturally navigate a shoulder scope to the level that someone else thought she may have been a resident," McMillan says.
"That's a really telling story about her talent," he continues. "She sees the body as an athlete does and she has the ability to recognize things that others might miss.
"She has a ton of compassion and a huge heart. She always follows through. Liz doesn't have a 'delay switch.' She just gets things done. And she genuinely cares about people."
After graduating from Rowan, Ford worked as the IRB Lead Orthopedic Coordinator at Lourdes/Virtua in Burlington, overseeing new and ongoing orthopedic research. Through 2019, she continued that work, even during her rigorous and challenging medical school studies.
In 2017, Ford, who was president of the Orthopedic Club at RowanSOM, received the Osteopathic Distinction Award from the American Osteopathic Academy of Orthopedics for upholding the four tenets of osteopathy in original research.
Collaborating with McMillan, who has become her mentor, and other physicians, Ford has co-written more than seven research articles and a book chapter on orthopedics—from patella tendons to shoulder arthroplasty to ACL tears.
Orthopedics affords her the chance to work with all populations—from young athletes eager to get back to competition to older patients who want to resume mall walking or playing with their grandchildren.
"You see a whole range of ages and injuries in orthopedics," says Ford. "And you have to realize that patients want to get back to doing what they enjoy. That's super important to them. It impacts their overall mental and physical health."
While treating patients at RowanSOM, Ford consistently received stellar marks for her humanism.
"That's something SOM harps on…being humanistic. I feel like I'm very good at being compassionate with patients," she says. "I think that comes from my past.
"I think sometimes people just assume medical school students have picture perfect lives. A lot of people have had something they've gone through that has been difficult. Everyone has their own story.
"I'm super grateful for the way my life has played out and I focus on the good," Ford adds. "I feel completely blessed."