Edelman CCCA grad seeks to give voice to the voiceless
Edelman CCCA grad seeks to give voice to the voiceless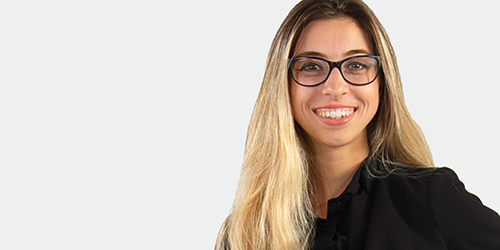 Janna MacPherson's post-graduation plans may not be what one might expect of a star communicator.
While many of her peers in the Ric Edelman College of Communication & Creative Arts head off to creative careers – in filmmaking, advertising, journalism and art, to name a few – she seeks to give voice to the voiceless, possibly aiding prisoners incarcerated on false or scanty grounds and/or representing her fellow citizens through elective office.
A former intern with Gloucester Township Mayor David Mayer and U.S. Senator Cory Booker, MacPherson sees politics as among the noblest of callings, and it's calling her.
"You can't accomplish much on the sidelines," said MacPherson, who graduates with a nearly perfect 3.89 GPA, a B.A. in communication studies and a minor in women's and gender studies. "Nothing big happens on its own. If you want to accomplish something, you have to get involved."
The recipient of a Communication Studies scholarship for students dedicated to enacting social change, MacPherson, who is vice president of the Rowan chapter of the Lambda Pi Eta honor society, heads to Drexel University this fall where she's been accepted into a prestigious and highly competitive doctoral program.
"They accept about three students into their Communication, Culture and Media program each year," MacPherson said. "I'll be in with a small cohort, about 12 people overall, and my research will be focused on political rhetoric, especially with a social justice lens."
Importantly, she said, the Ph.D. courses will enable her to work as an instructor at Drexel and to continue her study of rhetoric, particularly how it affects minority populations.
"As an undergraduate I looked at Donald Trump's rhetoric of law and order and compared it to Richard Nixon's rhetoric," she said. "Nixon's rhetoric was weaponized against black men in the criminal justice system. Trump weaponized his against Central and South American immigrants."
MacPherson believes Trump's rhetoric harmed not only immigrants, many of whom seek entry into the U.S. as asylum seekers fleeing violence, but marginalized American citizens.
"When you see people's rights under attack it becomes everyone's duty to step up and act," she said.
A 2017 intern for Booker in his Camden field office, MacPherson said the senator's ability to empathize for and speak to the concerns of a wide swath of constituents, from veterans to working men and women, helped fuel her desire to serve the public. Through his office, she responded to constituent calls, helped address Veterans Affairs and Social Security issues, and saw, first hand, how government can make a difference in residents' lives.
As an intern with Mayer's office, she saw that impact even more closely, learning personally that the impact of politics really is local.
"Gloucester Township is known for its approach to community policing (a strategy for building trust through close interaction)," she said. "I worked with residents' concerns like recycling and housing and saw the impact local government can have in helping residents' needs."
The township's longtime mayor and a former assemblyman, Mayer said he was impressed with MacPherson's compassion for others and willingness to get involved.
"Janna has a sense of duty that drives her passion for service and fuels her tenacity to serve the public good despite societal challenges," Mayer said.
For now, MacPherson said, it's too soon to know for sure where her career will take her but she's certain, in one form or another, it will include serving others.
"Right now I see myself in the academic space and I'll see once I complete my Ph.D. program whether I'll seek an academic job or hop right back into politics," she said.