"Mythbuster" Adam Savage joins Rowan University's Commencement 2020 virtual celebration
"Mythbuster" Adam Savage joins Rowan University's Commencement 2020 virtual celebration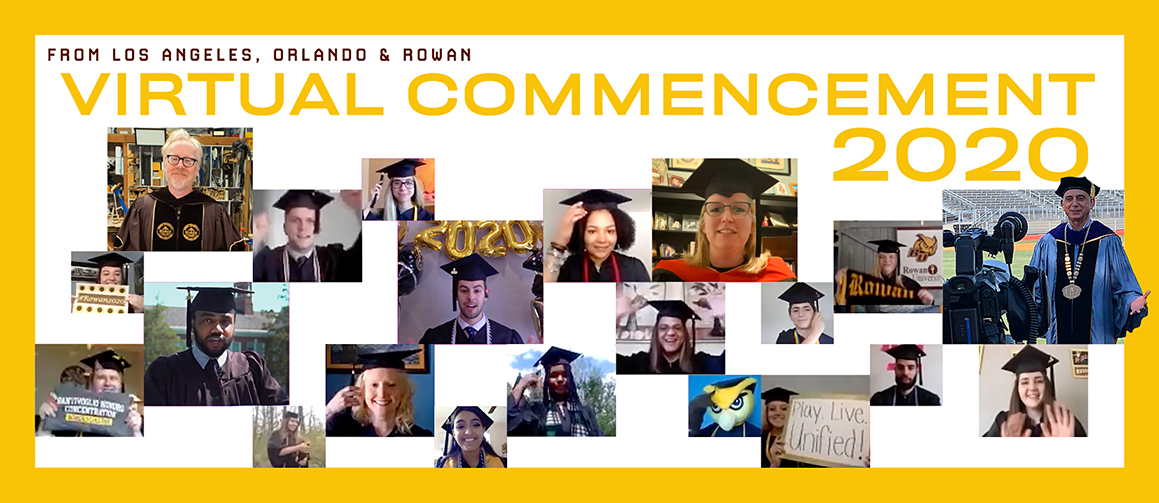 Rowan University's Commencement program changes every year, but it's always about the same thing – the joy of graduates and all they've achieved and the pride of family and friends.
For 2020, Rowan held the program virtually, beaming all of the pageantry, tradition and excitement of its annual ceremony wherever a WIFI connection or mobile device could pull the signal in.
There was one other thing that differentiated Commencement 2020 from all of the ceremonies that came before it – "Mythbuster" Adam Savage.
Co-host and executive producer of long running Discovery Channel hit "MythBusters," Savage provided the program's keynote address, reminding graduates by video that any dream, no matter how ambitious, can come true, and any obstacle to achieving it is just a myth waiting to be busted.
Robed in Rowan regalia and speaking to graduates from his West Coast workshop, Savage acknowledged that a virtual Commencement was not what the graduates hoped for but implored them to celebrate and savor it anyway.
Quoting such disparate sources as the poet Rilke and the ancient Chinese philosopher Lao Tzu, Savage said, in his experience, that the key to life has always been to keep moving forward.
"The trick isn't figuring out what the overall path is, the trick is figuring out what the very next step is," Savage said. "Treat the unknown with curiosity rather than with a desire for answers to everything and you might see far enough to move forward."
Rowan is still growing
With enrollment virtually doubling in the past ten years, approaching 20,000 students across three campuses that include two medical schools, the University's graduating classes have likewise continued to grow. For 2020, the number of students who were awarded a degree, applied to graduate, or requested to participate in Commencement was roughly 5,400, a Rowan record.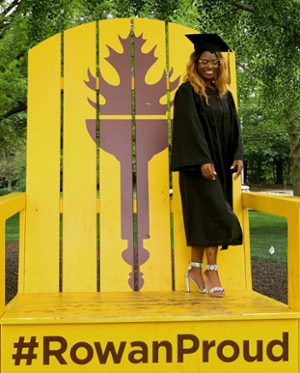 Addressing graduates by video from Coach Richard Wackar Stadium on the main Glassboro campus, President Ali A. Houshmand congratulated the class on all of its accomplishments and noted some major University milestones since they arrived for classes, including the completion of the Rowan Boulevard downtown redevelopment zone and Rowan's ascension as a major doctoral research university.
"We're one of only three institutions in the U.S. with two medical schools and we are ranked among the top 100 research institutions in the nation and globally recognized," Houshmand said.
While the ceremony was held, for the first time, virtually, Houshmand assured the graduates, and the entire University community, that it was only temporary.
"We will come back when the time is right and we will celebrate together physically," he said, "so you may stand on the platform, shake the hand of your dean and receive your diploma."
Virtually engaging
The program was complete with a fresh playing of Pomp and Circumstance by the Rowan Pep Band, a conferral of degrees by Provost Anthony Lowman, a virtual "tossing of the tassel," and a farewell address by Riccardo Dale, student representative to the Board of Trustees.
Recalling how far he's come, Dale noted that, as a freshman in high school, life ahead did not look good. Struggling academically, his absent father deceased and his mother struggling with addiction, he put his life on track after speaking with a mentor.
"My situation didn't change, I changed. I stopped being a victim and started focusing on what I did have," Dale said. "Class of 2020… you can choose to be happy. Even in the midst of a pandemic…when so much has been taken away… you can choose to make the best of this situation."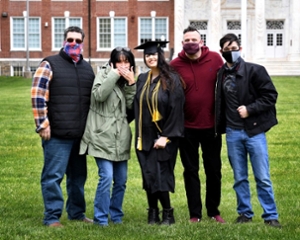 Distinguished Alumna Catherine Ni, a member of the Class of 2000 and the first cohort of the Henry M. Rowan College of Engineering, addressed the graduates from her home in Orlando, Fla., where she's an executive with Lockheed Martin.
"I remember the energy and excitement like it was yesterday," she said of her own graduation. "Regardless of how different your experience was from mine, this day in your life signifies the same as it was for me 20 years ago. It's the end of a chapter, and the beginning of the next."
Many members from the Class of 2020, as well as their families and friends, tuned in to watch via Facebook and YouTube, commenting live as the ceremony unfolded.
"Congratulations to my wonderful niece Jenna Day!" wrote Julie Malzone Galvin on Facebook. "We are so proud!"
"Congratulations Kyle Kaminski!" wrote his grandmother, Alice Kaminski.
Said AnnaRose Rubright, who graduated with a Bachelor of Arts in radio, television & film and a minor in journalism, "I'm excited for what comes next (but) will always have Rowan in my heart. I am ROWAN PROUD!"
And the reaction was…
Rowan was one of many colleges and universities holding online commencement programs this spring.
While some students, unable to enjoy the milestone in person, were understandably disappointed, many shared their joy in reaching the occasion the way they communicate in the best of times – through social media.
Said Devon Graf, on Twitter, "there are so many memories created at Rowan University looking back as a senior now. These were the fastest four years of my life and I am honestly so sad it's over. Cherish these times while you can." #Rowan2020
"I want to thank all of my family and friends for always being so supportive," tweeted law & justice major Emilyann Colbert. "They have taught me how to be strong, determined and hard-working."
And writer Eric Avedissian, celebrating his new Master of Arts, tweeted: "Graduated. I now have a Master of Arts degree in Writing, one completed novel manuscript, four published short stories, one published novella, and four years of memories at Rowan University. Wouldn't trade them for anything. Onward!"
Celebrating international students
Also on Saturday, Rowan presented graduation gifts to about 40 international students who have been unable to return home due to the coronavirus outbreak.
Among them, Venezuelan student Frank Villarreal, 21, received a poster of B.B. King, one of his favorites, candy, a coffee mug and a blanket. His family wanted to attend Commencement in person but, unable to, shared it with him virtually.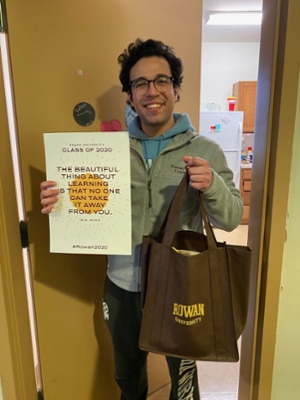 "I really feel good," said Villarreal, a radio, TV & film and journalism double major.
For a while, he noted, things will be different, but, right now, "this is something to celebrate."