Commencement 2020: When life is hard, Crystal Macklin works harder
Commencement 2020: When life is hard, Crystal Macklin works harder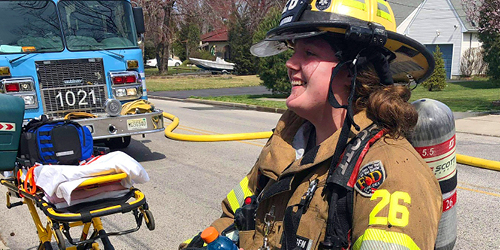 Crystal Macklin noticed the 9-1-1 calls have slowed in recent months. As an emergency medical technician for three municipalities, she still responds to motor vehicle crashes and overdoses, cardiac arrests and falls. There are just fewer of them, and they are more likely to be for legitimate reasons.
"Everyone's scared of going to the hospital," the 24-year-old Rowan University senior said. 
She is not. 
For half her college career, Macklin has either worked or volunteered as a first responder. All the while, through 80-hour work weeks and late-night ambulance runs, Macklin has been striving to finish her degree in civil engineering, one she's paid for through federal loans and her own labor. 
This week, Macklin can celebrate that achievement through a virtual commencement ceremony. Her aunt, a Rowan University police officer for the past 22 years, is "completely thrilled" for the young woman. 
"If she wants something, she'll go get it," said Carrie Rathof, who shared her home with Macklin for her first few years at Rowan. "I'm very proud of her."  
Macklin is used to difficulty. When she was 5 years old, her little brother died. Three months later, her father was struck and killed by a car on a busy South Jersey road. The losses devastated her mother. Later, when Crystal was 12, the two lived in a homeless shelter for a year. She doesn't dwell on that. 
"You just work hard," Macklin shrugged. "It is what it is."  
After a tough semester at Rowan, Macklin decided to take a break, so she could train as a firefighter and EMT. In both worlds, there were few women. She doesn't think much about that, either. 
"I love the challenge," Macklin said. "It makes me want to prove I can do it even more."  
Macklin's hard work and determination have served her well as a Rowan student, noted Dr. Kauser Jahan, professor and head of the Civil & Environmental Engineering Department in the Henry M. Rowan College of Engineering. 
"She valued her education and did what she needed to do to finish up," Jahan said. "She demonstrates the resilience one needs to thrive, and also the perseverance. She could have easily given up and she did not."   
Through a K-12 program called Engineers on Wheels, Macklin worked to get kids excited about math and science. The students loved her, Jahan noted. 
She is warm-hearted and generous, compassionate and kind -- and those are good characteristics to have, Jahan said. 
"Your success can't be measured just by your GPA," Jahan said. Students who have to support themselves while earning a degree are picking up life skills, too, Jahan noted. They know how to be responsible and juggle their roles.  
"If you can still come out with a degree, that's actually pretty impressive," Jahan said. 
Civil engineers are often called upon during extreme events: natural disasters, power outages, and emergencies. Tried and tested, Macklin already knows how to think clearly and calmly in the face of terrible situations. 
"I see her thriving in that type of atmosphere," Jahan said. "It's really a plus that she has that side to her."  
Macklin hopes to land an internship and explore a career working with water resources, perhaps designing stormwater drainage systems. Even as an engineer, she expects she will always be among those who answer calls for help.       
After four years as a first responder, it's her comfort zone.
"I love the adrenaline,' Macklin said. "I like helping people and showing up to all the crazy stuff." 
Even in the middle of a pandemic.