Medical students create vital connection for critically ill patients' families, doctors
Medical students create vital connection for critically ill patients' families, doctors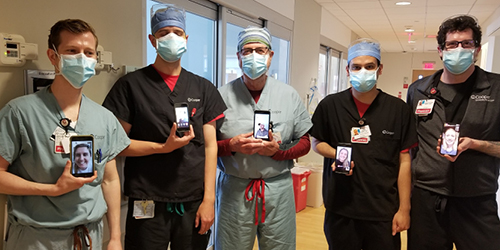 A group of Rowan students is serving as a crucial link between frontline doctors and the families of their critically ill patients during the COVID-19 pandemic. 
Senior students from Cooper Medical School of Rowan University (CMSRU) have created an innovative program in which they communicate back and forth between intensive care unit (ICU) physicians at Cooper University Hospital and patients' families.
This is especially important at a time when visitors aren't allowed inside hospitals, and doctors' hands are full treating those sickest with the coronavirus and other life-threatening conditions.
Criti
call 
Connections Participants
CMSRU Student Volunteers
Cooper University Health Care
Critical-Care Faculty Advisors
Dr. Sam Hardy (palliative care)
The volunteer initiative – called Criticall Connections – provides families with key information and input into their loved ones' care. It enables busy ICU doctors to spend more time on direct patient care. And it gives the students invaluable experience – and the ability to help while they can't physically be in the hospital. 
"I think Criticall is great. It's exceeded my expectations," said Dr. R. Phillip Dellinger, senior critical care attending physician at Cooper University Hospital and professor of medicine at CMSRU.
"Families feel so isolated from their loved ones in the ICU right now. This is helping to fill that void," he said.  
That was the case for Debbie Stoker, whose husband spent 23 days at Cooper University Hospital battling COVID-19, pneumonia, and the flu.
Scott Stoker, a 50-year-old police officer, was on a ventilator for nearly two weeks – which was "extremely scary," recalled Debbie. "I don't think I stopped crying the whole time."
But the CMSRU student she spoke with was both comforting and informative.
"She was thorough, kind and compassionate," Debbie noted. "She knew what she was talking about."
Criticall was "really, really nice," said the mother of two, whose husband is now recuperating at home.
Physician-Student Partnership
CMSRU seniors came up with Criticall as a way to care for patients despite their lack of access to the hospital – where they normally train before graduation.   
Dellinger and his colleagues helped the students develop the program and created a manual to guide them. Each student is assigned to three patients' families from Cooper's multiple critical care units. 
"Criticall doesn't replace the primary health care team – the attending physician, fellows, and residents," Dellinger explained. "But it allows them to feel they're not spread so thin."
Indeed, prior to Criticall's launch in early April, ICU doctors would typically work a 12-hour shift and then spend hours on the phone updating families, answering their questions, and discussing their loved one's plan of care.
Now, about 20 graduating CMSRU students call each patient's family every weekday. Before calling, the students listen via cell phones to the doctors' morning rounds (meetings), in which they discuss their patients' status and care plans with each other.
After speaking with a family, the student updates the patient's medical chart with the information that was discussed, and any questions or requests from the family. 
Essential knowledge flows from the families to the care team, too – even something as simple as the patient's nickname.
"Families will say, 'You need to call her by this (different) name or she won't respond,'" said Dr. Christa Schorr, clinical nurse scientist at Cooper University Health Care, associate professor of medicine at CMSRU and member of the faculty Criticall team. "These types of things are really important."
"The families are so happy to hear our updates," noted Dr. Rylie Pietrowicz, a May 2020 graduate of CMSRU. "They want to tell you about their loved one, connect with you, and feel like they're involved."
She and her roommates, Melissa Olsakowski and Karen Baddoura -- also newly-minted medical doctors -- started the program and manage behind-the-scenes administration. Like all the student volunteers, they each spend 12 to 15 hours a week on calls with families.
Heartfelt Conversations
Providing emotional support is an essential part of the program.
"Every day is hard for the family member who hasn't spoken to their husband or father in weeks," Pietrowicz observed. "One patient's wife has told me how they met and how much their sons need him. Listening has been difficult, but I feel it's so important. I'm happy to be doing it."
Tears often flow during these intense, emotional calls, the students acknowledged.
The students also help families and ICU teams connect through a related effort called "10 Things About Me." The initiative encourages family members to provide information and photos of their hospitalized loved one.
Positive Feedback
Patients' loved ones are pleased with the program, said Schorr.
She cited overwhelmingly positive comments on a recent family survey – part of a quality initiative she's conducting on Criticall.   
Families described the soon-to-be doctors as "compassionate, calm, professional, empathetic, and clear," added Schorr.
Relatives appreciate the program's consistency, too. "Just knowing the student will call them at the same time each day eases people's minds," she said.
Cooper's staff is also grateful for the initiative.  
"The students are incredible. We couldn't be more thankful for their support!" said Schorr. "Their ability to communicate what they discussed with families is so valuable. Their notes are exactly what we wanted."
In fact, Criticall is working so well that the hospital is expanding it to another unit, and plans are underway to involve more students.
Enhancing Care, Medical Education
Criticall has resulted in families receiving more information than they would otherwise get about their loved one in the ICU, said Dellinger. And it provides additional medical training for graduating students during an unprecedented time.
"It lets the students be part of history, to see the brunt of the pandemic and to see the ability to overcome to some degree obstacles created by this unique disease. It will remain in the minds and memories of the students for the rest of their lives."
For Baddoura, Criticall "showed me what it truly means to be a physician who practices with humanism, compassion and respect, and one who steps up when their community needs them most."