Commencement 2020: Ciani Eugene kept going and going
Commencement 2020: Ciani Eugene kept going and going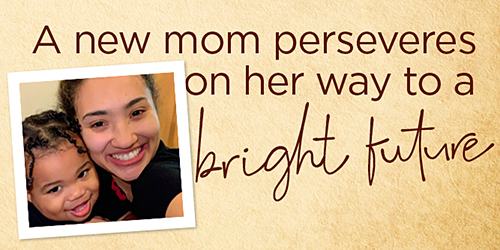 After moving back to South Jersey two years ago following her mother's death from a rare form of cancer, Ciani Eugene was determined to keep a promise.
No matter what, the Mount Holly native had sworn to her mother, she would finish college and get her degree. And now, here she was midway through school with a 3.8 grade point average in Rowan's Health & Exercise Science Department, and an unexpected pregnancy. 
"That was terrifying," said Eugene, 22. "But I swore to my mom and my grandmom that no matter what, I would always graduate." 
Now the mother of a 17-month-old "daredevil" son, Eugene is among several students whose achievements will be highlighted by Rowan's College of Science & Mathematics and the School of Health Professions this week. It's an honor she fought hard to achieve. 
On Dec. 9, 2018, two weeks before final exams, she gave birth to Izeem Malyk Gibson, "the light of my life." Advised she could take an incomplete for the semester, she took the exams anyway. For the next three semesters, she maintained her A average and a cheerful attitude, leaving an impression on Dr. Gregory Biren, associate professor and coordinator of Exercise Science. 
With a newborn at home, and help from her boyfriend and family, Eugene showed up twice a week in Biren's 8 a.m. class, never late and always ready to answer questions. 
"I could see in her eyes how exhausted she was," Biren recalled. "She probably spoke up more than anybody in the class … She never let her tiredness slow her down." 
Once, after scoring a rare B on a difficult quiz, she approached Biren for advice. "You need to study harder," he told her. "If you get an A on this next quiz, I'll give you a gold star." 
When the next quiz came around, she earned a perfect A, and that promised gold star. 
"She's phenomenal," Biren said. "She has great perseverance." 
Of balancing school with family, Eugene said, "I didn't think it was possible until I did it. You have to be flexible. You have to be able to go with the flow … 
"But I just wanted to be a good role model for my son, and I wanted to make my family proud."  
After a second internship and a few more courses, Eugene plans to apply to a graduate program to become an occupational therapist. It's a career path she discovered after transferring to Rowan in 2017 from a larger, out-of-state university near her mother's home. 
"I'm so glad I transferred and found out what I really want to do with my life," Eugene said. 
This semester, her full-time internship job-shadowing at Bordentown Regional School District was cut short due to the pandemic. While social distancing at home, she's making 300 cloth face masks to donate to a local prison. This summer, she expects to work as an advocate for children with special needs at a day camp.  
Biren sees a bright future ahead for the hard-working student who knows what it's like to push through challenges with a smile on her face. She'll know how to encourage patients to reach their goals. 
"There's not a doubt in my mind that she will be not only a phenomenal occupational therapist, but she's going to change people's lives," Biren said. "Her perseverance is going to help her tremendously in her career."