Activist, advocate, storyteller: Rowan's first grad with Down syndrome set to pursue filmmaking career
Activist, advocate, storyteller: Rowan's first grad with Down syndrome set to pursue filmmaking career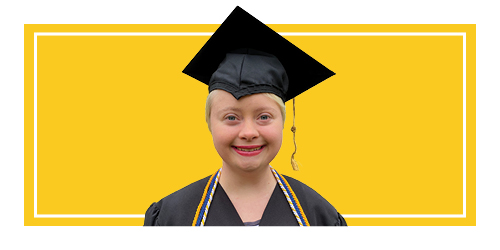 How exactly does AnnaRose Rubright see herself?
She made that eminently clear in a widely-viewed video she narrated starring Academy Award-nominated documentarian and actress Olivia Wilde. The public service announcement, which shows Wilde running, working behind the line of a commercial kitchen, doing laundry and being in love, was not meant to break stereotypes. It was meant to shatter them.
"This is how I see myself," said Rubright, the voiceover. "I see myself as a daughter, a sister and a best friend. I see myself as a person you can rely on. I see myself meeting someone that I can share my life with. I see myself singing, laughing and dancing until I cannot breathe... I see myself following my dreams, even if they are impossible. Especially if they are impossible. I see myself as an ordinary person with an important, meaningful, beautiful life. This is how I see myself. How do you see me?"
Directed by Emmy Award-winning filmmaker Reed Marano, How do you see me?, which was made to support World Down Syndrome Day 2016, was no fiction.
Rubright, who participated in Rowan University's 2020 virtual Commencement ceremony May 8 after earning a Bachelor of Arts in radio, television & film and a minor in journalism, is the school's first graduate to have Down Syndrome.  But that is hardly what defines her.
Before Rubright, 24, even graduated, she:
addressed a panel at the United Nations and lobbied legislators in Trenton and Washington for disability rights;
fought to abolish laws enabling sub-minimum wage pay for employees with disabilities;
made multiple videos supporting the National Down Syndrome Society (NDSS) and World Down Syndrome Day;
and earned admission to the Delta Alpha Pi International Honor Society.
Rubright, one of five student producers of "The Mayor", a documentary that premiered during a Rowan virtual film festival May 8-10, is starting her own production company.
With that company, she seeks to deploy many of the skills she developed and polished at Rowan.
"I'm probably going to do a mix of things like reporting – I love going out to meet with people –  podcasting and film production," Rubright said. "And I'll definitely make a documentary on Law Syndrome."
Coined by the NDSS, the phrase "Law Syndrome" describes those laws that enable companies to unfairly profit on the disabled, often paying them pennies on the dollar versus what they'd pay a minimum wage earner.
Overcoming challenges
Innately warm and funny, Rubright nailed her audition for "How do you see me?", a PSA made by advertising giant Saatchi & Saatchi New York and funded by CoorDown, the Italian national Down Syndrome organization.
"The video was released as a global campaign for World Down Syndrome Day," said AnnaRose's mother, Lin. "AnnaRose's image was all over Italy in October of that year during Down Syndrome Awareness Month in October."
But personality, intelligence and drive aside, AnnaRose faced challenges when she arrived at Rowan as a transfer student from Rider University for the spring 2019 semester.
Among those challenges were navigating the expansive Glassboro campus and getting an accommodation for additional time on some assignments and exams.
"If it takes me 20 minutes to read something it could take AnnaRose an hour or an hour and a half," said, Lin, a Rowan student herself who graduates next semester with degrees in sociology and psychology.
John Woodruff, director of Rowan's Academic Success Center & Disability Resources, said AnnaRose wisely took advantage of the center's offerings, which, like many of the University's programs, are geared toward increasing access to a college degree.
"Access does not guarantee success," he said of Rubright, who graduated with a 3.426 GPA. "You don't lower the standards. A student has to put in the work and the expectations are the same."
National Down Syndrome Society President & CEO Kandi Pickard said, as far as advocacy goes, AnnaRose is practically unstoppable.
"AnnaRose is one of the most dedicated advocates we work with," Pickard said. "Her ability to fiercely advocate for herself and other individuals with Down Syndrome in meetings with Members of Congress has led to legislative changes that benefit the entire disability community. We are so grateful to count AnnaRose as part of our NDSS family, and we are so proud of her achievement as a graduate of Rowan University."
"A natural storyteller"
Rubright, who has five sisters – one of whom attends Yale University, one now at N.Y.U. and one who, like her, has Down Syndrome, is eager to put her education into action.
Having just completed her documentary film classes, another in which she produced a six-part podcast on disability law, and a digital journalism course in which students employed smartphone technology to tell great stories, she's ready to test those skills outside the classroom.
"I don't like to brag but I'm a natural storyteller," she said. "I love getting out and talking to people. And I really like doing the research."