Engineering team speeds production for new intubation barriers
Engineering team speeds production for new intubation barriers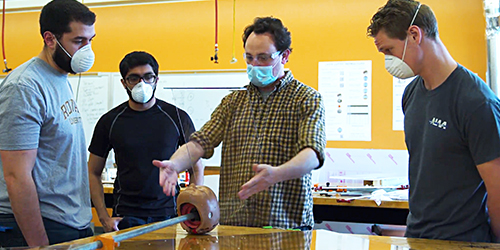 A team of Rowan University mechanical engineers is producing a new line of intubation barriers for emergency use during the COVID-19 crisis.
After reading about Rowan's efforts to produce intubation boxes for South Jersey hospitals, a clinician at Children's Hospital of Philadelphia shared a new shield-and-tent design demonstrated by Dr. Douglas Ririe, a professor of anesthesiology at Wake Forest School of Medicine in Winston-Salem, N.C.
Like the original intubation box, the simple device acts as a mechanical barrier to help shield medical providers from infectious bodily fluids as they perform procedures to help severely ill patients breathe.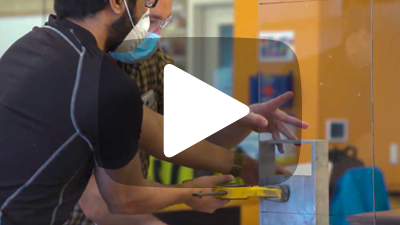 Watch: Rowan team speeds shield production
The new design offers easier access to the patient. It's also cheaper and faster to make, and easier to deliver and store, said Dr. Francis "Mac" Haas, assistant professor in the Henry M. Rowan College of Engineering's Mechanical Engineering Department.
Based on user feedback, the Rowan team added a short ledge to make conscious patients feel more comfortable beneath the shield.
Recently, Haas delivered 10 of the new barriers to Cooper University Hospital in Camden. Rowan has enough materials in stock to make dozens more.
"We're constantly communicating back and forth with front-line health workers," Haas said. "Having that user insight was really helpful."