Rowan Responders: Experts in Disaster Science & Emergency Management work to keep us safe
Rowan Responders: Experts in Disaster Science & Emergency Management work to keep us safe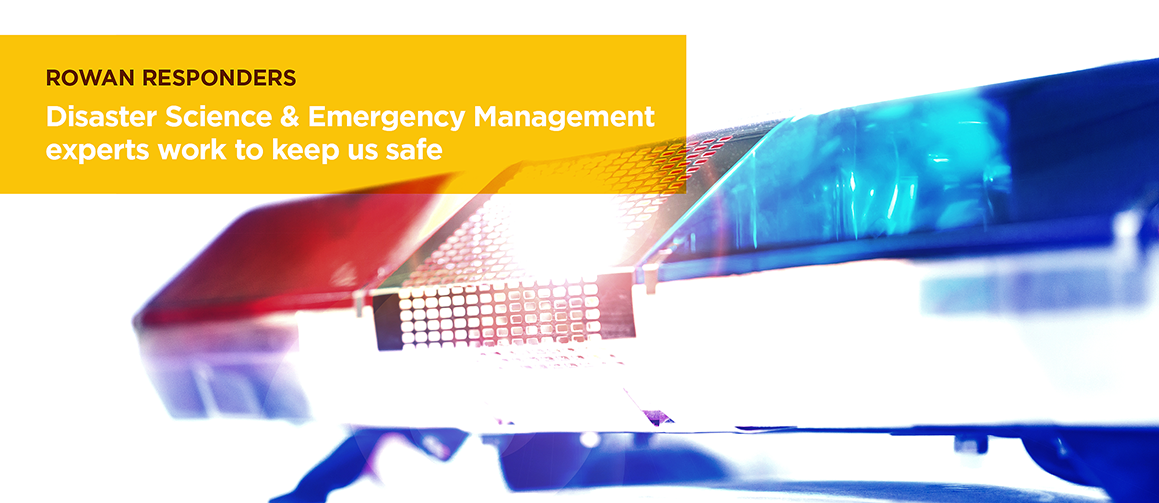 A team of faculty and alumni from Rowan University's program in Disaster Science & Emergency Management (DSEM) is literally on the front lines in the fight against COVID-19, working with federal, state, county and local agencies while researchers seek a cure and vaccine.
The professionals serve during crises and bring to the classroom expertise that prepares students to manage resources and information in virtually any emergency.
"Unfortunately," said program director Dr. DeMond Miller, "there will always be a need for our graduates."
Alleviating harm and suffering
Dr. Len Clark '87 is a former deputy director of emergency management for Gloucester County who now runs emergency operations for St. Christopher's Hospital for Children in Philadelphia and teaches at Rowan.
"We're a specialized resource, being a pediatric facility," he said. "We provide service to Einstein Medical Center and Temple University Hospital, and they reciprocate. When a disaster occurs, you're never able to solve it yourself.
"The focus is always on taking care of people, whoever those people are," Clark added. "Basically, when something happens, your resources are stressed and you're unsure what the outcome will be. And that's exactly what we're seeing now."
Ultimately, Clark said, emergencies change but the goals remain the same.
"The job is about alleviating harm and suffering," he said. "The priority is to have the fewest number of people impacted so we prioritize life safety first, then incident stabilization and then property conservation. If we keep those three in mind, it's hard to go wrong."
Always planning
Dr. Patrick Gorman '88, who teaches in Rowan's program and retired in March as a New Jersey State Police captain, said educating about emergency management comes naturally. In addition to his State Police career, he's been a firefighter since he was a teenager, and has held every position, from member to chief.
Existing pandemic response plans compiled as early as 2004 by the State Police, FEMA and other agencies enabled emergency managers to respond quickly, despite numerous challenges, to the unfolding COVID-19 crisis, Gorman said.
"Emergency managers are always planning," he said. "When we're not responding to an emergency, we're exercising for one. When we're not exercising for one, we're planning and reviewing after-action reports to see how things went."
Learning from living it
Timothy Luko, a senior master sergeant with the Air Force in New Castle, Del., who also teaches in the DSEM program, said much of what he does professionally includes the management of information and resources for military operations on base and in the surrounding communities.
"For the time being, Delaware hasn't been hit as bad as the surrounding states but we're on standby," Luko said. "There could be a statewide activation to get out and help the citizens and the response can vary. We can be setting up testing centers, helping out with transportation, helping out hospitals."
Luko said, like their civilian counterparts, military emergency managers will learn from the COVID-19 pandemic and lessons quickly will make their way to the classroom.
"It's going to shape the classroom experience like few events in our past," he said. "The students in our program are not just living it, they'll be studying it for the future."
~
Rowan University is the only school in the state to offer a traditional bachelor's degree focusing exclusively on emergency preparedness. It also offers two certificate programs and, this fall, will offer a Master of Science in Emergency and Threat Response Management.